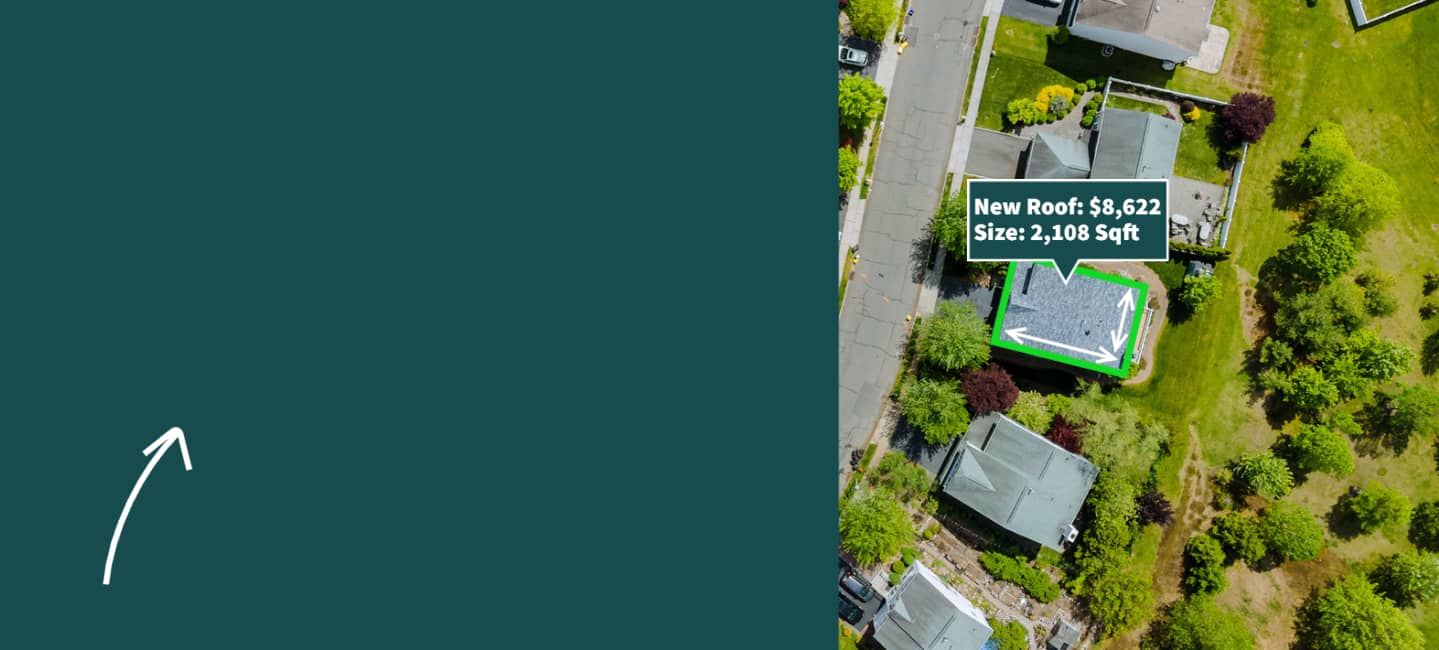 California Roof Replacement Costs
Instantly get a California new roof cost with our roofing calculator. See local California roofing contractor prices for Asphalt, Metal, and Solar Roofing. Connect with a local California Roofer today.
No signup required.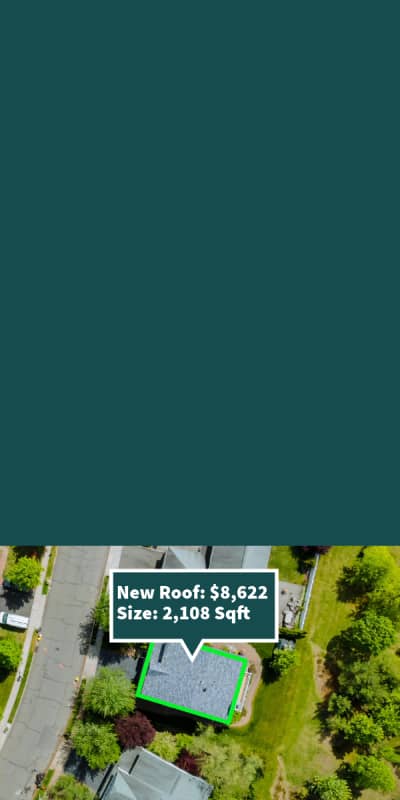 California Roof Replacement Costs
Instantly get a California new roof cost with our roofing calculator. See local California roofing contractor prices for Asphalt, Metal, and Solar Roofing. Connect with a local California Roofer today.
Wondering what it's going to cost to replace your roof in California?

Measure
10,555,960 roofs scanned in California

Estimate
Average new roof cost in California is $11,200

Connect
3,406 highly-rated roofing contractors in California
Most homeowners in California don't realize their roofs need replacement until it becomes urgent. This typically happens because conventional roof replacement cost estimates are usually wrapped up in an endless string of questions and lengthy paperwork.
At Instant Roofer, we believe that you shouldn't have to wait for hours, let alone days, to get a precise estimate for your roof replacement. With California roofing calculator, you can get this information instantly.
Enter your address into Instant Roofer.
Confirm your home from Satellite Imagery.
See your price and roof size.
Submit to get a quote from the lowest priced highest rated California roofing contractor.
Get your estimate for your California roof replacement cost without delay!
Discover Top-Rated, Cost-Effective Roofer in No Time.
Our California Roofing Calculator streamlines the process of selecting the right roofing contractor for your unique needs. We take into account the expertise, experience, and pricing of various California roofing contractors and connect you with the best match for your project. Begin your journey with Instant Roofer for quick, reliable, and straightforward roofing solutions.
Four Roofing Materials Just for You
At Instant Roofer, we appreciate that each home and homeowner in California has unique roofing needs. Our goal is to offer an array of roofing materials that satisfy your specific preferences, budget, and requirements. Whether you're seeking durability, style, or energy efficiency, we have the perfect match for you from these four distinct roofing materials: Architectural Asphalt Shingles, Designer Asphalt Shingles, Metal Roofing, and Solar Roofing.
Take some time to understand these materials and determine the one that best suits your needs. Regardless of your choice, rest assured that we'll link you with the most competitive price from a highest-rated California Roofing Contractor.
Better Roof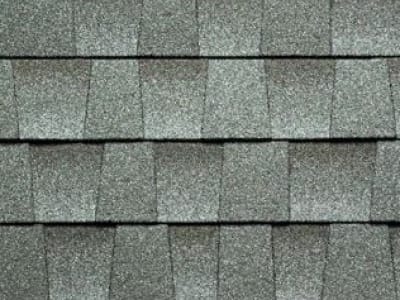 Limited Shingle Style Options
Average Life and Warranty
Average Impact and Wind Rating
Best roof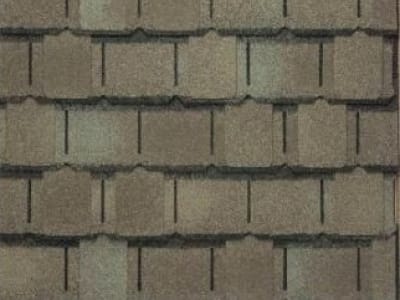 Bigger and Thicker Asphalt Shingle
Better Protection Against Algae
Longer Lasting Life and Warranty
Better Impact and Wind Rating
Metal Roof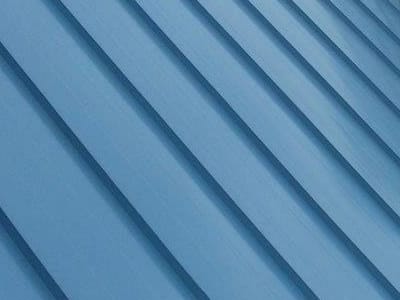 Better protection from fire
Better home cooling (UV Protection)
Best Impact and Wind Rating
Solar Roof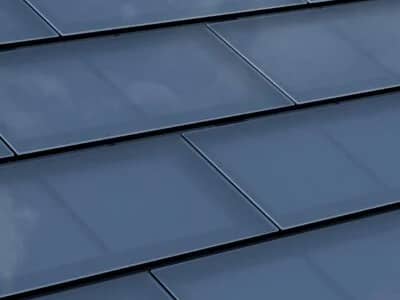 Up to 30% in Federal Tax Credits
Potential $0 Electricity Costs
Receive Your California Roof Replacement Cost Online Today In Seconds
No sign-up is required.

"Instant Roofers estimate was spot on. The contractor it recommended was excellent. All around a great experience."
How We Stand Out
The importance of your home's roof is paramount, and when it's time for a new one, the quest to find appropriate materials, cost estimates and best roofing contractor can appear overwhelming.
In the past, we created roofing calculators, but a consistent issue emerged: homeowners often struggled to accurately measure their roofs. So, we thought – what if homeowners could bypass the laborious steps of assessing roof dimensions, negotiating with salespeople, and attempting to understand roofing complexities enough to make an accurate estimate? Inspired by this notion, we started and built Instant Roofer.
At Instant Roofer, our approach is different, we won't spam you nor try to sell you something else. We give you an instant estimate who offers the best value for your roofing replacement project.
Instant Roofer was conceived from this concept, combining the expertise of tech enthusiasts and skilled roofers to create a user-friendly, efficient, and cost-effective solution for accurately estimating roof costs across America.
The best part… we're 100% American-owned, developed, and operated.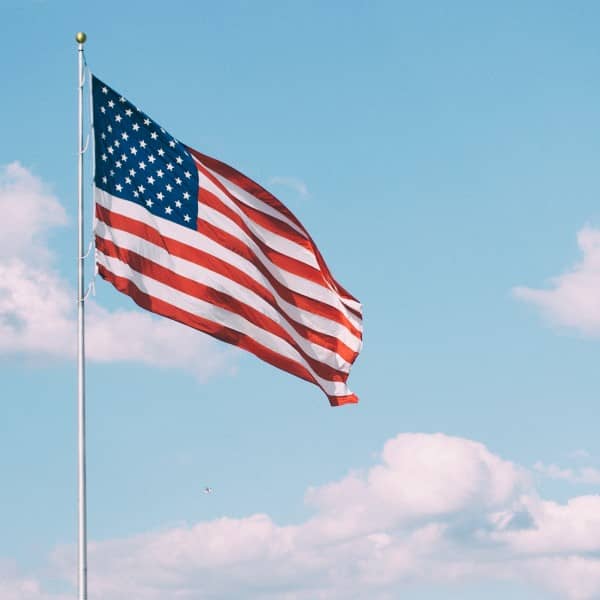 Your Simplified California Roofing Calculator
In search of a quick and reliable roof replacement estimate? Look no further than Instant Roofer. Our California roofing calculator efficiently provides you with speedy and competitive quotes from local contractors. Harnessing the power of big data and artificial intelligence, we offer rapid and precise estimates for your roof replacement costs.
So, how do we link you with the optimum roofing contractor? Our method involves analyzing the pricing structures of local roofing contractors as well as their online ratings. This process guarantees you receive a best price from the highest-rated California roofing contractor.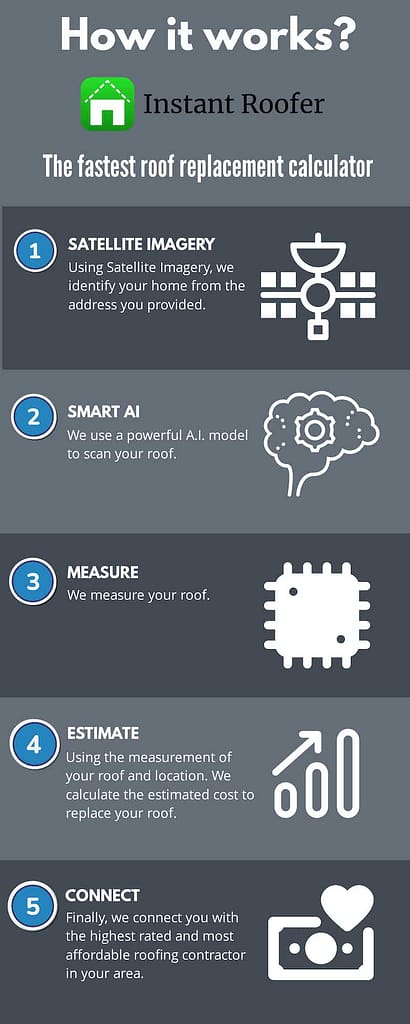 About Instant Roofer
Often, we get asked, "Are you a roofing company?" The answer is both yes and no. Think of us as the "Uber" for roofing – we use technology to streamline the roofing process, benefiting you and the roofing contractors alike.
Our Support For You
Investing in a new roof can be a substantial undertaking. In California, the average price of a new roof hovers around $11,200. We're here to simplify this process. Utilizing AI, we've measured the roof sizes of over 129 million homes across America.
We've established connections with local roofing contractors across every county. But we're not just connecting you with any roofer, we ensure you're linked with the highest-rated California roofer in your area.
Each roofing contractor we collaborate with has provided us with their price per square foot for new roof installation. By analyzing each roofing contractor's price and rating, we determine the most qualified roofing contractor in your area to assist you.
Our Assistance to Roofing Contractors
Roofing can indeed be complex. Roofers evaluate numerous factors such as pitch, facets, eaves, ridges, and more. We initiate the process by providing a preliminary estimate, but we always recommend obtaining an actual quote.
As our name suggests, Instant Roofer truly is instant. The moment you accept your online roof replacement estimate, we spring into action. We immediately inform the California roofer about the upcoming project and confirm the roofing contractor with you.
Top 20 California Roofing Contractors
Enter your address in our app to learn who has the best combination of reviews and pricing for your exact home. Updated: 9/27/23
Sustainable Living Builders Inc
(707) 595-8500
4.8
28 Google reviews
427 Mendocino Ave Ste 100
Santa Rosa, CA 95401
Wicks Roofing Inc
(805) 546-9056
4.2
53 Google reviews
2170 Hutton Road
Nipomo, CA 93444
Action Energy
(805) 896-3776
4.7
110 Google reviews
534 East Ortega Street
Santa Barbara, CA 93101
Quality Sheet Metal Heating & Air Inc
(916) 918-9108
5
290 Google reviews
110 Flocchini Cir Ste 300
Lincoln, CA 95648
Quality Sheet Metal Heating & Air, Inc
(916) 918-9108
5
290 Google reviews
110 Flocchini Circle
Lincoln, CA 95648
Show 15 More

Ariel Builders Roofing Services
(818) 479-0511
5
181 Google reviews

2625 Townsgate Road
Thousand Oaks, CA 91361

Roofing Hands Renovations
(424) 437-6995
5
162 Google reviews

21250 Hawthorne Boulevard
Torrance, CA 90503

Build Brothers Inc.
(760) 566-7734
5
144 Google reviews

7765 Arjons Drive
San Diego, CA 92126

Powers Roof Service
(916) 316-2700
5
134 Google reviews

2457 Pinnacles Drive
Rocklin, CA 95677

Mark Anthony Construction and Roofing, Inc.
(760) 803-7534
5
125 Google reviews

133 North Pacific Street
San Marcos, CA 92069

Mark Anthony Construction & Roofing Inc
(760) 803-7534
5
125 Google reviews

133 N Pacific St Ste A
San Marcos, CA 92069

Eco Smart Roofer
(415) 240-9840
5
123 Google reviews

553 25th Avenue
San Francisco, CA 94121

Roof Pros Roofing & General Construction
(559) 408-6506
5
122 Google reviews

440 W Fallbrook Ave
Fresno, CA 93711

Foam Roofing Experts of The Desert
(760) 333-3556
5
121 Google reviews

68355 Ramon Road
Cathedral City, CA 92234

The Best West Roofing
(323) 304-3580
5
117 Google reviews

5716 Lindenhurst Avenue
Los Angeles, CA 90036

7×7 Roofing
(415) 535-8170
5
117 Google reviews

2443 Fillmore Street
San Francisco, CA 94115

Master Roofing
(800) 914-4108
5
115 Google reviews

17901 Von Karman Avenue
Irvine, CA 92614

Silver Stone Remodeling Inc
(818) 737-0647
5
114 Google reviews

27001 Agoura Road
Calabasas, CA 91301

Redwood Roofing and Repair
(831) 888-7790
5
113 Google reviews

1840 41st Avenue
Capitola, CA 95010

Bayside Builders Group
(510) 901-9972
5
107 Google reviews

1151 Harbor Bay Parkway
Alameda, CA 94502
Don't see your company listed? Join our network!
Roof Replacement Costs in California
Whether you're in the heart of Los Angeles or nestled in the northern forests of California, roof replacement is a significant investment. Costs can range widely depending on several factors and size, pitch, and shape are key determinants in the cost of your roof replacement.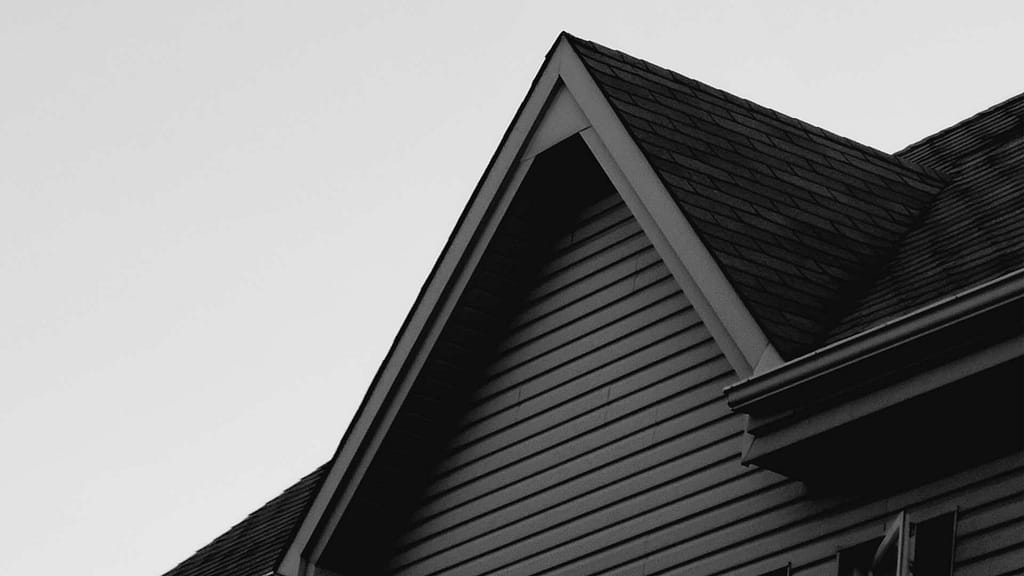 By Size: The size of your roof, measured in roofing squares (each square is equivalent to 100 square feet), is a primary factor in calculating your roof replacement cost. Larger roofs require more materials and labor, thereby increasing the overall cost. Our California Roofing Calculator can provide an accurate estimate based on your roof's size.
By Pitch: The pitch, or steepness, of your roof also influences the cost. Roofs with a higher pitch can be more challenging and require more time for a California roofer to navigate, increasing the labor cost. Whether your roof pitch is low, medium, or steep, our calculator takes this into account to give a precise estimate.
By Shape: The shape of your roof affects the complexity of the installation. Simple gable roofs are generally less expensive to replace than intricate designs like hipped or mansard roofs. No matter your roof shape, the California Roofing Calculator to give a comprehensive cost estimate for your home.
Roof Replacement Cost by Roofing Materials
The type of roofing you choose significantly influences the cost. Options like Architectural Asphalt Shingle and Designer Asphalt Shingle offer durability and aesthetics, while Metal Roofing and Solar Roof provide long-term cost savings and energy efficiency. Depending on the material, each has its own cost and benefits.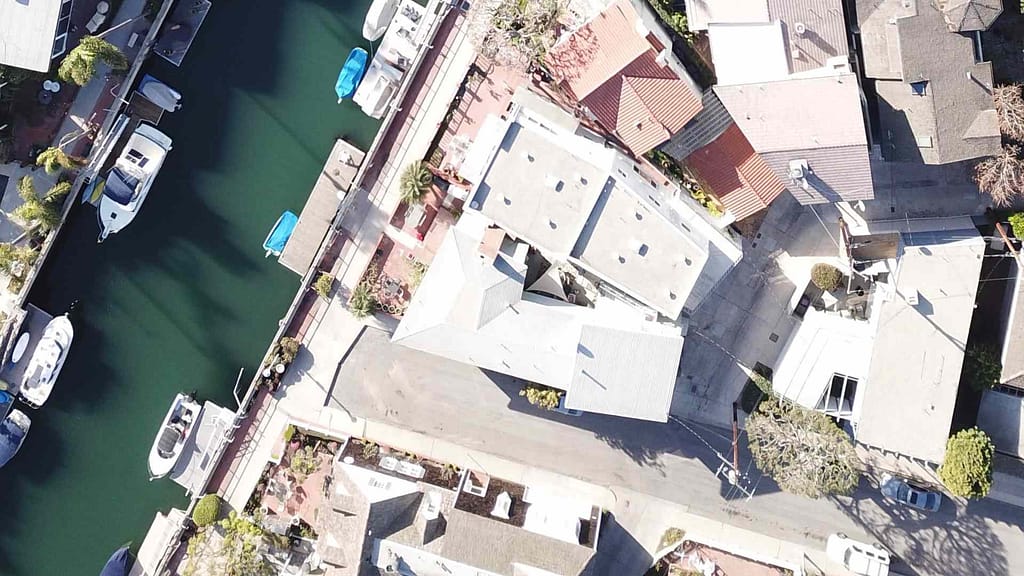 Architectural Asphalt Shingles are a popular choice due to their blend of affordability and durability. These shingles add depth and texture to your roof, enhancing your home's aesthetic. On average, the cost for an architectural asphalt shingle roof in California ranges from $350 to $500 per roofing square.
Designer Asphalt Shingles are a step up from their architectural counterparts. They offer greater longevity and a wide variety of designs that mimic the look of more expensive materials like slate or cedar. The average cost for a Designer Asphalt Shingle roof in California can range from $400 to $600 per roofing square.
Metal roofing is a high-end option known for its excellent durability and energy efficiency. Although it has a higher upfront cost, it can outlast most other roofing materials, making it a worthwhile investment. In California, the average cost for a metal roof can range from $700 to $1000 per roofing square.
Solar roofing turns your roof into a power generator, helping you save on energy costs while being eco-friendly. While more expensive initially, the potential savings on energy bills can offset the cost over time. The average cost of solar roofing in California can range from $2,000 to $3,000 per roofing square, depending on the quality of the solar tiles.
Roof Replacement Labor Cost
Labor cost is another vital factor to consider in your California roof replacement cost. It can fluctuate based on your location and the complexity of your roof installation. With our California Roofing Calculator, we connect you with the best-rated California roofer who provide competitive rates in your area.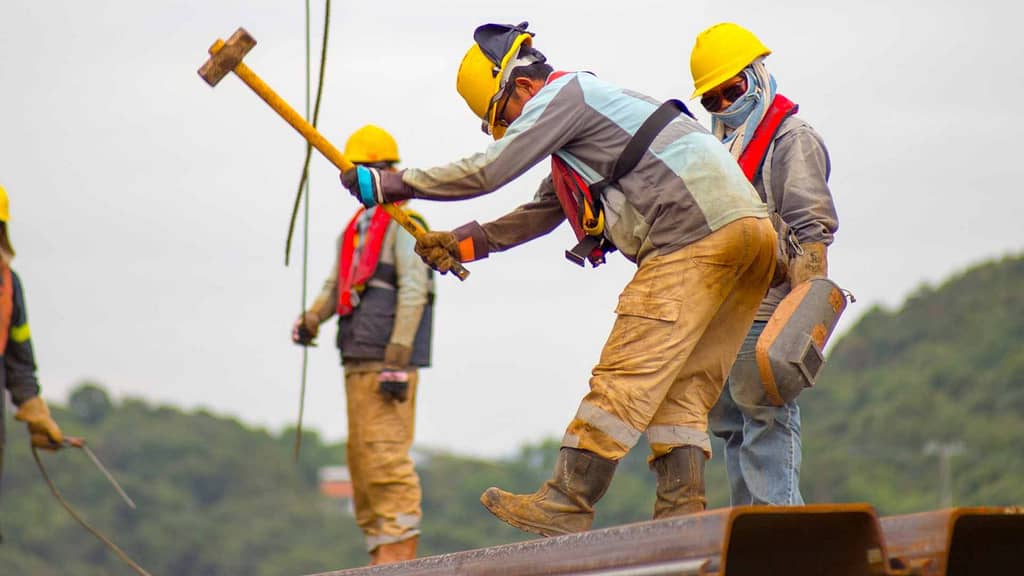 Roof Replacement Cost by Location
From bustling Southern California to the serene landscapes of Northern California, roofing costs can vary. This difference is due to factors such as local labor costs and weather conditions that affect the type of roofing material suitable for your home.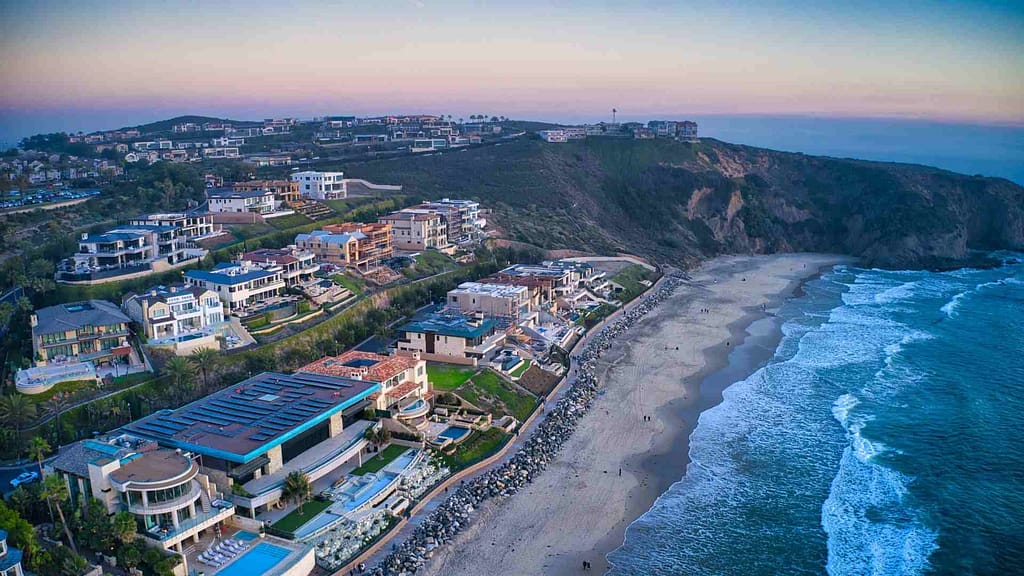 Southern California
Southern California enjoys a sunny, warm climate for much of the year, but the occasional rainfall and high temperatures can wear down a roof over time. Therefore, materials that resist heat and sun damage, like metal or solar roofing, could be a smart choice.
Labor costs in Southern California are generally higher due to the cost of living in the area. The average labor cost can range from $50 to $100 per hour, depending on the complexity of the job and the contractor's experience.
Northern California
In Northern California, the climate can vary significantly with more rain and colder temperatures compared to its southern counterpart. As a result, roofing materials that can withstand this weather, like architectural or designer asphalt shingles, are commonly used.
Like in Southern California, labor costs can also vary widely in Northern California, typically ranging from $50 to $100 per hour. Factors like roof size, pitch, and the type of roofing material chosen can all affect the final labor cost. Our California Roofing Calculator provides competitive estimate from the best-rated California roofing contractor in your area.
Additional Considerations and Costs
When planning a roof replacement, it's essential to consider additional costs such permits, fees and any necessary repair .Always remember to ask your California roofer about any of these potential extra charges.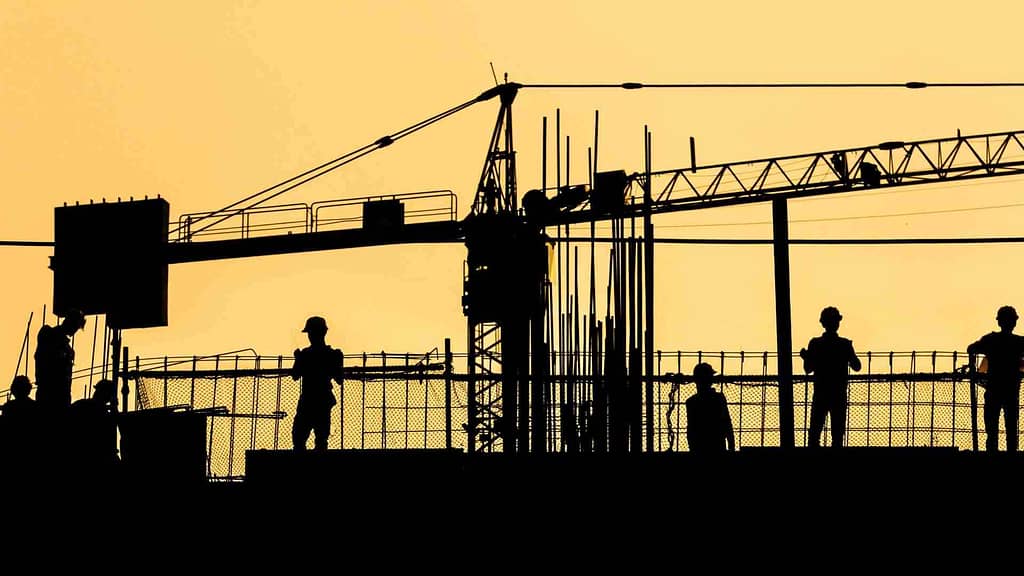 Permits – In California, a permit is often required for a roof replacement. The cost of the permit can vary based on the size and value of the project.
Licensing and Insurance – Make sure your California roofer is licensed and insured. This protects you from potential liability and ensures that the roofer meets the state's requirements for professionalism and competency.
Dump Fees – The cost of disposing of old roofing materials can add to the total cost of the project. These "dump fees" depend on the type of material and the volume being disposed of.
Local Codes – Local building codes in California can impact the cost of your roof replacement. Certain areas might have specific requirements for roofing materials, especially in regions prone to wildfires.
Rainwater Elements – California receives a fair amount of rain, so rainwater elements like gutters and downspouts may need to be installed or replaced during a roof replacement. This cost is often included in the total roof replacement cost.
Signs You Need A Roof Replacement
Look out for signs you might need a roof replacement, such as sagging areas, missing shingles, or water leaks. A damaged roof can impact your home's structural integrity and aesthetics. Understanding the costs upfront can help you plan effectively. If you spot any of these signs, our California Roofing Calculator can help you start and get accurate, fast, and comprehensive estimates from high-rated California roofer in your area.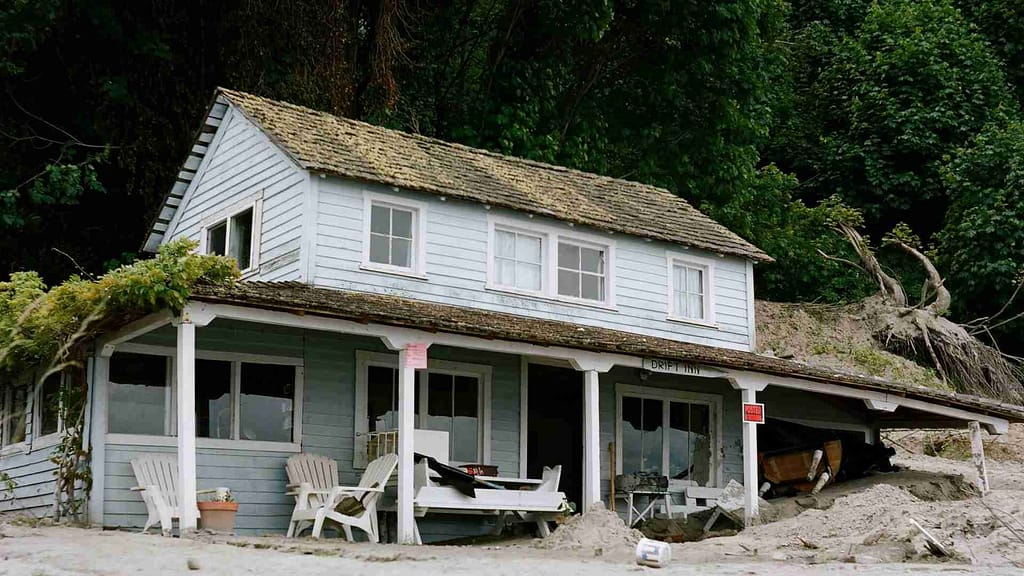 California Roofing FAQs
Should I repair my roof or replace it?

The decision to repair or replace your roof depends on several factors, such as the age of your roof, the extent and type of damage, and your budget. Minor issues like a few missing or damaged shingles may only require a repair. It is always best to work with experienced California roofer.
What time of year is best to replace a roof in California?

The best time to replace a roof in California often depends on the weather. Spring and early summer are typically the best times as the weather tends to be drier and more predictable. However, with California's generally mild climate, roof replacements can be carried out successfully at any time of the year. Keep in mind that California roofer can get busy during peak times, so planning ahead is always a good idea.
How long do roofs last in California?

The lifespan of a roof in California depends on the material used, the quality of the installation, and the local climate. For instance, asphalt shingle roofs, which are common in California, usually last 20 to 25 years. Metal roofs can last 40 to 70 years, and solar roofs can last even longer. Regular maintenance and timely repairs can also help extend the life of any roof.
Interesting Facts About California
| | |
| --- | --- |
| Average roof replacement price in California | $11,200 |
| The number of California roofs we've measured | 10,555,960 |
| Average California home size | 1,650 Square Feet |
| Average California property size (2020 Parcel Data) | 0.16 Acres or 7,200 Sqft |
| Largest zip code in California | 92239 – Desert Center (3,583 Square Miles) |
| Average roof slope on California homes | 4/12 Pitch or 18.43 Degrees |
| Most common roof type in California | Asphalt Shingle |
| California's weather averages | Lows of 51F/11C to highs around 74F/23C |
| California's population estimated (2022) | 39,538,223 |
| California's Time Zone | Pacific Standard Time (GMT -7) |
| California's total square miles | 155,859 |
Data Collected 2021
See how your home compares to the average roof replacement price in California. You can get a free estimate for a new roof via our free roof cost calculator. Get instant roof replacement costs for your exact home and connect with the highest-rated roofing contractor near you.
Thinking of financing your new California roof?
A new roof can be an unexpected cost. You may need to borrow some money to get it done. We've built a simple roof financing calculator to help you figure out your monthly payments.
The Most Popular Areas We Serve In California