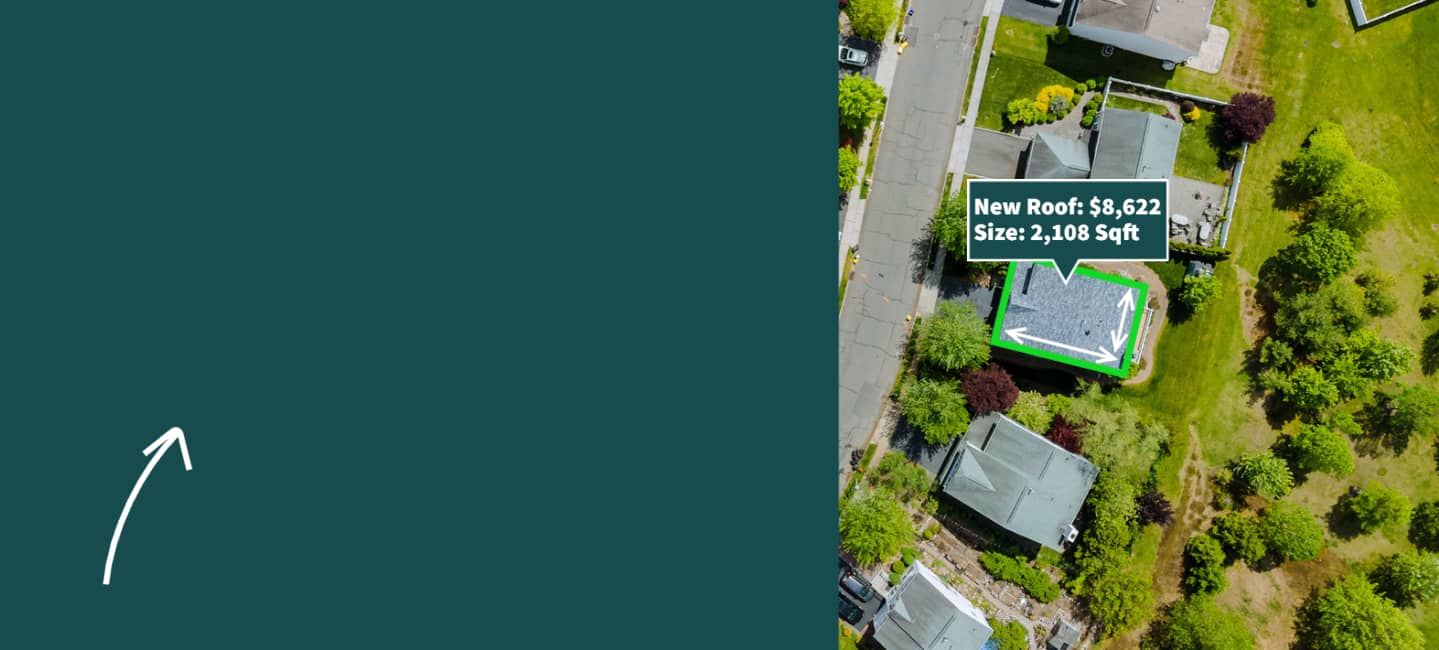 Nevada Roof Replacement Costs
Instantly get a Nevada new roof cost with our roofing calculator. See local Nevada roofing contractor prices for Asphalt, Metal, and Solar Roofing. Connect with a local Nevada Roofer today.
No signup required.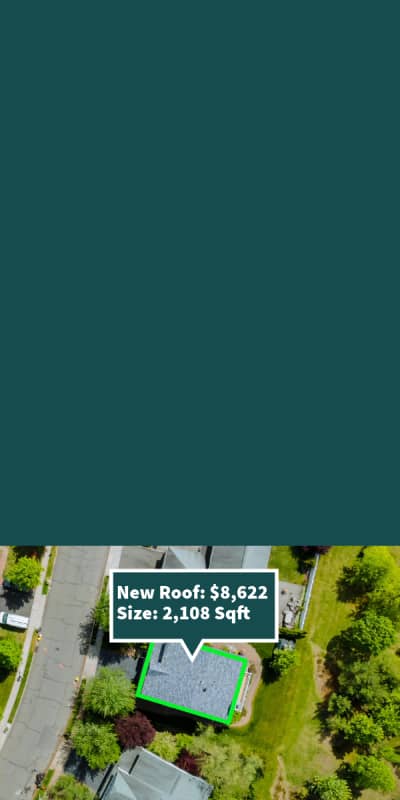 Nevada Roof Replacement Costs
Instantly get a Nevada new roof cost with our roofing calculator. See local Nevada roofing contractor prices for Asphalt, Metal, and Solar Roofing. Connect with a local Nevada Roofer today.
Wondering what it's going to cost to replace your roof in Nevada?

Measure
847,506 roofs scanned in Nevada

Estimate
Average new roof cost in Nevada is $8,400

Connect
120 highly-rated roofing contractors in Nevada
At Instant Roofer, we understand that your time is precious. We don't think you should have to wade through mountains of paperwork just to get a roofing estimate. That's why we've innovatively redefined the process, providing instant, online estimates for your Nevada roof replacement cost. Skip the paperwork and start your roofing journey with us, at Instant Roofer.
Enter your address into Instant Roofer.
Confirm your home via Satellite Imagery.
Instantly view your estimated cost and roof size.
Submit the information to receive an estimate from the most affordable, top-rated Nevada roofer.
Discover Top-rated and Cost-effective Nevada Roofer Instantly.
Secure the optimal roofing contractor for your home with our Nevada Roofing Calculator. As residents of Nevada ourselves, we comprehend the significance of a superior-quality roof that goes above and beyond customer requirements. Our calculator incorporates each contractor's expertise, proficiency, and cost into its computation, ensuring you receive the best solution tailored to your needs.
Four Tailored Roofing Choices for You
At Instant Roofer, we understand that each home comes with its own unique needs and every homeowner has individual tastes. This is why we strive to offer a diverse range of roofing options that align with your particular needs, budget, and preferences. Whether you are looking for durability, aesthetic appeal, or energy efficiency, we have the perfect solution just for you.
Take advantage of our Nevada roofing calculator to explore and contrast the costs of four distinct yet equally resilient roofing materials. Regardless of your selection, you can trust us to connect you with the most competent and highly-rated Nevada roofer for your project.
Better Roof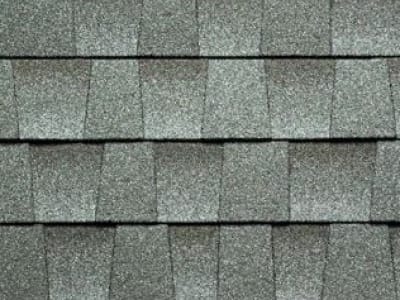 Limited Shingle Style Options
Average Life and Warranty
Average Impact and Wind Rating
Best roof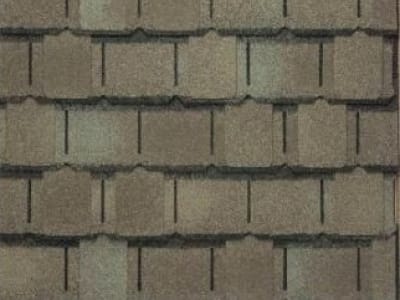 Bigger and Thicker Asphalt Shingle
Better Protection Against Algae
Longer Lasting Life and Warranty
Better Impact and Wind Rating
Metal Roof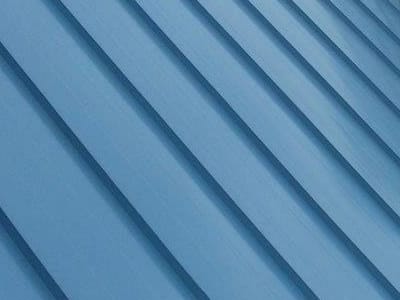 Better protection from fire
Better home cooling (UV Protection)
Best Impact and Wind Rating
Solar Roof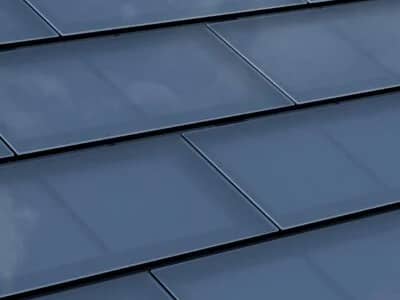 Up to 30% in Federal Tax Credits
Potential $0 Electricity Costs
Receive Your Nevada Roof Replacement Cost Online Today In Seconds
No sign-up is required.

"Instant Roofers estimate was spot on. The contractor it recommended was excellent. All around a great experience."
Our Unique Approach
Think of roofing as a puzzle. There are many pieces and it's crucial to your home's health. You'll find various roofing types and materials, each with its own cost. Factors like your current roof, the need for new materials, and any repairs needed can affect the total cost of roof replacement.
Now, a roof calculator is a handy tool in this process. Yet, many homeowners found it tough to know their roof's size. So, we thought, why not make this easier? What if we could streamline the process and save homeowners from measuring their roofs and dealing with sales talks?
From this idea, Instant Roofer was born. Our cutting-edge Nevada Roofing Calculator gives you a clear picture of what a new roof might cost. It's a simple way to understand the costs and options to keep your home weatherproof. Plus, our free, no-obligation estimate form ensures a quick response from trained local experts.
Instant Roofer was born out of this idea. Take a couple of tech nerds and skilled roofers to build the easiest, fastest, and most affordable way to calculate a roof cost anywhere in America.
Best part… We're 100% owned, developed, and operated by Americans.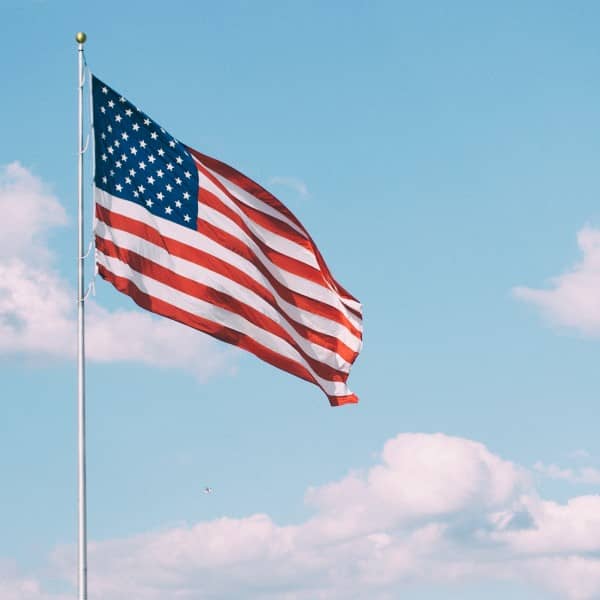 The Easiest Nevada Roofing Calculator
Looking for a replacement cost for your roof? Get instant quotes from real local contractors to determine the most suitable options available using our replacement cost estimator tool. Get an estimate on your roof and learn which material best suits your situation!
How do we connect you with the best Nevada roofer? We analyze roofing contractors' pricing in your area and their ratings online. Ensuring you get the best price and highest-rated Nevada Roofing contractor.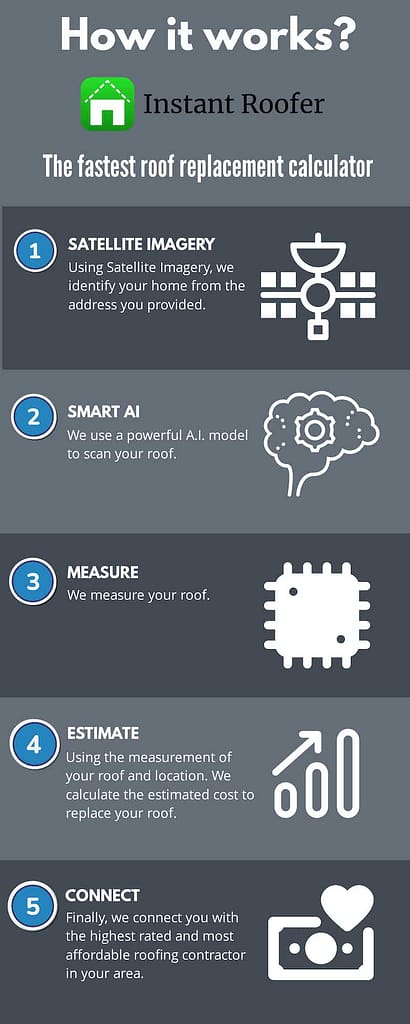 About Instant Roofer
You may be curious, is Instant Roofer a typical roofing company? The answer is both yes and no. We're like the tech-forward, streamlined version of a traditional roofing company – think of us as the Uber of the roofing industry. Our goal is to simplify the process for both you, the homeowner, and the roofing contractor using advanced technology.
How We Serve You
Investing in a new roof can be significant. With the average cost of a new roof in Nevada sitting around $8,400 (as of Jan 2023), we understand the importance of making this process as simple and transparent as possible. We leverage artificial intelligence to accurately measure the roof sizes of over 129 million homes across America.
We've built connections with local Nevada roofing contractors throughout all counties. And we're not just talking about any roofers, we're referring to the highest-rated Nevada roofer in your area.
Every Nevada roofing company in our network has provided us with their specific price per square foot for installing a new roof. By analyzing each contractor's pricing and ratings, we're able to identify the best-suited Nevada roofing contractor to serve you.
How We Support Roofing Contractors
Roofing is a complex job, with many variables like pitch, facets, eaves, and ridges to consider. While we kick-start the process with a rough estimate, we always recommend securing an actual quote for the most accurate pricing.
Unlike other roof replacement cost services, we respect your privacy and do not share your data with a multitude of roofers. We choose the best Nevada roofer for your needs and collaborate with them to ensure they have all the necessary details to successfully complete your roofing project.
True to our name, Instant Roofer is instant. The moment you accept your online roof replacement estimate, we spring into action. We immediately alert the chosen roofer about an upcoming project and confirm with you the chosen Nevada roofing contractor.
Top 20 Nevada Roofing Contractors
Enter your address in our app to learn who has the best combination of reviews and pricing for your exact home. Updated: 9/27/23
The Roofing Company LLC
(702) 686-5015
5
41 Google reviews
N
North Las Vegas, NV 89030
The Roofing Company LLC
(702) 569-7006
5
40 Google reviews
3432 N Bruce St Ste 3
N Las Vegas, NV 89030
CTR Roofing, LTD
(775) 657-8020
5
38 Google reviews
395 Freeport Boulevard
Sparks, NV 89431
CTR Roofing Ltd
(775) 657-8020
5
37 Google reviews
395 Freeport Blvd Ste 5
Sparks, NV 89431
Dabella
(503) 641-7676
4.8
431 Google reviews
6490 S McCarran Blvd Ste A2
Reno, NV 89509
Show 15 More

J.M.C. Roofing LLC
(775) 910-8404
5
32 Google reviews

520 Train Way
Pahrump, NV 89060

Joe's Roofing LLC
(775) 232-0084
4.8
70 Google reviews

512 Thoma St
Reno, NV 89502

Mills Roofing Inc.
(775) 345-9052
4.8
47 Google reviews

57 Coney Island Drive
Sparks, NV 89431

Joe's Roofing Reno
(775) 414-4252
4.7
74 Google reviews

512 Thoma Street
Reno, NV 89502

True Green Roofing Solutions
(775) 225-1590
4.9
30 Google reviews

316 California Avenue
Reno, NV 89509

Desert Valley Roofing LLC
(702) 558-8775
4.7
45 Google reviews

5985 Hauck Street
Las Vegas, NV 89118

Vegas Born Roofing LLC
(702) 876-2630
4.9
29 Google reviews

4205 W Tompkins Ave Ste 6
Las Vegas, NV 89103

Fortitude Roofing
(702) 954-5820
5
26 Google reviews

1310 South 3rd Street
Las Vegas, NV 89104

East Fork Roofing LLC
(775) 800-7663
4.7
39 Google reviews

1513 Greg Street
Sparks, NV 89431

Vegas Born Roofing
(702) 876-2630
4.9
28 Google reviews

4205 West Tompkins Avenue
Las Vegas, NV 89103

Quality First Home Improvement Inc
(800) 859-7494
4.6
327 Google reviews

4840 Mill St
Reno, NV 89502

D&L Roofing LLC
(702) 260-1114
4.6
100 Google reviews

6500 W Richmar Ave Ste 100
Las Vegas, NV 89139

Quality First Home Improvement, Inc.
(775) 206-0894
4.5
328 Google reviews

4840 Mill Street
Reno, NV 89502

Discount Roofing of Nevada
(702) 927-0008
4.6
33 Google reviews

6610 West Atwood Avenue
Las Vegas, NV 89108

Commercial Roofers Inc
(702) 876-1777
4.9
23 Google reviews

3865 W Naples Dr
Las Vegas, NV 89103
Don't see your company listed? Join our network!
Average Roof Replacement Cost in Nevada
The average Nevada roof replacement cost can range broadly due to several variables. However, most homeowners in Nevada can expect to pay between $8,000 and $20,000. This cost is significantly influenced by various factors. Use our Nevada roofing calculator to get a personalized estimate that reflects your specific roofing needs.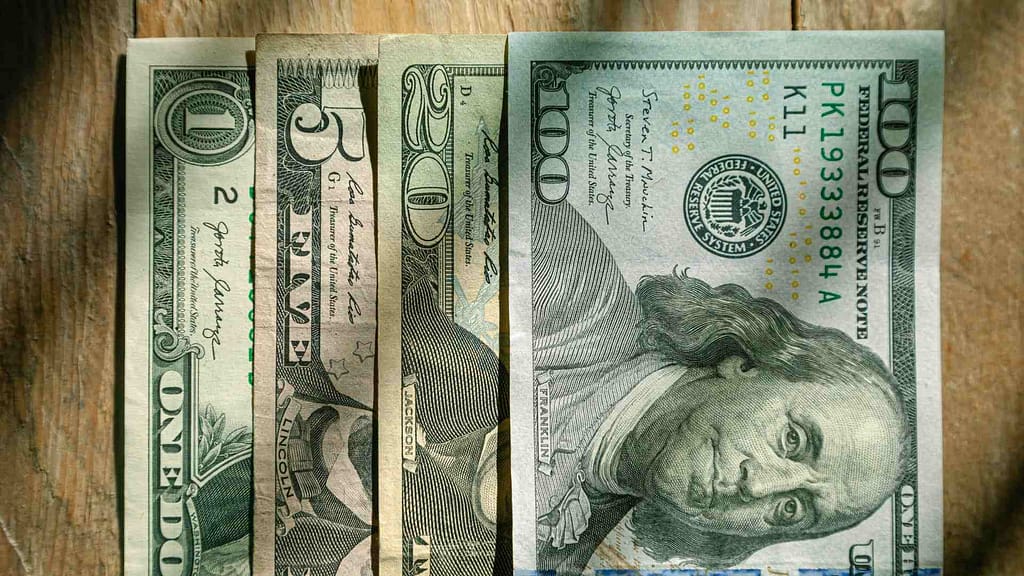 Factors Affecting Nevada New Roof Cost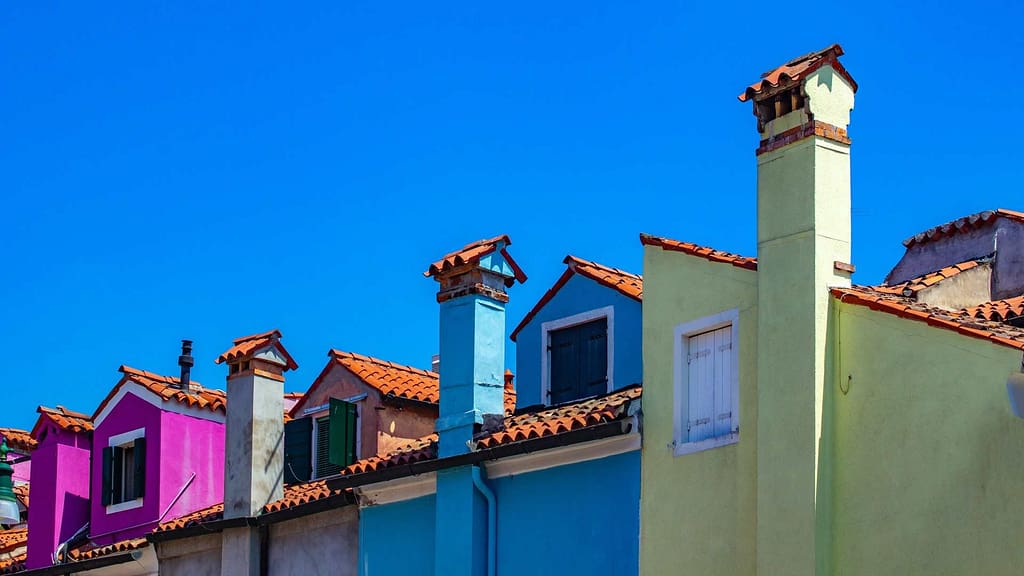 When considering a roof replacement in Nevada, it's important to understand that various elements can influence the overall cost. Here's a more detailed look at these factors:
Size: The size of your roof significantly affects the cost. Larger roofs require more materials and more labor hours, resulting in higher costs.
Materials: The type of roofing material you select also influences the cost. Choices such as Architectural Asphalt Shingle, Designer Asphalt Shingle, Metal Roofing, and Solar Roofs each come with different price points.
Pitch: The pitch or slope of your roof can affect the difficulty and therefore the cost of the job. Steeper roofs may require specialized safety equipment or techniques.
Labor Cost: The labor costs can vary based on the roofing contractor's experience and the complexity of the job. It's essential to get quotes from various contractors to ensure competitive pricing.
Location: Depending on the region within Nevada where you live, costs may vary due to differences in local building codes, permit costs, and the cost of living.
Permits: Some roofing projects may require permits, especially for substantial changes or additions. The cost for these permits can add to the overall cost of the project.
Inspection: If a roof inspection is necessary before the replacement, this could also add to your overall costs. An inspection can identify issues that need to be addressed during the replacement process, ensuring the longevity and safety of your new roof.
Selecting the Right Roofing Materials
Choosing the right roofing material is a critical decision that affects the longevity, durability, and aesthetic appeal of your home. Different materials offer various advantages and come with distinct price ranges. Here are four excellent options available to Nevada homeowners: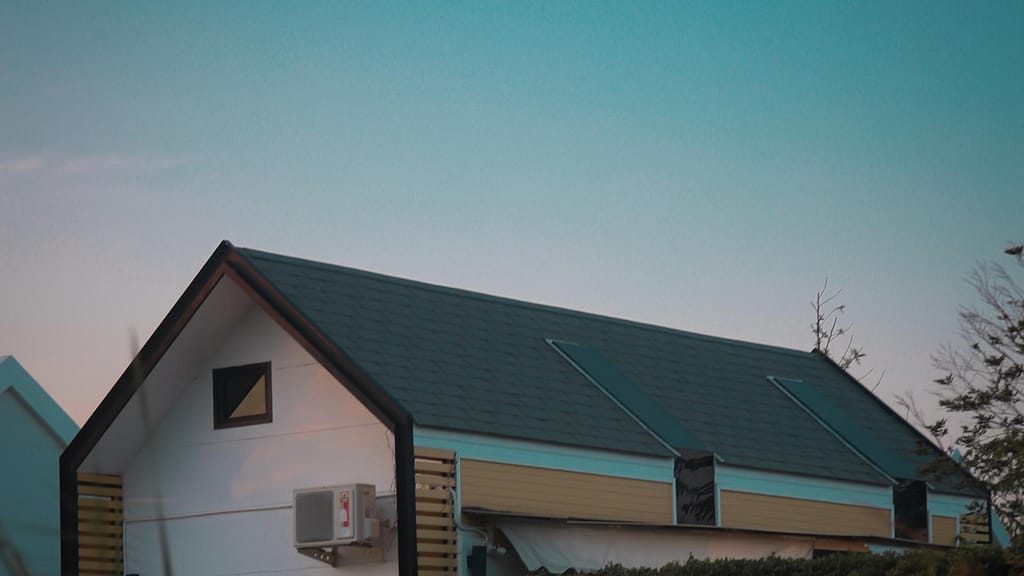 Architectural Asphalt Shingle: This popular roofing material provides a blend of affordability and durability, making it a solid choice for many homeowners. They come in a variety of colors and styles to match any home. Prices can range from $350 to $500 per square, including installation.
Designer Asphalt Shingle: These high-end asphalt shingles mimic the appearance of more expensive materials. While they cost more than their standard counterparts, typically around $450 to $700 per square installed, they add a touch of elegance to any home.
Metal Roofing: Known for its extreme durability and long lifespan, metal roofing is a fantastic option for Nevada homeowners looking to make a long-term investment. While its cost can range from $700 to $1,000 per square installed, its longevity and energy efficiency can offset this initial expense.
Solar Roof: The most innovative option on the market, solar roofs combine the protective qualities of a roof with the energy-producing capabilities of solar panels. While they are the most expensive option, ranging from $2,000 to $2,500 per square installed, they can generate significant energy savings over time.
Additional Costs of Roof Replacement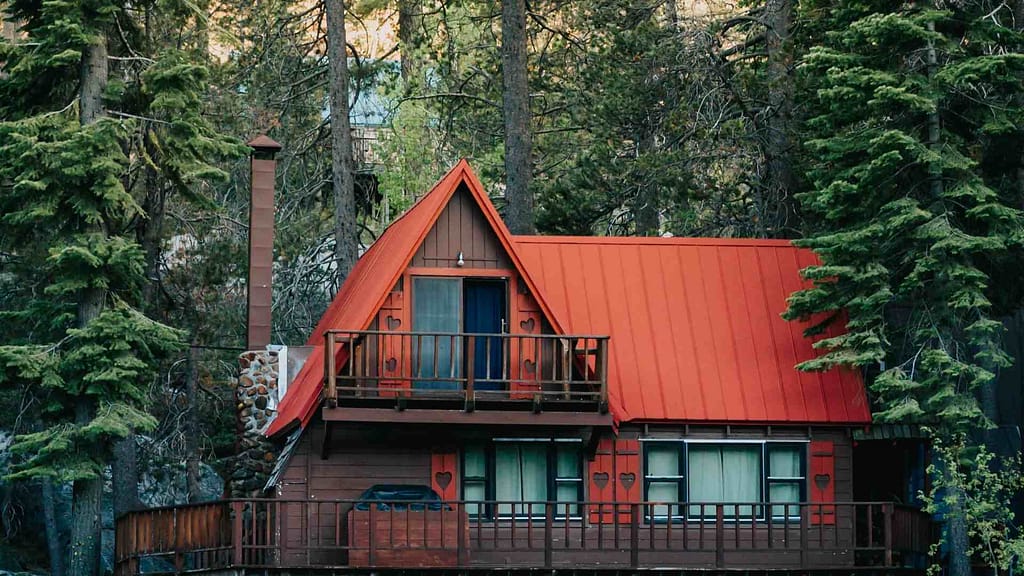 Beyond the basic expenses of materials and labor, several other aspects contribute to the overall Nevada new roof cost. It's essential to keep these additional costs in mind when planning your budget:
Existing Roof Removal: The first step in a roof replacement often involves taking off the existing roof. The cost of this service will depend on the complexity and size of the current roof.
Roof Inspection: Before installing a new roof, an inspection is necessary to assess the condition of the existing roof and underlying structures. This cost can vary based on the complexity of the roof and the extent of any identified issues.
Roof Features: The presence of additional features like chimneys, skylights, or vent pipes can also add to the cost, as they may require special handling or materials during the replacement process.
Roof Warranty: Some roofers offer extended warranties for an additional fee. These warranties can provide added peace of mind, but they do add to the overall cost.
Roof Insurance: Depending on your location and the type of roof you choose, you may see an impact on your homeowners insurance. Be sure to factor this into your total budget.
Underlying Structural Repairs: If the roof inspection uncovers issues such as rot or structural damage, these will need to be addressed before the new roof can be installed. The cost of these repairs can vary greatly based on the extent of the damage.
Clean Up and Disposal Fees: Once the job is complete, the old roofing materials will need to be disposed of properly. Some Nevada roofing contractors include this in their initial quote, while others may charge separately.
Nevada Weather Affects Roof's Lifespan
The main risks to house roofs in Nevada include prolonged sun exposure, high temperatures, occasional heavy rains, and strong winds that can significantly impact the lifespan of your roof. Materials like metal roofing and solar roofs can typically withstand Nevada's weather conditions better than other materials.
Signs You Need a New Roof
Key signs that you might need a new roof include recurring leaks, missing or damaged shingles, granules in your gutter, sagging areas, and your roof nearing the end of its expected lifespan. Consulting a Nevada roofing contractor can give you a professional assessment.
DIY vs. Professional Replacement
While a DIY roof replacement might seem like a cost-effective option, it often leads to additional expenses due to errors or overlooked damage. Professional Nevada roofing contractor offers the advantage of experience and specialized knowledge, ensuring a thorough, safe, and high-quality job.
Nevada Roofing FAQs
How often should I have my roof inspected?

For the longevity and optimal performance of your roof, it's recommended to have it inspected at least twice a year, preferably in spring and fall. However, following significant weather events or if you notice signs of damage, an additional inspection may be necessary.
Are there any specific building codes or regulations for roofing in Nevada?

Yes, Nevada has specific building codes that guide roofing installations and replacements. These codes might vary from one county to another. Therefore, it's essential to work with a licensed Nevada roofing contractor who is familiar with these local regulations to ensure compliance.
How can I improve the energy efficiency of my roof in Nevada's climate?

Improving energy efficiency can involve using roofing materials that reflect sunlight, adding insulation, and ensuring proper ventilation. The climate in Nevada makes solar roofs an excellent option, turning sunlight into usable energy for your home.
What are the recommended maintenance practices to prolong the lifespan of my roof?

To extend your roof's lifespan, regularly clear debris from the roof and gutters, replace damaged shingles promptly, and ensure your attic is adequately ventilated. Regular inspections by a professional Nevada roofer will also help detect potential issues early.
What steps should I take when hiring a roofing contractor in Nevada?

When hiring a roofing contractor in Nevada, ensure they are licensed and insured, check their online reviews and ratings, ask for references, and get a written estimate detailing the scope of work and cost. Using our Nevada roofing calculator can help streamline this process by connecting you with the highest-rated contractors in your area.
Interesting Facts About Nevada
| | |
| --- | --- |
| Average roof replacement price in Nevada | $8,400 |
| The number of Nevada roofs we've measured | 847,506 |
| Average Nevada home size | 1,750 Square Feet |
| Average Nevada property size (2020 Parcel Data) | 0.14 Acres or 6,100 Sqft |
| Largest zip code in Nevada | 89049 – Tonopah (10,244 Square Miles) |
| Average roof slope on Nevada homes | 4/12 Pitch or 18.43 Degrees |
| Most common roof type in Nevada | Asphalt Shingle |
| Nevada's weather averages | Lows of 44F/7C to highs around 58F/15C |
| Nevada's population estimated (2022) | 3,155,070 |
| Nevada's Time Zone | Pacific Standard Time (GMT -7) |
| Nevada's total square miles | 109,860 |
Data Collected 2021
See how your home compares to the average roof replacement price in Nevada. You can get a free estimate for a new roof via our free roof cost calculator. Get instant roof replacement costs for your exact home and connect with the highest-rated roofing contractor near you.
Thinking of financing your new Nevada roof?
A new roof can be an unexpected cost. You may need to borrow some money to get it done. We've built a simple roof financing calculator to help you figure out your monthly payments.
The Most Popular Areas We Serve In Nevada