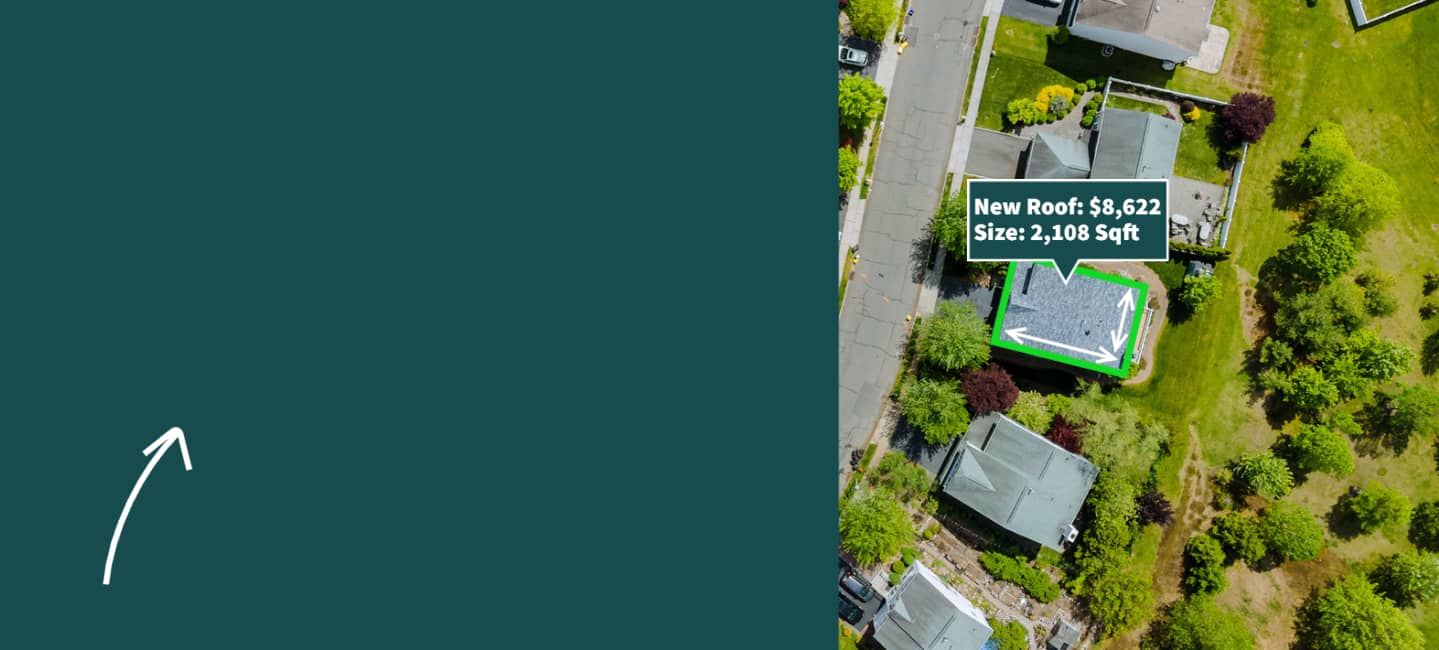 Indiana Roof Replacement Costs
Instantly get a Indiana new roof cost with our roofing calculator. See local Indiana roofing contractor prices for Asphalt, Metal, and Solar Roofing. Connect with a local Indiana Roofer today.
No signup required.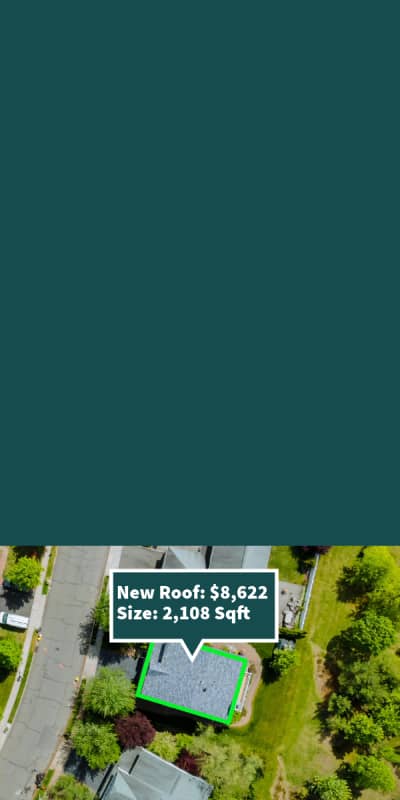 Indiana Roof Replacement Costs
Instantly get a Indiana new roof cost with our roofing calculator. See local Indiana roofing contractor prices for Asphalt, Metal, and Solar Roofing. Connect with a local Indiana Roofer today.
Wondering what it's going to cost to replace your roof in Indiana?

Measure
3,224,842 roofs scanned in Indiana

Estimate
Average new roof cost in Indiana is $6,350

Connect
934 highly-rated roofing contractors in Indiana
There's no need to wade through tedious paperwork just to obtain a roofing estimate. You deserve exceptional service and the most precise evaluations possible. That's why we created a fresh approach to getting your roof replacement cost online – introducing our Indiana Roofing Calculator . You can now enjoy efficient, seamless, and accurate service right at your fingertips.
Enter your address into Instant Roofer.
Confirm your home via Satellite Imagery.
Instantly view your estimated cost and roof size.
Submit the information to receive an estimate from the most affordable, top-rated Indiana roofer.
Find The Best Priced and Highest Rated Indiana Roofer in Seconds.
When in search of a new roofing contractor, our Indiana Roofing Calculator provides you with the confidence that your home will be serviced with top-notch quality. We consider each contractor's level of experience, expertise, and pricing to identify the ideal fit for your particular requirements.
Four Tailored Roofing Options Just for You
At Instant Roofer, we understand that each home comes with its own unique needs and every homeowner has their own distinct preferences. As such, we strive to offer a range of roofing solutions tailored to your specific requirements, budget, and vision. Whether it's durability, aesthetics, or energy efficiency you're after, we have a solution designed just for you.
Utilize our Indiana roofing calculator to delve into and compare the costs of four diverse yet equally sturdy roofing materials. Regardless of your choice, you can trust us to connect you with the most proficient and highly-rated Indiana roofer for your project.
Better Roof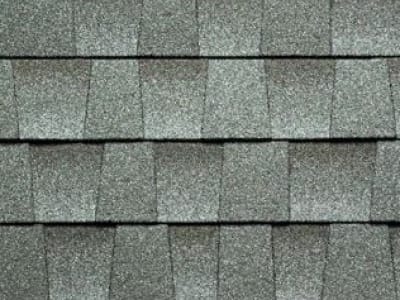 Limited Shingle Style Options
Average Life and Warranty
Average Impact and Wind Rating
Best roof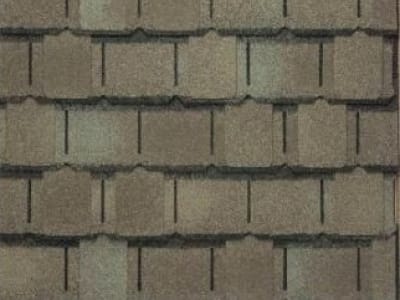 Bigger and Thicker Asphalt Shingle
Better Protection Against Algae
Longer Lasting Life and Warranty
Better Impact and Wind Rating
Metal Roof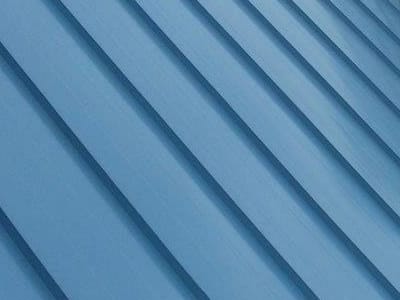 Better protection from fire
Better home cooling (UV Protection)
Best Impact and Wind Rating
Solar Roof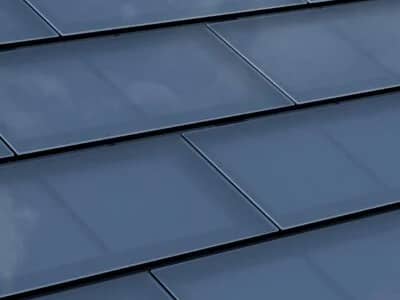 Up to 30% in Federal Tax Credits
Potential $0 Electricity Costs
Receive Your Indiana Roof Replacement Cost Online Today In Seconds
No sign-up is required.

"Instant Roofers estimate was spot on. The contractor it recommended was excellent. All around a great experience."
Our Distinct Approach
The cost of a new roof can vary significantly, contingent on its materials and complexity. Factors such as the condition of your existing roof and the type of shingles or other materials you choose will affect the overall cost.
In our journey of constructing roofing calculators, we discovered a recurring issue: homeowners were often unsure of their roof's size. This sparked a novel idea—could we streamline the process by using image recognition technology to eliminate the arduous tasks of determining roof dimensions, engaging with salespeople, and comprehending roof complexity?
We're thrilled to introduce our Indiana Roofing Calculator. Boasting as one of the most accurate roofing calculators on the internet, we take great pride in it. But that's not all—we also provide detailed instructions to ensure our calculator is tailored to your unique situation.
Instant Roofer embodies this concept. A blend of tech enthusiasts and experienced roofers, we've crafted the most user-friendly, swift, and cost-effective method to calculate roof costs anywhere in America
Best part… We're 100% owned, developed, and operated by Americans.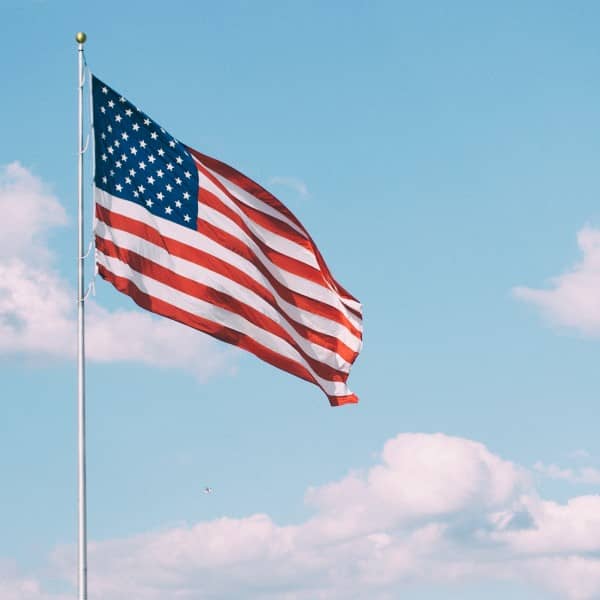 The Easiest Indiana Roofing Calculator
Is your roof calling for attention? Contemplating a new roof? With Instant Roofer, you can acquire an instant estimate from a skilled Indiana roofer in your area right from the comfort of your home. We harness the power of big data and artificial intelligence to present you with speedy, affordable, and precise estimates for your roof replacement costs.
So, how do we link you with the optimal roofer for your needs? By evaluating the pricing and online ratings of roofing contractors in your area. This ensures you receive the most competitive pricing from the highest-rated Indiana roofing contractor, providing quality service and peace of mind.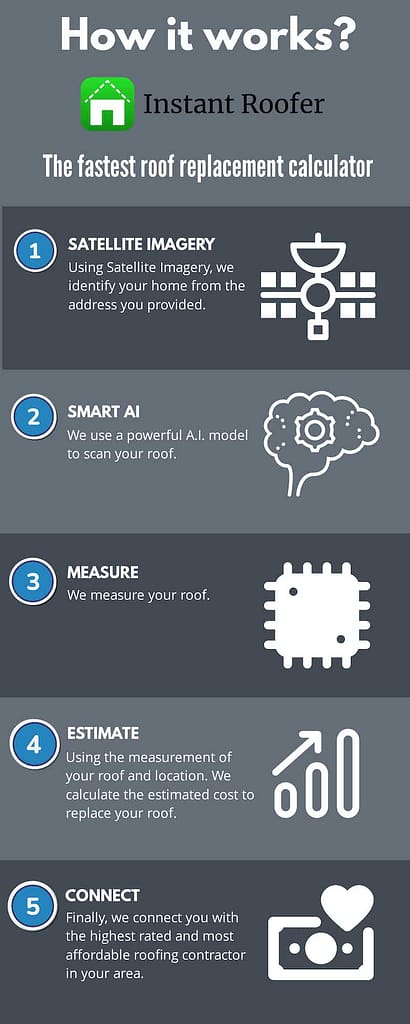 About Instant Roofer
A common question we encounter is whether we are a roofing company. Our answer? Yes, and no. Consider us the equivalent of a digital-age, UBER-style roofing platform. We leverage technology to simplify the roofing process, benefiting not just you, but also the roofing contractors.
Our Contribution to Your Roofing Journey
Embarking on a new roof project is a substantial investment. On average, a new roof in Indiana costs around $6,350. We've streamlined the process of roof replacement by harnessing the power of A.I. to measure the sizes of over 129 million homes across America.
Our platform connects you with local Indiana roofing companies throughout all counties. We ensure that these aren't just any roofers, but the top-rated, licensed, insured, and trusted professional Indiana roofer in your area.
Each roofing company provides us with their price per square foot for a new roof installation. By considering each contractor's price and online rating, we pinpoint the best-qualified Indiana roofing contractor in your area to assist you.
Our Support to Roofing Contractors
Roofing projects can be complex, with various factors like pitch, facets, eaves, ridges, and more to consider. We kickstart the process by providing an initial estimate, but we always advocate for obtaining a precise quote.
We differentiate ourselves from other roof replacement cost companies by prioritizing quality over quantity. Rather than forwarding your information to a multitude of roofers, we select and partner with the best Indiana roofer in your area, ensuring they have all the necessary details to carry out your new roofing project.
The 'Instant' in Instant Roofer isn't just a name. The moment you accept your online roof replacement estimate, we spring into action. We promptly notify the Indiana roofer of the upcoming project and confirm the Indiana roofing contractor with you.
Top 20 Indiana Roofing Contractors
Enter your address in our app to learn who has the best combination of reviews and pricing for your exact home. Updated: 9/27/23
EastWest Roofing
(317) 900-2221
4.9
29 Google reviews
4231 West 96th Street
Carmel, IN 46032
Rain Drain Seamless Guttering Inc
(574) 534-7822
4.6
65 Google reviews
57273 State Road 15
Goshen, IN 46528
Clemens Home Solutions
(765) 741-8214
5
770 Google reviews
2222 South Madison Street
Muncie, IN 47302
RCV Roofing, Siding & Gutters
(812) 650-4301
5
440 Google reviews
5264 West Vernal Pike
Bloomington, IN 47404
Andes Roofing
(812) 248-6155
5
339 Google reviews
4514 Bud Prather Road
Sellersburg, IN 47172
Show 15 More

Trojan Roofing
(317) 442-9480
5
339 Google reviews

333 Alabama Street
Indianapolis, IN 46204

Andes Roofing LLC
(812) 248-6155
5
339 Google reviews

4514 Bud Prather Rd
Sellersburg, IN 47172

Rooftech Construction
(574) 217-5712
5
257 Google reviews

18382 Clairmont Drive
South Bend, IN 46637

Hoel Roofing & Remodeling
(765) 561-4023
5
178 Google reviews

1419 Commerce Drive
Rushville, IN 46173

Rojas Roofing
(317) 597-4843
5
173 Google reviews

10340 Pleasant Street
Noblesville, IN 46060

The Way Construction
(812) 455-0231
5
153 Google reviews

2425 Highway 41 N Ste 202
Evansville, IN 47711

Smith Roofing & Remodeling
(260) 799-9999
5
126 Google reviews

4992 North 50 West
Columbia City, IN 46725

Watergate Roofing
(317) 807-6637
5
124 Google reviews

2201 East 46th Street
Indianapolis, IN 46205

Weathertight Roofing
(317) 983-7663
5
119 Google reviews

8945 South Street
Fishers, IN 46038

Weathertight Roofing LLC
(317) 983-7663
5
119 Google reviews

8945 South St
Fishers, IN 46038

OpenBox Roofing
(317) 619-9001
5
115 Google reviews

5680 Caito Drive
Indianapolis, IN 46226

The Heartland Builders
(317) 420-2455
5
110 Google reviews

333 E Ohio St Ste 101
Indianapolis, IN 46204

Jordan Scott Contracting
(317) 800-8869
5
105 Google reviews

374 South Madison Avenue
Greenwood, IN 46142

Indianapolis Roofing LLC
(317) 800-1308
5
100 Google reviews

450 East 96th Street
Indianapolis, IN 46240

Watertight Roofing Indy
(317) 248-3704
5
98 Google reviews

120 East Market Street
Indianapolis, IN 46204
Don't see your company listed? Join our network!
Average Roof Replacement Cost in Indiana
The average cost of roof replacement in Indiana varies greatly depending on several factors, including the type of roofing materials, the size of the roof, and the labor cost. On average, homeowners can expect to pay between $5,000 and $10,000 for a complete roof replacement.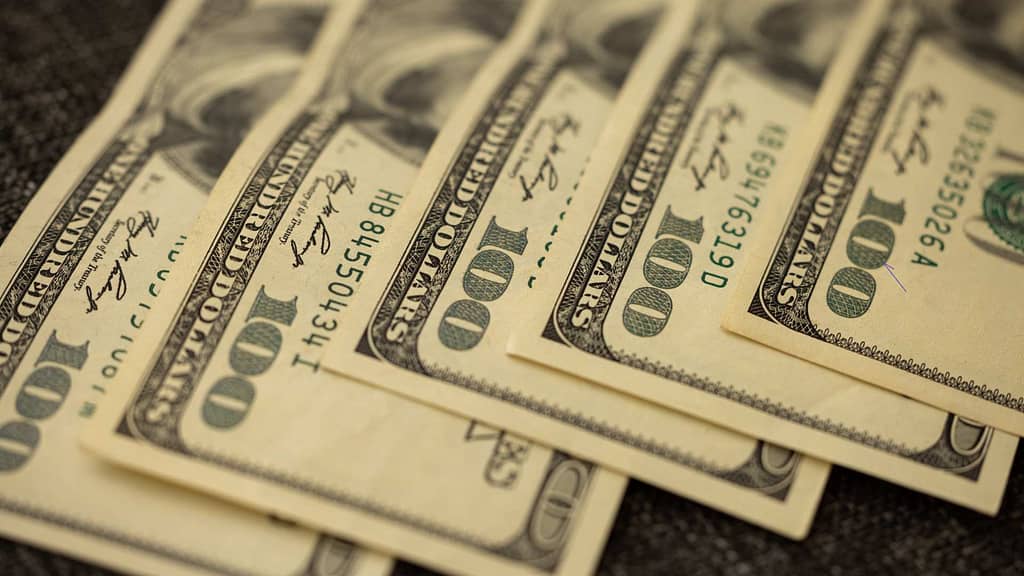 Major Factors Affecting Indiana New Roof Cost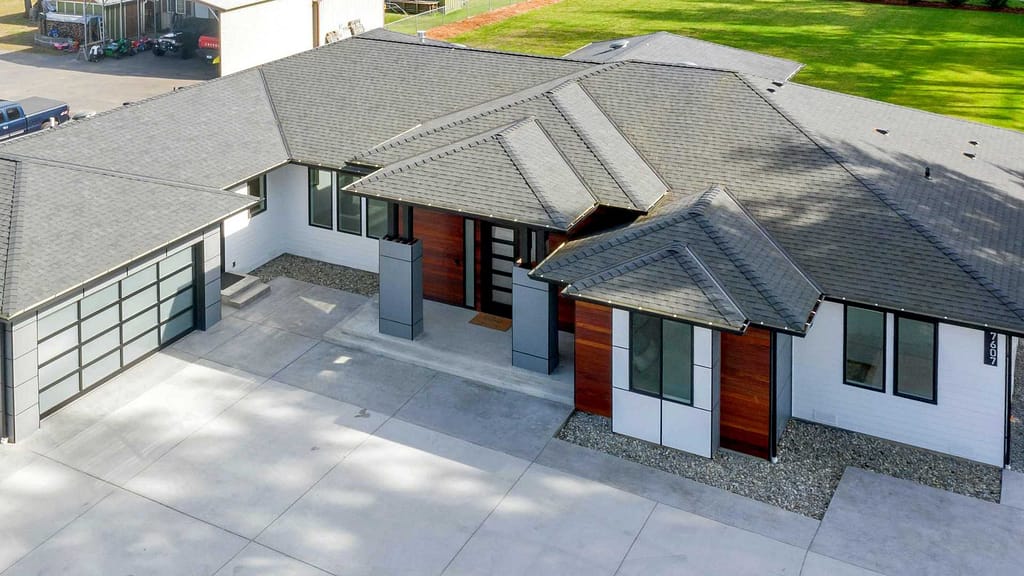 When determining the cost of a new roof in Indiana, several factors come into play. By understanding these elements, you can better anticipate your project's expenses and ensure you're adequately budgeting for your roof replacement.
Size: Generally, the bigger the roof, the more materials and labor are required, which increases the cost. Roofing costs are often calculated by square footage, so a larger roof area will lead to higher expenses.
Materials: The materials you choose for your roof can significantly impact the final cost. Options like architectural asphalt shingles, designer asphalt shingles, metal roofing, or solar roofs all come at different price points.
Pitch: The pitch or slope of your roof can also affect the cost. Steeper roofs are more challenging and require more time and safety measures to install, which can increase labor costs.
Labor Cost: Labor costs vary between different Indiana roofers and are influenced by the complexity of the job, the time it takes, and the workforce's expertise level. It's essential to get several quotes to ensure you're getting a fair price.
Location: Where you live in Indiana can also impact the cost. Some areas may have higher living costs, and these can often be reflected in the labor costs charged by local contractors.
Permits: Depending on local regulations, you may need a permit for roof replacement. The cost of these permits can vary but is an essential factor to include when calculating your overall expenses.
Inspection: Finally, some regions require a roof inspection both before and after a roof replacement, which can add to the overall cost of the project. Your local Indiana roofing contractor should be able to provide more details on whether this applies to your situation.
Right Materials for Your Roof Replacement
The choice of materials plays a significant role in the cost of roof replacement in Indiana. It's important to understand the different options available to you, each with its benefits, aesthetic, and cost.
Architectural Asphalt Shingle
These are high-quality asphalt shingles known for their durability and aesthetic appeal. They are heavier than regular shingles, which allows them to withstand high winds and harsh weather. The cost for architectural shingles can range from $350 to $500 per square (a roofing square equals 100 square feet).
Designer Asphalt Shingle
Designer shingles offer unique styles and colors, allowing homeowners to customize the look of their homes. They are a step up from architectural shingles, offering even greater durability and aesthetics. The cost for designer asphalt shingles can range from $400 to $600 per square.
Metal Roofing
Metal roofing is incredibly durable and can last upwards of 50 years with proper care. It's also fire resistant and can help keep your home cooler by reflecting solar heat. The cost for metal roofing can range from $700 to $1,000 per square, depending on the type of metal used.
Solar Roof
Solar roofs offer the dual functionality of protection from the elements and the generation of electricity. Though the upfront cost is high, they can provide significant savings over time due to reduced energy bills. The cost of a solar roof can vary significantly based on the size of the home and the specific system installed, but it generally ranges from $2,000 to $2,500 per square.
Remember, these prices are estimates and the actual cost can vary depending on various factors like the roofer's labor charges, the roof's complexity, and the location of your home in Indiana. Use our Indiana roofing calculator for a more precise estimate for your specific situation.
Indiana Weather Impacts Roof's Lifespan
The main risks to your house roof in Indiana include severe weather events such as storms, high winds, and hail. Additionally, snow accumulation during winter can pose challenges, including the potential for ice dams and roof damage. Materials like metal roofing or architectural shingles can withstand these weather conditions better, adding to their lifespan.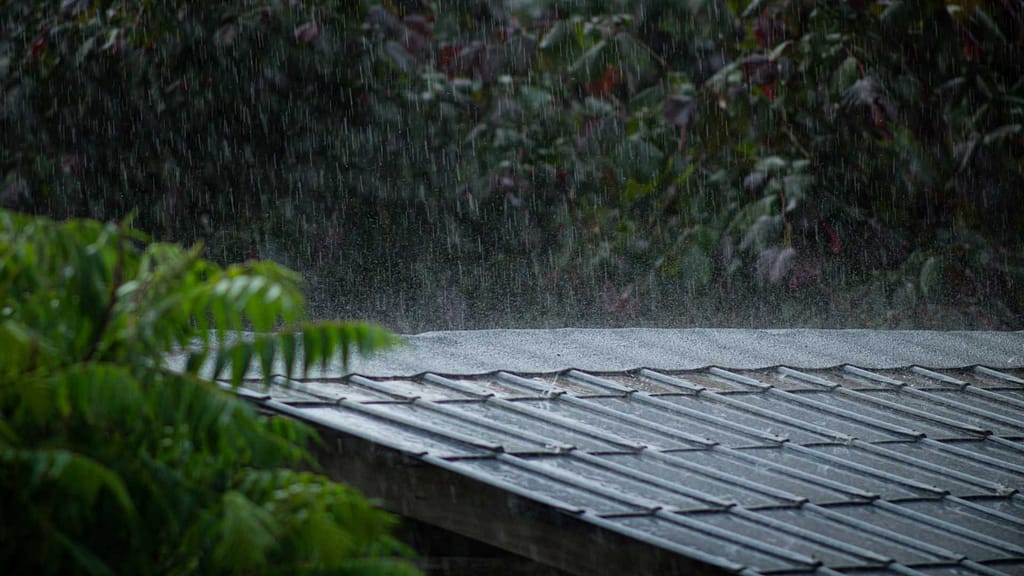 Additional Costs of Roof Replacement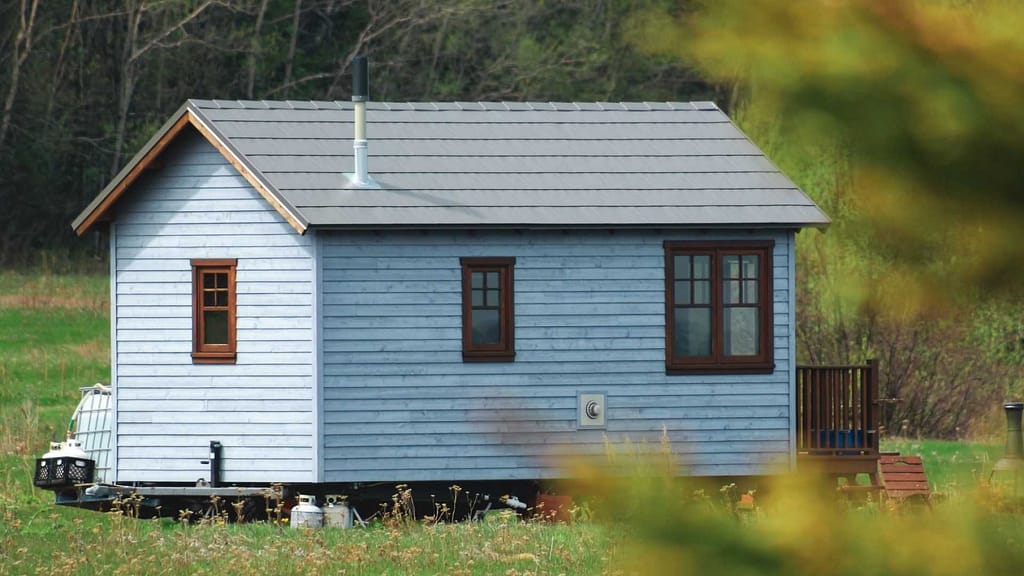 Beyond the primary costs of a roof replacement, there are additional expenses you should account for in your budget. Here are some of the potential extra costs that may accompany your Indiana roof replacement project:
Existing Roof Removal: Depending on the state of your current roof and the type of new roofing you choose, your old roof may need to be completely removed before the new roof is installed. This involves extra labor and disposal costs.
Roof Inspection: Both before and after the replacement, roof inspections may be necessary to ensure there are no hidden issues and the job has been done correctly. Some roofing contractors include this in their overall quote, while others do not.
Underlying Structural Repairs: If there's damage to the underlying structure of your roof, additional repairs may be necessary. This could include replacing or reinforcing joists and beams, which can add to the overall cost.
Roof Features: The complexity of your roof can impact the cost. Features such as skylights, chimneys, or vent pipes may require additional work during a roof replacement and increase the total cost.
Roof Warranty: Some roofers offer extended warranties beyond the manufacturer's warranty. These warranties, while offering peace of mind, can add to the overall cost of the project.
Roof Insurance: Homeowner's insurance may cover a portion of the roof replacement costs in certain circumstances, but it's important to confirm the specifics of your policy.
Clean Up and Disposal Fees: Finally, don't forget the clean-up. After the work is done, there could be significant debris left behind. Some roofers include clean-up in their cost estimates, but make sure to confirm this before you sign a contract.
Ways to Save on Roof Replacement Costs
There are several ways to save on roof replacement costs, including choosing cost-effective materials like asphalt shingle roof, comparing quotes from various Indiana roofers, and scheduling your roof installation during contractors' off-peak seasons.
Signs You Need a New Roof
Age of the Roof
Shingle Damage
Roof Leaks
Granules in Gutters
Sagging Roof
Sunlight Through the Roof Boards
If you notice any of these signs, it's important to get a professional Indiana roofer to inspect your roof. They can provide an accurate assessment and advise you on whether a repair or a full roof replacement is needed.
New Roof versus Roof Repair
While a new roof can be a significant investment, sometimes it's more cost-effective in the long run than continuous repairs. If your roof is older or the damage is extensive, a complete roof replacement might be the best option.
DIY versus Professional Replacement
While DIY projects can save money, a roof replacement is a substantial project that often requires professional expertise. Professional Indiana roofing contractors have the necessary skills, tools, and knowledge to ensure a safe and efficient installation. Plus, hiring a professional also comes with warranties and insurance that DIY projects lack.
Remember, our Indiana roofing calculator is a free tool designed to provide you with an accurate estimate, helping you make an informed decision about your roofing needs.
Indiana Roofing FAQs
How often should I inspect my roof for damage?

To ensure the longevity of your roof, it's recommended to inspect it at least twice a year, typically in the spring and fall. Regular inspections help identify minor issues before they turn into major problems. However, after heavy storms or severe weather conditions, an immediate roof inspection is advisable to assess any potential damage.
Are there any specific building codes or regulations for roofing in Indiana?

Yes, in Indiana, roofing projects must adhere to the local building codes which vary by city and county. It's crucial to hire an Indiana roofing contractor who is familiar with these local codes to ensure your roof replacement project is compliant.
How can I prevent ice dams and protect my roof during winter?

Preventing ice dams involves maintaining a uniform roof temperature. This can be achieved through proper insulation, sealing off any air leaks, and ensuring good ventilation in the attic. Additionally, regular removal of snow from your roof can help prevent the buildup of ice dams.
What is the average lifespan of different roofing materials in Indiana?

The lifespan of your roof depends largely on the material used. Architectural asphalt shingles typically last 25-30 years, while designer asphalt shingles can last up to 40 years. Metal roofing boasts a lifespan of 50 years or more, and solar roofs can last for several decades, making them a durable and eco-friendly option.
What are the signs of roof damage and when should I consider a roof replacement?

Signs of roof damage can include missing or curling shingles, granules in gutters, water stains on interior walls or ceilings, and visible light through the roof boards. When these signs appear, it's time to consult an experienced Indiana roofing contractor to explore your options.
Interesting Facts About Indiana
| | |
| --- | --- |
| Average roof replacement price in Indiana | $6,350 |
| The number of Indiana roofs we've measured | 3,224,842 |
| Average Indiana home size | 1,750 Square Feet |
| Average Indiana property size (2020 Parcel Data) | 0.27 Acres or 11,800 Sqft |
| Largest zip code in Indiana | 47240 – Greensburg (303 Square Miles) |
| Average roof slope on Indiana homes | 4/12 Pitch or 18.43 Degrees |
| Most common roof type in Indiana | Asphalt Shingle |
| Indiana's weather averages | Lows of 47F/8C to highs around 59F/15C |
| Indiana's population estimated (2022) | 6 |
| Indiana's Time Zone | Eastern Standard Time (GMT -4) |
| Indiana's total square miles | 35,826 |
Data Collected 2021
See how your home compares to the average roof replacement price in Indiana. You can get a free estimate for a new roof via our free roof cost calculator. Get instant roof replacement costs for your exact home and connect with the highest-rated roofing contractor near you.
Thinking of financing your new Indiana roof?
A new roof can be an unexpected cost. You may need to borrow some money to get it done. We've built a simple roof financing calculator to help you figure out your monthly payments.
The Most Popular Areas We Serve In Indiana