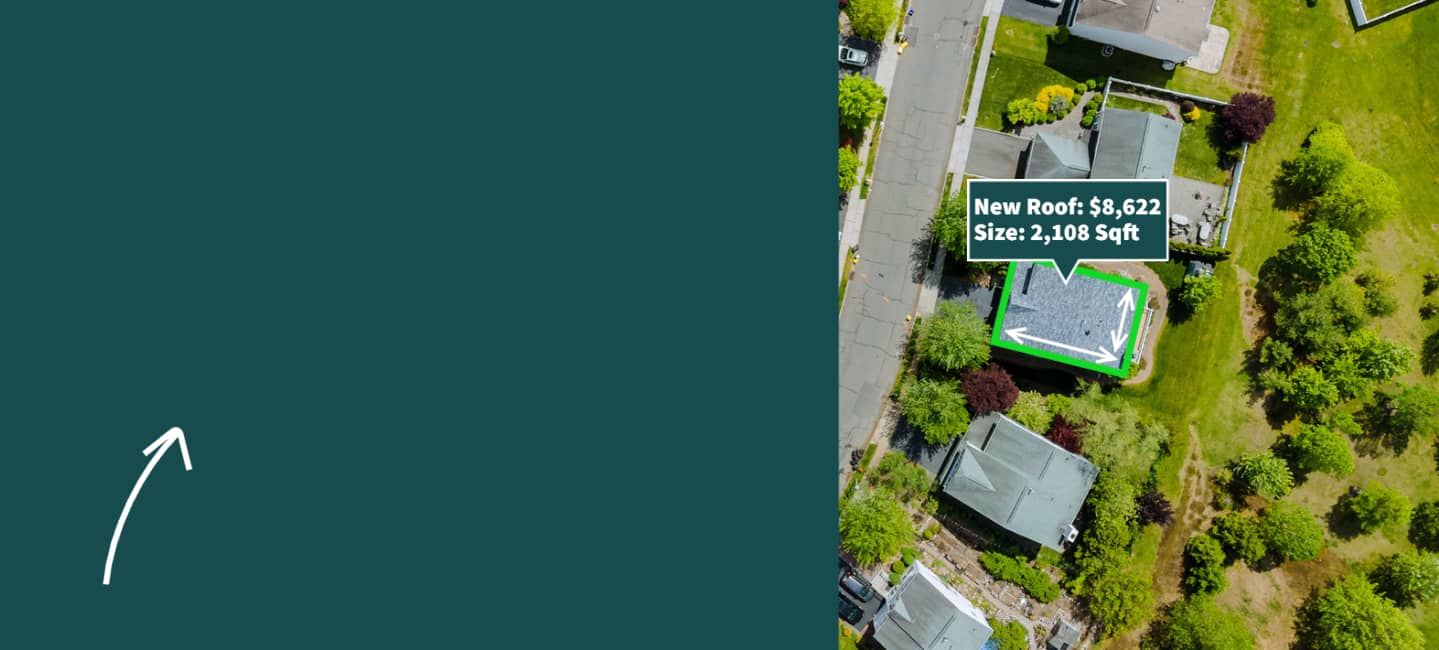 Hawaii Roof Replacement Costs
Instantly get a Hawaii new roof cost with our roofing calculator. See local Hawaii roofing contractor prices for Asphalt, Metal, and Solar Roofing. Connect with a local Hawaii Roofer today.
No signup required.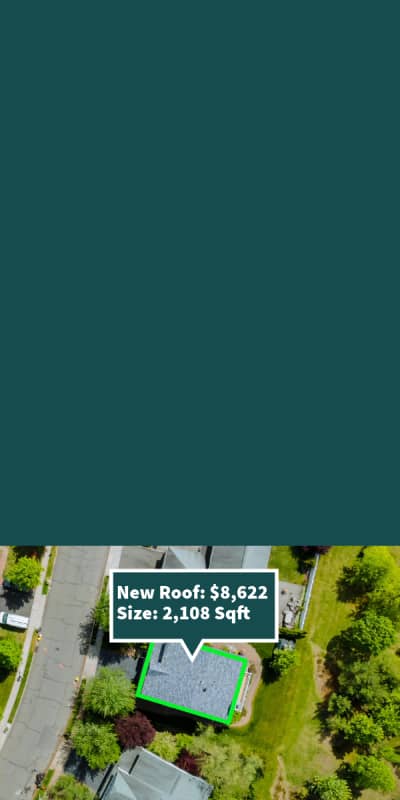 Hawaii Roof Replacement Costs
Instantly get a Hawaii new roof cost with our roofing calculator. See local Hawaii roofing contractor prices for Asphalt, Metal, and Solar Roofing. Connect with a local Hawaii Roofer today.
Wondering what it's going to cost to replace your roof in Hawaii?

Measure
252,797 roofs scanned by our roof replacement cost calculator in Hawaii

Estimate
Average roof replacement costs in Hawaii is $12,555

Connect
Find a roofer ideally suited to service your home from the 148 highly-rated roofing contractors in Hawaii
Top 20 Hawaii Roofing Contractors
Enter your address in our app to learn who has the best combination of reviews and pricing for your exact home. Updated: 12/5/23
Gnarly Roofing
(808) 778-2244
4.5
54 Google reviews
7853 Makaaoa Place
Honolulu, HI 96825
K&M Roofing & Waterproofing
(808) 799-7756
4.6
10 Google reviews
84-560 Nukea Street
Waianae, HI 96792
Rising Sun Solar
(808) 575-2202
4.8
46 Google reviews
269 Papa Place
Kahului, HI 96732
Kapili Solar Roofing & Painting
(808) 621-7663
4.9
229 Google reviews
94-221 Leonui Street
Waipahu, HI 96797
Kapili Roofing & Painting
(808) 621-7663
4.9
229 Google reviews
94-221 Leonui St Ste A
Waipahu, HI 96797
Show 15 More

Ohana Construction, Inc.
(808) 219-0539
4.9
155 Google reviews

2144 Kauhana Street
Honolulu, HI 96816

TopLevel Construction
(808) 769-6979
5
39 Google reviews

724 Kakala Street
Kapolei, HI 96707

FBC Roofing
(808) 236-0756
4.9
71 Google reviews

3050 Ualena Street
Honolulu, HI 96819

Fullmer Brothers Construction LLC
(808) 232-7007
4.9
63 Google reviews

59-366 Pupukea Rd
Haleiwa, HI 96712

True Home Hawaii Roofing
(808) 359-0035
4.9
56 Google reviews

94-1388 Moaniani Street
Waipahu, HI 96797

Fast Track Construction
(808) 212-9605
4.9
45 Google reviews

1050 Queen Street
Honolulu, HI 96814

Property Wash In Paradise
(808) 498-6912
4.9
39 Google reviews

1626 Nohoana Place
Hilo, HI 96720

ProBuilt Hawaii Roofing & Rain Gutters
(808) 639-2600
4.8
81 Google reviews

PO Box 1022
Kalaheo, HI 96741

First Class Roofing LLC
(808) 277-1200
5
32 Google reviews

94-1028 Molale St
Waipahu, HI 96797

MRC Roofing
(808) 842-4464
4.8
55 Google reviews

1041 Puuwai Street
Honolulu, HI 96819

Oahu Roofing & Repairs Kaneohe
(808) 825-6420
5
28 Google reviews

45-939 Kamehameha Highway
Kaneohe, HI 96744

Koolau Roof Tech
(808) 292-2205
5
27 Google reviews

45-143 William Henry Road
Kaneohe, HI 96744

Oahu Roofing & Repairs Honolulu
(808) 746-7377
4.9
28 Google reviews

1138 Kamaile Street
Honolulu, HI 96814

Skyta Construction & Roofing
(808) 427-0135
4.6
53 Google reviews

2045 Lauwiliwili St Ste 203
Kapolei, HI 96707

Skyta Solar and Roofing
(808) 427-2005
4.6
53 Google reviews

2045 Lauwiliwili Street
Kapolei, HI 96707
Don't see your company listed? Join our network!
Are you considering a new roof, but concerned about the costs? Here's where our online tool, Hawaii roofing calculator comes in. We think getting a roofing estimate should be easy, not filled with paperwork. We also believe that everyone should receive top-notch service and accurate estimates. That's why we created a fresh, simple way for you to get your Hawaii roof replacement cost online with Instant Roofer.
Enter your address into Instant Roofer.
Confirm your home via Satellite Imagery.
Instantly view your estimated cost and roof size.
Submit the information to receive an estimate from the most affordable, top-rated Hawaii roofer.
Discover the Best-Value, Top-Rated Hawaii Roofer in No Time.
As a homeowner, you have numerous choices for your roofing needs. Our Hawaii Roofing Calculator simplifies this process by evaluating details of your specific project and comparing it with past projects handled by potential contractors. We consider key aspects such as expertise, industry knowledge, and cost, ensuring that you find the most suitable option tailored to your unique requirements.
Explore Four Easy Roofing Choices
At Instant Roofer, we understand that every home has unique needs and each homeowner has specific preferences. That's why we offer a range of roofing options to match your specific needs, budget, and tastes. Whether you're looking for durability, aesthetic appeal, or energy efficiency, we have a personalized solution just for you.
Use our Hawaii roofing calculator to check and compare the costs of four distinct but equally strong roofing materials. Regardless of your selection, count on us to connect you with the most competent and top-rated Hawaii roofer for your project.
Better Asphalt Roof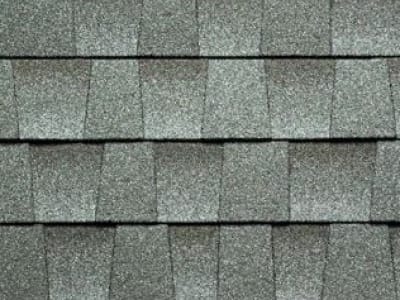 Limited Shingle Style Options
Average Life and Warranty
Average Impact and Wind Rating
Best Asphalt Roof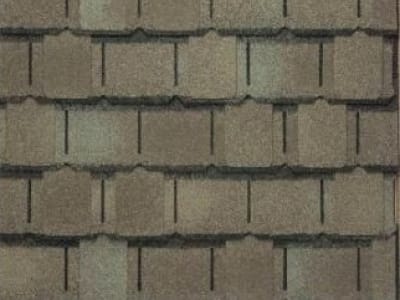 Bigger and Thicker Asphalt Shingle
Better Protection Against Algae
Longer Lasting Life and Warranty
Better Impact and Wind Rating
Metal Roof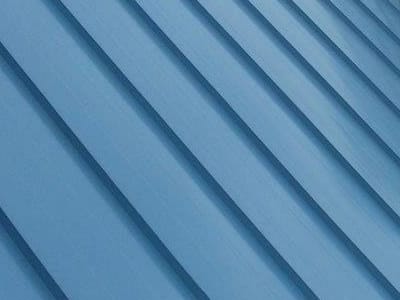 Better protection from fire
Better home cooling (UV Protection)
Best Impact and Wind Rating
Solar Roof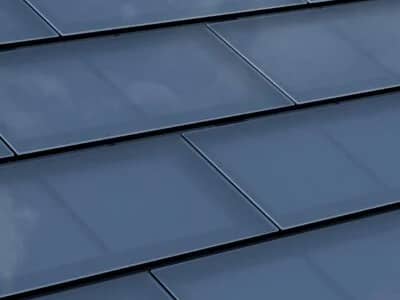 Up to 30% in Federal Tax Credits
Potential $0 Electricity Costs
Clay/Terra Cotta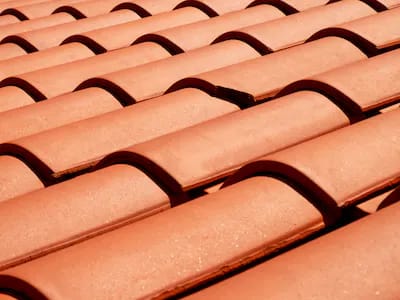 Durable Against Sun & Wind
Slate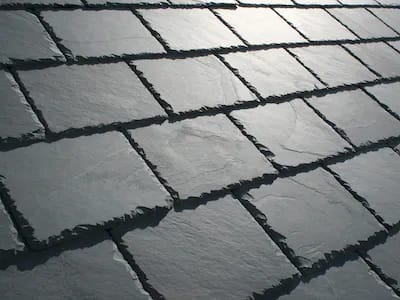 Durable & Low Maintenance
Cedar Shake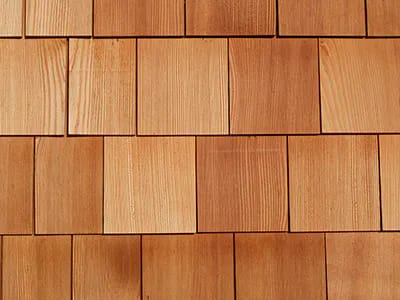 Flat Roofing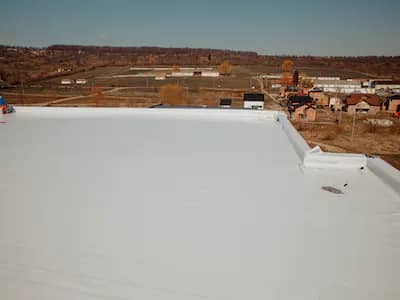 Copper
Fire, Wind & Hail Resistant
Concrete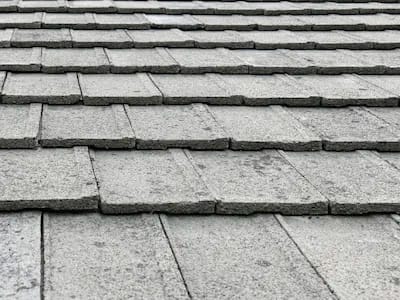 Durable & Low Maintenance
Solar Panels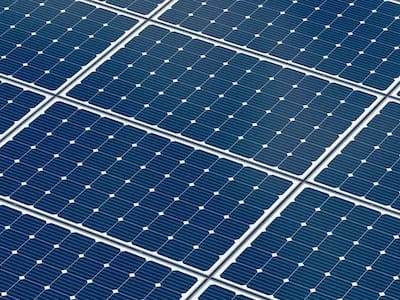 Up to 30% in Federal Tax Credits
Potential $0 Electricity Costs
Receive Your Hawaii Roof Replacement Cost Online Today In Seconds
No sign-up is required.

"Instant Roofers estimate was spot on. The contractor it recommended was excellent. All around a great experience."
What Sets Us Apart
Roof replacement can feel like a complex, intimidating project, and while some homeowners might consider handling it on their own to save costs, it requires substantial time and a secure, safe environment.
In our past experience of building roofing calculators, we recognized a common issue: homeowners struggled to know the dimensions of their roof. This sparked an innovative thought—what if there was a user-friendly tool to guide homeowners through the entire process without the traditional hassles of measuring roof dimensions, liaising with salespeople, and evaluating roof complexity?
Enter Instant Roofer. We offer a free Hawaii Roofing Calculator to assist people in answering their roof replacement queries. Our methodology distinguishes us from large-scale roofing companies. We prioritize your privacy, refrain from unwanted marketing, and don't request your contact details or address at the onset.
Instant Roofer originated from this singular vision. Harnessing the skills of tech enthusiasts and experienced roofers, we have created the simplest, quickest, and most cost-effective solution to estimate roof costs anywhere in America.
Best part… We're 100% owned, developed, and operated by Americans.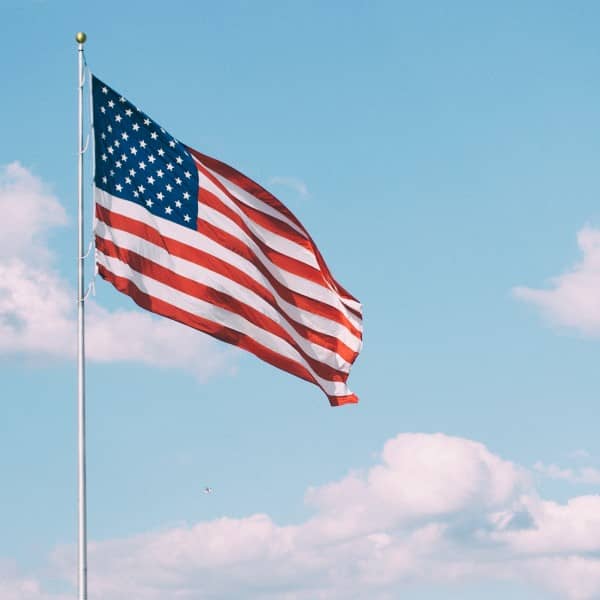 The Simplest Hawaii Roofing Calculator
Did you realize that a roof replacement could cut your energy bills by as much as 50%? With just a few clicks, you can obtain a free estimate from top-rated professionals in the roofing industry in mere minutes.
So, how do we ensure you're connected to the best Hawaii roofer? We delve into the pricing strategies of roofing contractors in your area, in addition to analyzing their online reviews and ratings. This approach guarantees you receive the most competitive pricing from the highest-rated Hawaii roofing contractor. Experience a seamless, efficient, and trustworthy process with our Hawaii roofing calculator.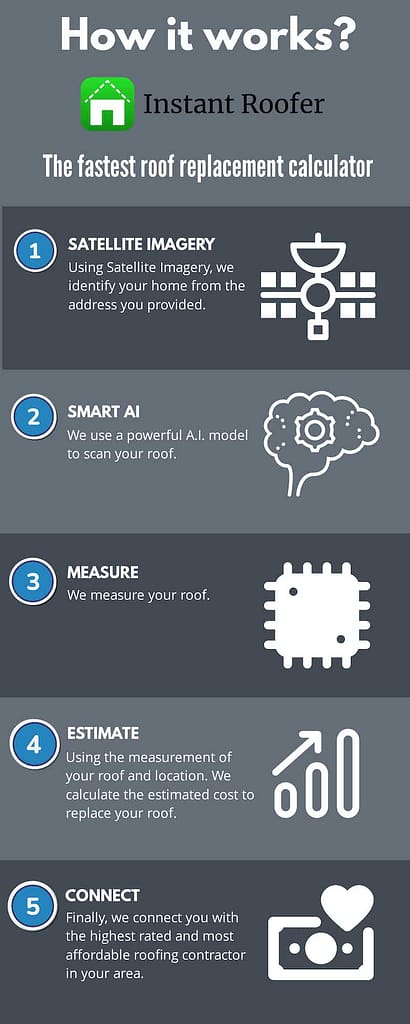 Understanding Instant Roofer
At Instant Roofer, we frequently get asked if we're a roofing company. Our answer is both yes and no. Think of us as the digital revolution in the roofing industry, similar to how Uber transformed transportation. We harness the power of technology to streamline the roofing process for both homeowners and roofing contractors.
How We Support Homeowners
Installing a new roof is a significant investment, with the average new roof in Hawaii costing around $11,900. Our mission is to simplify this process. We've utilized artificial intelligence to measure the roof sizes of over 129 million homes throughout America, making roof replacement more straightforward than ever.
We've fostered connections with top-rated Hawaii roofing companies across all counties, ensuring you get connected to not just any roofer, but the best in your area.
Each of these Hawaii roofing companies has provided us with their cost per square foot for installing a new roof. By evaluating each roofing contractor's price and rating, we can determine the most suitable Hawaii roofing contractor in your area to assist you with your project.
How We Assist Roofing Contractors
The roofing process can be complex, with factors such as pitch, facets, eaves, and ridges all coming into play. We start by providing a preliminary estimate but always encourage obtaining an actual quote for utmost accuracy.
In contrast to other platforms, we don't distribute your information to a broad network of roofers. Instead, we handpick the top Hawaii roofer in your area and collaborate with them, ensuring they have the necessary details to complete your new roofing project successfully.
With Instant Roofer, instant is not just a name—it's a promise. As soon as you accept your online roof replacement estimate, we spring into action. We immediately alert the chosen roofer about the upcoming project and confirm the selected Hawaii roofing contractor with you.
Average Roof Replacement Cost in Hawaii
Replacing a roof in Hawaii is a sizable investment, with the average cost varying depending on several factors. Our Hawaii roof replacement cost calculator helps you get a realistic estimate based on your specific roof area, material preferences, and additional requirements.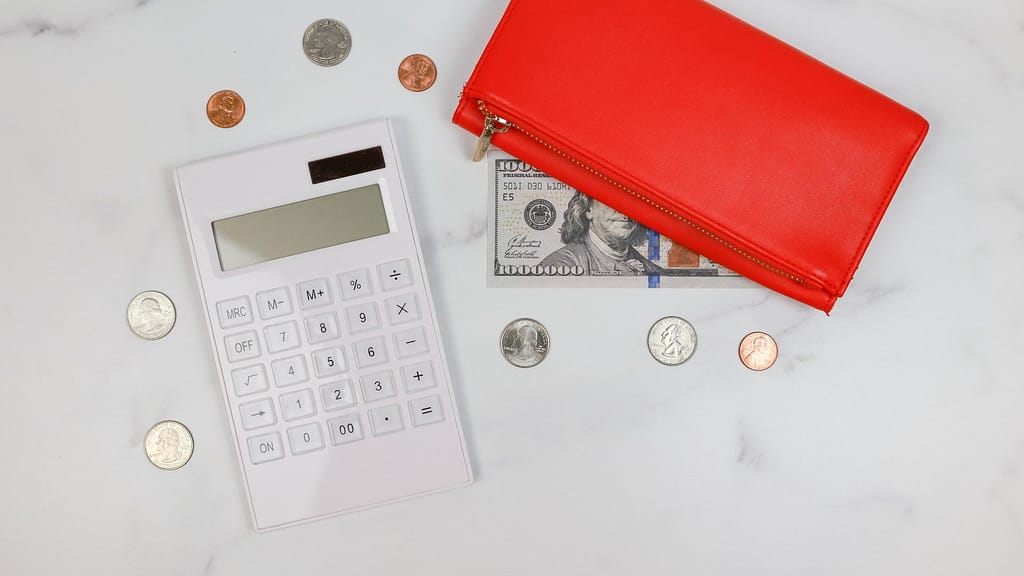 Key Factors Affecting Hawaii New Roof Cost
When it comes to calculating the cost of a new roof in Hawaii, various elements play a significant role. These key factors will influence the final pricing you receive on your roofing quote:
Size: The size of your roof, measured in squares (one square equals 100 square feet), directly influences the cost of materials and labor. Larger roofs require more materials and labor, hence cost more.
Materials: The type of roofing material chosen significantly impacts the cost. Choices like Architectural Asphalt Shingle, Designer Asphalt Shingle, Metal Roofing, and Solar Roof each have different price points and lifespans.
Pitch: Roofs with steep pitches require more safety equipment and time to replace, hence impacting the cost. Our Hawaii roofing calculator factors in your roof's pitch to provide an accurate estimate.
Labor Cost: The complexity of the project and the rates of the roofing contractor you choose also affect the overall cost. A well-experienced Hawaii roofer might charge more but will often provide superior work.
Location: Geographic location can affect the cost of your new roof. Certain areas may have higher labor costs, and the cost of materials may vary depending on local availability.
Permits: The cost of obtaining a building permit in Hawaii varies depending on the region and the size of the project. These costs should also be factored into your budget.
Inspection: A professional roof inspection can identify potential issues that might need to be addressed during the roof replacement, which could affect the overall cost.
Hawaii Weather Impacts Roof's Lifespan
Hawaii's tropical climate can be harsh on roofs. Factors such as rain, wind, salt air, and UV radiation can significantly affect your roof's lifespan. Selecting a material that can withstand these conditions is key to ensuring the longevity of your roof.
Roof Replacement Additional Costs
While the cost of materials and labor make up a significant portion of the Hawaii new roof cost, it's essential to consider additional expenses associated with a roof replacement:
Old Roof Removal: Before your new roof can be installed, the old roof must be removed. The cost of this process varies depending on the size and complexity of the roof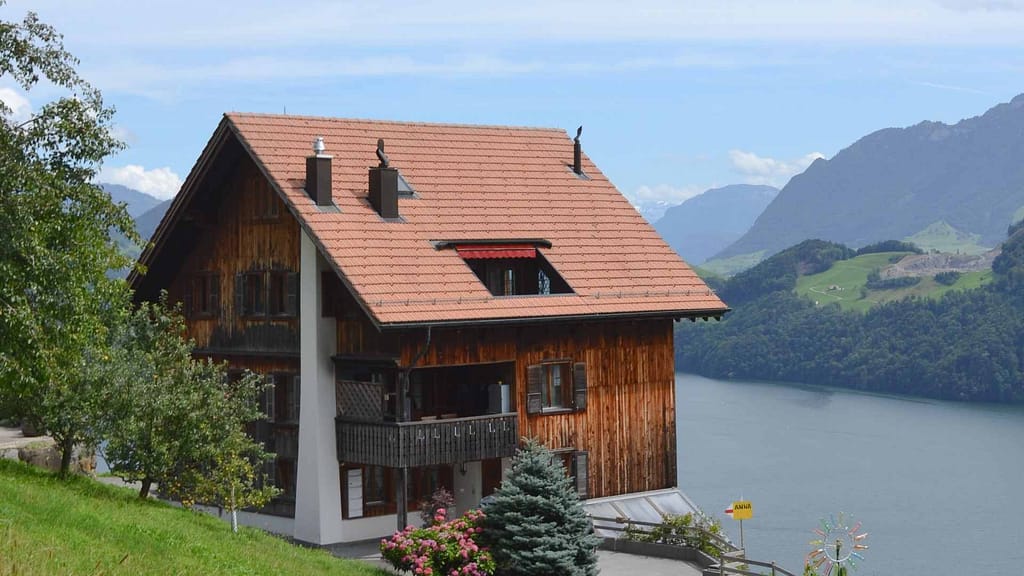 Underlayment Repair: The underlayment of your roof, which provides additional protection against water and wind, may need repairs or replacement. Any necessary underlayment repair will add to the overall project cost..
Roof Features: Additional features on your roof, such as chimneys, skylights, or vent pipes, can increase the complexity of the project and, therefore, the cost.
Roof Cleaning: Before installing the new roofing material, your roof may require professional cleaning to remove any moss, algae, or debris. This ensures a proper installation and increases the lifespan of your new roof.
Clean Up and Disposal Roof Insurance: Once the work is completed, there will be a clean-up and disposal process to manage the old roofing material and any debris. Some roofers include this in their initial quote, while others may charge an additional fee.
Right Materials for Your Hawaii Roof Replacement
Choosing the right materials for your new roof is critical, as it can significantly impact both the cost and durability of your roof. Here's a breakdown of the roofing options we offer at Instant Roofer and their estimated price ranges: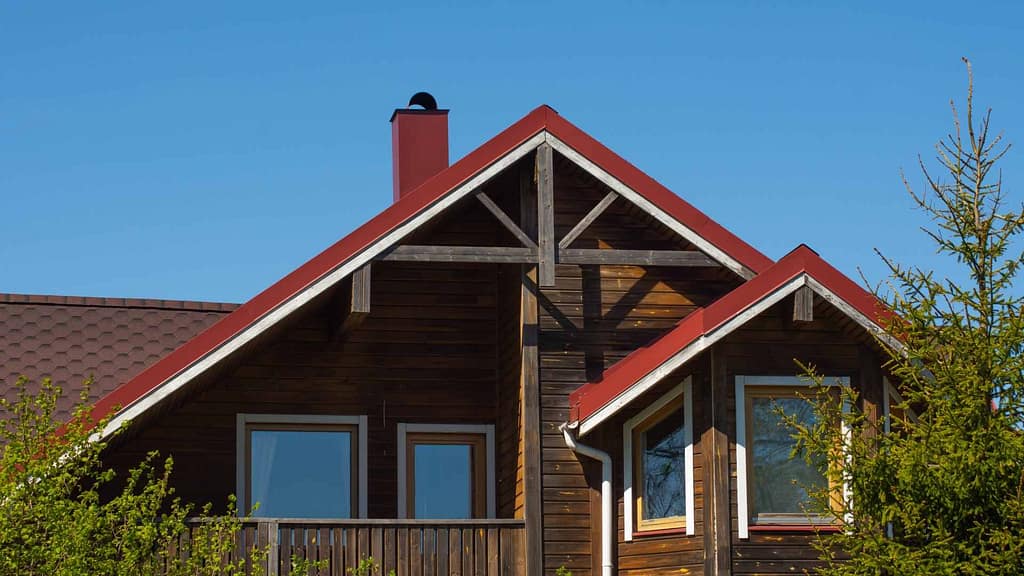 Architectural Asphalt Shingle: These are high-quality shingles known for their durability and dimensional appearance. They typically cost between $350 to $500 per square (100 square feet).
Designer Asphalt Shingle: Offering a variety of colors and styles, these shingles are an aesthetic choice for many homeowners. They are slightly pricier, ranging between $400 to $600 per square.
Metal Roofing: Known for their longevity and resistance to Hawaii's weather conditions, metal roofs can cost between $700 to $1,000 per square. Although the initial cost is high, they can last two to three times longer than asphalt shingle roofs.
Solar Roof: These innovative roofing systems harness solar energy while providing protection against the elements. A solar roof can cost significantly more upfront, ranging from $2,000 to $2,500 per square. However, the energy savings over time can offset the initial cost.
Keep in mind, the prices above are rough estimates and actual costs can vary. The final cost can depend on the complexity of the installation, your location, and the specific product chosen. Use our Hawaii roofing calculator to get a more precise estimate based on your roof's specifics and your choice of materials.
Signs You Need a New Roof
Your roof is a key component of your home's structural integrity and aesthetic appeal. Spotting signs of wear and tear early can save you from costly repairs down the line or an unexpected full roof replacement. Here are some clear indicators that your Hawaii roof might need a replacement: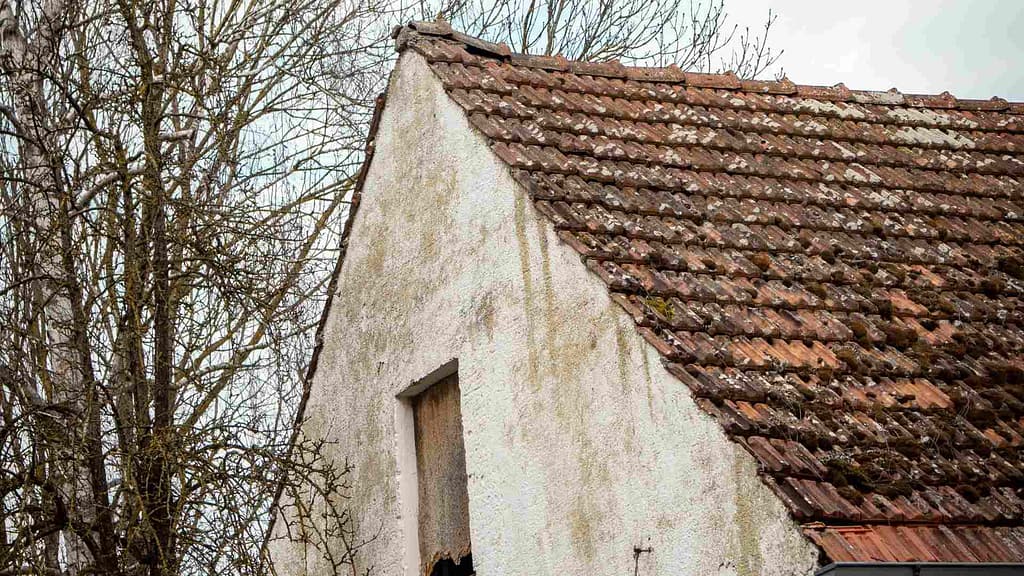 Age of the roof
Damaged or missing shingles
Granules in the gutters
Sagging Roof
Mold or moss
Increased energy bills
Visible rust and corrosion
Roof Replacement vs. Repair
Sometimes, minor damages can be fixed with simple repairs. However, if the damage is widespread or your roof is nearing the end of its lifespan, a full replacement might be a more cost-effective solution.
DIY vs. Professional Replacement
While DIY projects can be cost-saving, professional roof replacement ensures the job is done correctly and safely, especially given the complexities of roofing work. A professional Hawaii roofer will also ensure compliance with local building codes, provide a warranty, and usually deliver a higher quality result.
Hawaii Roofing FAQs
What are the best roofing materials for Hawaii's tropical climate?

Hawaii's tropical climate can pose unique challenges to roofs, including high humidity, salty air, heavy rain, and intense sun. Materials like metal roofing and designer asphalt shingles tend to fare well in these conditions, offering durability, resistance to wind and water, and long-lasting performance.
How often should I inspect and maintain my roof in Hawaii?

Due to Hawaii's year-round tropical weather, it's recommended to inspect your roof at least twice a year. Regular maintenance, like cleaning the gutters, checking for damage, and promptly addressing any repairs, can also help prolong the lifespan of your roof.
What steps can I take to protect my roof from the potential risks of volcanic activity in certain parts of Hawaii?

If you live in an area near active volcanoes, the risk of ash and other volcanic debris can pose a threat to your roof. Regularly inspecting and cleaning your roof can prevent buildup and potential damage. For new roof installations or replacements, consider materials that offer fire resistance and durability. Consult with your local Hawaii roofer for further advice.
Are there specific considerations for roofing in coastal areas of Hawaii?

Absolutely, coastal areas in Hawaii can be particularly harsh on roofing materials due to high winds, salty air, and increased exposure to the sun It's beneficial to consult with a local Hawaii roofing contractor, who can guide you on the best practices.
What are the warranty and insurance coverage options for my roof in Hawaii?

Warranty and insurance options can vary depending on the roofing materials and the contractor you choose. Always discuss these options with your Hawaii roofing contractor to ensure you have comprehensive coverage for your investment.
Interesting Facts About Hawaii
| | |
| --- | --- |
| Average roof replacement price in Hawaii | $12,555 |
| The number of Hawaii roofs we've measured | 252,797 |
| Average Hawaii home size | 1,175 Square Feet |
| Average Hawaii property size (2020 Parcel Data) | 0.33 Acres or 14,700 Sqft |
| Largest zip code in Hawaii | 96720 – Hilo (523 Square Miles) |
| Average roof slope on Hawaii homes | 6/12 Pitch or 26.57 Degrees |
| Most common roof type in Hawaii | Asphalt Shingle |
| Hawaii's weather averages | Lows of 57F/14C to highs around 72F/22C |
| Hawaii's population estimated (2022) | 1,415,872 |
| Hawaii's Time Zone | Hawaii-Aleutian Standard Time (GMT -10) |
| Hawaii's total square miles | 6,422 |
Data Collected 2021
Thinking of financing your new Hawaii roof?
A new roof can be an unexpected cost. You may need to borrow some money to get it done. We've built a simple roof financing calculator to help you figure out your monthly payments.
The Most Popular Areas We Serve In Hawaii