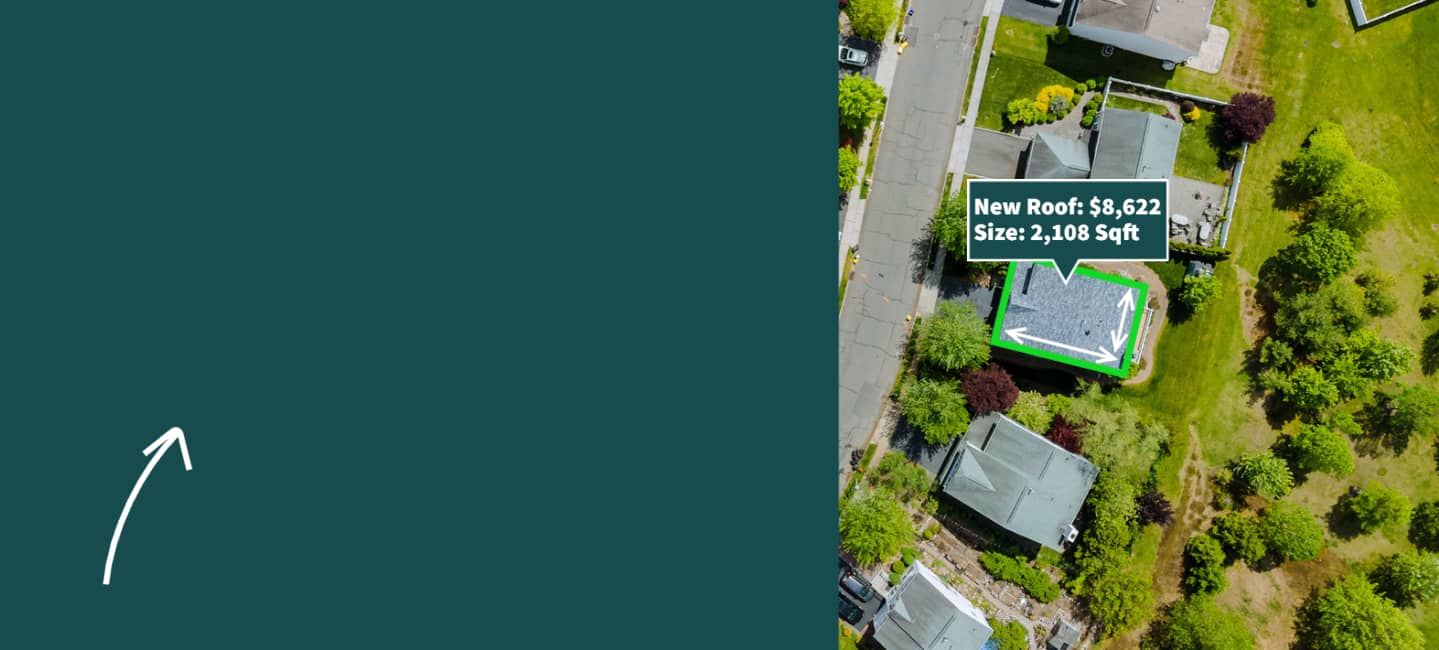 Michigan Roof Replacement Costs
Instantly get a Michigan new roof cost with our roofing calculator. See local Michigan roofing contractor prices for Asphalt, Metal, and Solar Roofing. Connect with a local Michigan Roofer today.
No signup required.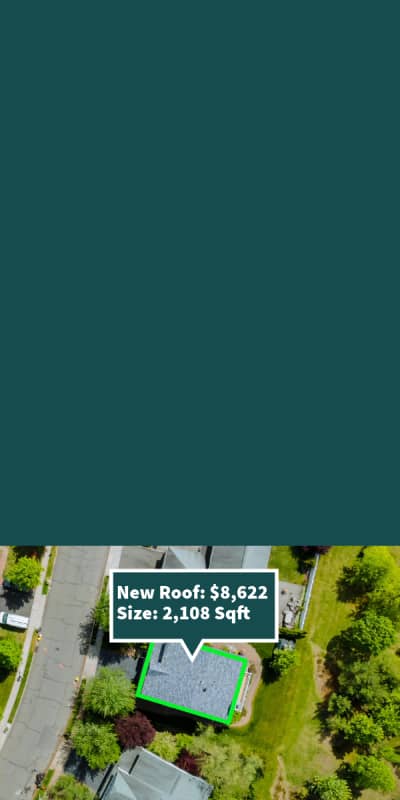 Michigan Roof Replacement Costs
Instantly get a Michigan new roof cost with our roofing calculator. See local Michigan roofing contractor prices for Asphalt, Metal, and Solar Roofing. Connect with a local Michigan Roofer today.
Wondering what it's going to cost to replace your roof in Michigan?

Measure
4,847,450 roofs scanned in Michigan

Estimate
Average new roof cost in Michigan is $6,650

Connect
1,231 highly-rated roofing contractors in Michigan
At Instant Roofer, we are committed to modernizing the way you estimate your Michigan roof replacement cost. We understand the inconvenience and inefficiency that traditional paperwork-based estimates can bring. This inspired us to create an innovative, online platform for obtaining your roofing estimates. We firmly believe in offering everyone accurate Michigan roof replacement cost, ensuring you receive the highest quality service without ever leaving your home.
Enter your address into Instant Roofer.
Confirm your home via Satellite Imagery.
Instantly view your estimated cost and roof size.
Submit the information to receive an estimate from the most affordable, top-rated Michigan roofer.
Discover the Top-Rated and Most Affordable Michigan Roofer in Moments
With our Michigan roofing calculator, securing a reputable Michigan roofing contractor for your home becomes a breeze. By considering each contractor's level of reviews, and pricing, we can pinpoint the best-fit professional tailored to your distinct needs. Rest assured, with Instant Roofer, you'll find the best priced, highest rated Michigan roofer in your Michigan.
Pick From Four Easy-to-Understand Roofing Choices
Understanding that each home is unique, and homeowners have their distinct preferences, Instant Roofer strives to offer a range of roofing options tailored to your needs and budget. Whether you're seeking long-lasting durability, stunning aesthetics, or energy-saving features, we have the right solution.
Our Michigan Roofing Calculator enables you to explore and contrast the costs of four distinct roofing materials: Architectural Asphalt Shingles, Designer Asphalt Shingles, Metal Roofing, and Solar Roofing.
Take a few minutes to familiarize yourself with these materials and decide what best fits your needs. Regardless of your choice, count on us to match you with the best-priced and highest-rated Michigan roofer to execute your project flawlessly.
Better Roof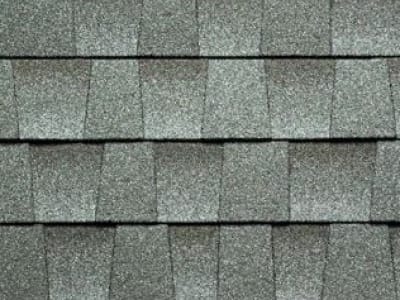 Limited Shingle Style Options
Average Life and Warranty
Average Impact and Wind Rating
Best roof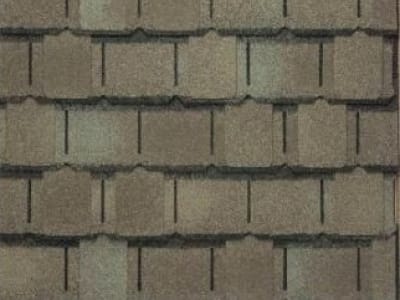 Bigger and Thicker Asphalt Shingle
Better Protection Against Algae
Longer Lasting Life and Warranty
Better Impact and Wind Rating
Metal Roof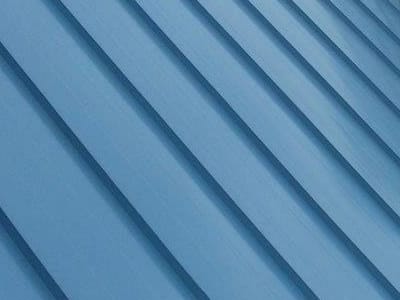 Better protection from fire
Better home cooling (UV Protection)
Best Impact and Wind Rating
Solar Roof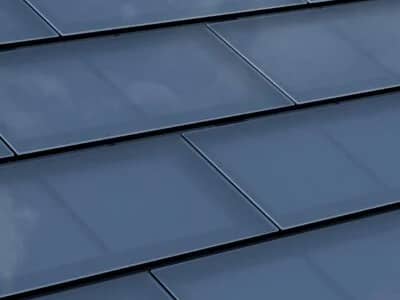 Up to 30% in Federal Tax Credits
Potential $0 Electricity Costs
Receive Your Michigan Roof Replacement Cost Online Today In Seconds
No sign-up is required.

"Instant Roofers estimate was spot on. The contractor it recommended was excellent. All around a great experience."
What Makes Us Stand Out
Knowing the costs involved in roofing your home is crucial. The price can differ greatly based on various factors like your existing roof type, the quantity of new material required for the job, and if there are any repairs needed before the new installation.
Previously, we've developed Michigan roofing calculators. However, we observed a recurring issue: homeowners were unsure about their roof's dimensions. So, we thought, what if instead of homeowners undergoing a tedious process of determining their roof size, consulting with sales personnel, decoding roof complexity, and choosing a product, all this could be accomplished with a single app? So we got to work and built it.
We understand the frustration many feel when websites and apps seem more focused on collecting your contact information or selling you something else rather than genuinely helping you determine your Michigan roof replacement cost. At Instant Roofer, we take a different approach: we promise not to inundate you with spam, nor try to peddle something else. We're here to provide straightforward answers to your roof replacement queries, without any unnecessary complications. With our Michigan roofing calculator, you can receive a new roof cost estimate in under a minute, simplifying the process for you.
Thus, Instant Roofer was born. A collaboration between tech enthusiasts and experienced roofers to create the simplest, quickest and hassle-free way to calculate roof costs across America.
The cherry on top… We're 100% American-owned, developed, and operated."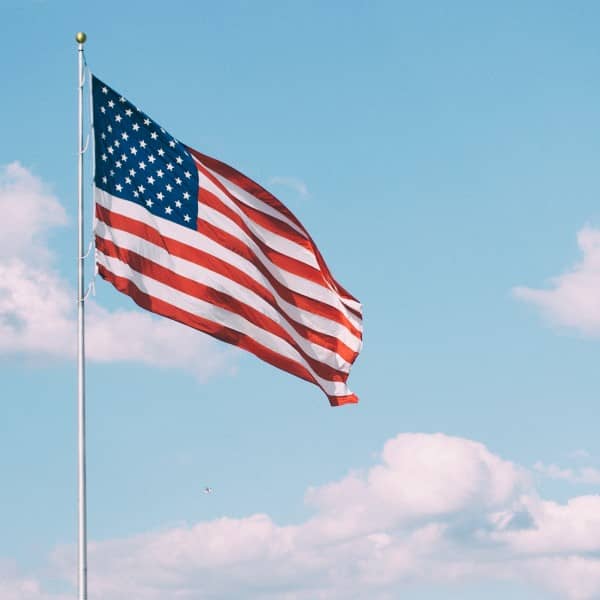 The Simplest Michigan Roofing Calculator
Are you in the market for a new roof? Our online tool instantly generates estimates from local contractors in your vicinity. We utilize the power of big data and artificial intelligence to provide you with a swift, cost-effective, and precise Michigan roof replacement cost.
So how do we link you with the ideal roofer? We conduct a thorough analysis of the pricing offered by roofing contractors in your area and their online ratings. This ensures that you receive the most competitive price and connect with the top-rated Michigan roofing contractor.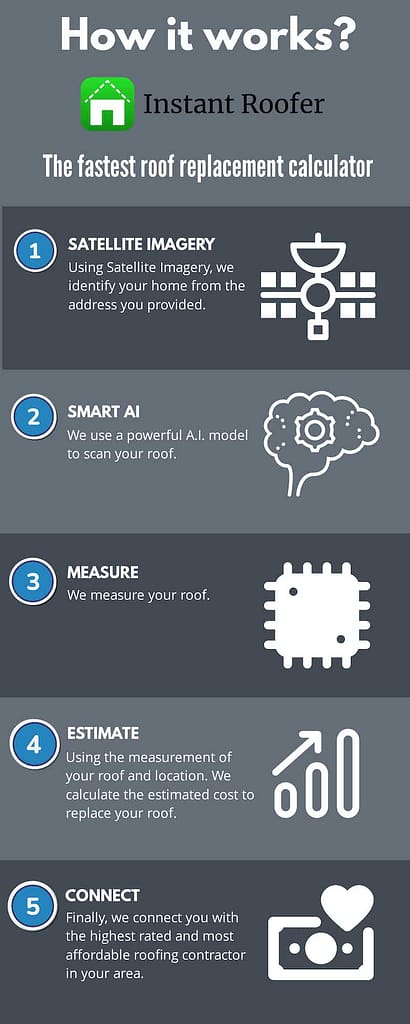 About Instant Roofer
People frequently inquire, "Are you a roofing company?" Our response is both yes and no. We operate akin to an UBER for the roofing industry, utilizing technology to simplify the roofing process not just for homeowners like you, but for the roofing contractors as well.
The Support We Provide You
Investing in a new roof can be a significant financial commitment. The average cost of a new roof in Michigan hovers around $6,650.
Our mission is to simplify the process of roof replacement for you. We have employed A.I. to measure roof sizes of over 129 million homes across the U.S.
We've established connections with local Michigan roofing companies across all counties. Not just any contractors, but the highest-rated Michigan roofers in you area.
Each Michigan roofing contractor in our network has provided their price per square foot for installing a new roof. By assessing each contractor's price and rating, we identify the best-qualified Michigan roofing contractor in your area to assist you.
The Assistance We Offer Roofing Contractors
The roofing process can be complex. Roofers have to consider many variables such as pitch, facets, eaves, ridges, and more. We initiate the process by providing a rough estimate. However, we always recommend proceeding with an actual quote.
Unlike other companies offering roof replacement cost estimates, we don't share your information with a large number of roofers. We choose the best roofer in your area, collaborate with them to ensure they have all necessary details, and work to expedite your new roofing project. Occasionally we will connect you with up to 3 contractors if prices and reviews are similar.
The "Instant" in Instant Roofer is not merely a moniker. The moment you accept your online roof replacement estimate, we spring into action. We immediately alert the chosen roofer of the upcoming project, confirm the Michigan roofing company with you, and provide them the details to give you a final roof replacement quote.
Top 20 Michigan Roofing Contractors
Enter your address in our app to learn who has the best combination of reviews and pricing for your exact home. Updated: 9/27/23
United Restoration Disaster Services
(844) 772-8737
4.8
94 Google reviews
440 East Maple Road
Troy, MI 48083
Premier Roofing And Exteriors LLC
(616) 534-7680
4.9
397 Google reviews
3440 Fairlanes Avenue Southwest
Grandville, MI 49418
Sharp Construction LLC
(616) 218-8259
5
351 Google reviews
11539 E Lakewood Blvd Ste 70
Holland, MI 49424
Sharp Construction, LLC
(616) 222-0850
5
352 Google reviews
11539 East Lakewood Boulevard
Holland, MI 49424
Weatherguard Roofing
(734) 425-9665
5
272 Google reviews
8217 Ronda Dr
Canton, MI 48187
Show 15 More

Rapid Roofing
(734) 292-8896
5
173 Google reviews

41 Enterprise Drive
Ann Arbor, MI 48103

Home Exteriors of Michigan
(855) 255-0606
5
167 Google reviews

37505 Schoolcraft Road
Livonia, MI 48150

D&W Windows & Sunrooms
(248) 972-5145
5
166 Google reviews

2022 North Opdyke Road
Auburn Hills, MI 48326

A H Construction & Roofing Co
(734) 481-1983
5
139 Google reviews

5417 Daytona Street
Ypsilanti, MI 48197

AH Construction Co
(734) 481-1983
5
127 Google reviews

5417 Daytona St
Ypsilanti, MI 48197

Rapid Roofing
(248) 600-4682
5
120 Google reviews

51 West Long Lake Road
Bloomfield Hills, MI 48304

Character Exteriors
(269) 569-6105
5
96 Google reviews

3414 Lovers Ln Ste B
Kalamazoo, MI 49001

Metropolitan Windows & Improvements, Inc.

5
85 Google reviews

22963 West Outer Drive
Dearborn, MI 48124

Rapid Response Roofing LLC
(269) 753-1121
5
79 Google reviews

2640 West Dickman Road
Battle Creek, MI 49037

Diversified Roofing
(734) 429-5840
5
75 Google reviews

779 West Michigan Avenue
Saline, MI 48176

Diversified Roofing & Repair Inc
(734) 429-5840
5
74 Google reviews

779 W Michigan Ave
Saline, MI 48176

Storm Guard of Plymouth MI
(734) 371-0122
5
73 Google reviews

352 North Main Street
Plymouth, MI 48170

Cheap handyman services
(313) 200-4343
5
70 Google reviews

6971 Merriman Road
Romulus, MI 48174

Jobson Roofing
(616) 648-4606
5
65 Google reviews

7683 Knapp St NE
Ada, MI 49301

Roofing Repair Guy Lansing
(517) 272-8011
5
65 Google reviews

5310 South Pennsylvania Avenue
Lansing, MI 48911
Don't see your company listed? Join our network!
Understanding the Average Cost to Replace a Roof in Michigan
The Michigan roof replacement cost can often be a puzzle. But with our free estimates using our advanced Michigan roofing calculator, we're dedicated to providing a clear picture of your roof price, based on the size of your home and your chosen roofing materials. Keep in mind the following factors that can influence roof replacement cost:
Roof Size and Pitch: The larger the roof, the more materials and labor are required, thereby increasing the cost. Similarly, a steeper roof pitch may necessitate special safety equipment and skills, increasing labor costs.
Materials Used: The type of roofing material plays a huge role in determining the cost. Asphalt shingles are typically less expensive than metal, tile, or slate roofing.
Removal of Old Roofing: If the old roofing material needs to be removed, this could add to the overall cost due to the additional labor and disposal needs.
Roof Complexity: Features like skylights, chimneys, dormers, or other architectural details can add to the complexity of the job and increase costs.
Weather Conditions: In Michigan, weather can be a significant factor. Roofing work in colder months might require additional precautions and can take longer, thereby potentially raising costs.
Local Building Codes and Permit Fees: Depending on the region, there may be local building codes to follow and permits to obtain, which can add to the cost.
Contractor Rates: Different contractors have different rates for their services based on their experience, expertise, and overhead costs.
Warranty Options: Opting for extended warranty options may also influence the final cost
City by City Roof Replacement Costs
The cost of roof replacement doesn't just depend on your choice of materials. Labor costs and local regulations also play a significant role. Our local Michigan roofing contractors have detailed knowledge of the specifics in each city, helping you understand the costs better. Pricing can change county to county and city to city because labor plays a large part in the cost of a new roof.
Differentiating Roofing Costs by Material Type
Whether you're interested in Architectural Asphalt Shingle, Designer Asphalt Shingle, Metal Roofing, or a Solar Roof, each type has it's different advantages and price structure. Here is why each roofing material type has a unique cost:
Architectural Asphalt Shingles: These are among the most popular roofing materials due to their affordability and durability. Architectural shingles are thicker and have a dimensional appearance that offers a high-end look, which can add value to a home. However, they are more affordable compared to other roofing types, primarily due to the cost-effective production process and wide availability of the material.
Designer Asphalt Shingles: These shingles are a step above architectural asphalt shingles, both in terms of aesthetics and cost. Designer asphalt shingles mimic the look of more expensive roofing types, such as wood or slate, while still offering the durability of asphalt. They require more detailed work in terms of design and manufacturing, which leads to a higher price point.
Metal Roofing: Metal roofs offer excellent durability and longevity, often lasting two to three times longer than asphalt. They are also highly resistant to elements such as wind and fire. However, these benefits come with a higher upfront cost. Metal roofing requires specialized installation techniques and more expensive materials, which contribute to its higher cost.
Solar Roofing: This is the most technologically advanced roofing option and is designed to generate electricity for the home while still functioning as a roof. The dual functionality of these roofs, combined with the complex installation process and high-tech materials, make them the most expensive roofing option. However, they can offer significant long-term savings through reduced electricity bills and potential tax credits.
Factors Affecting Roof Replacement Cost in Michigan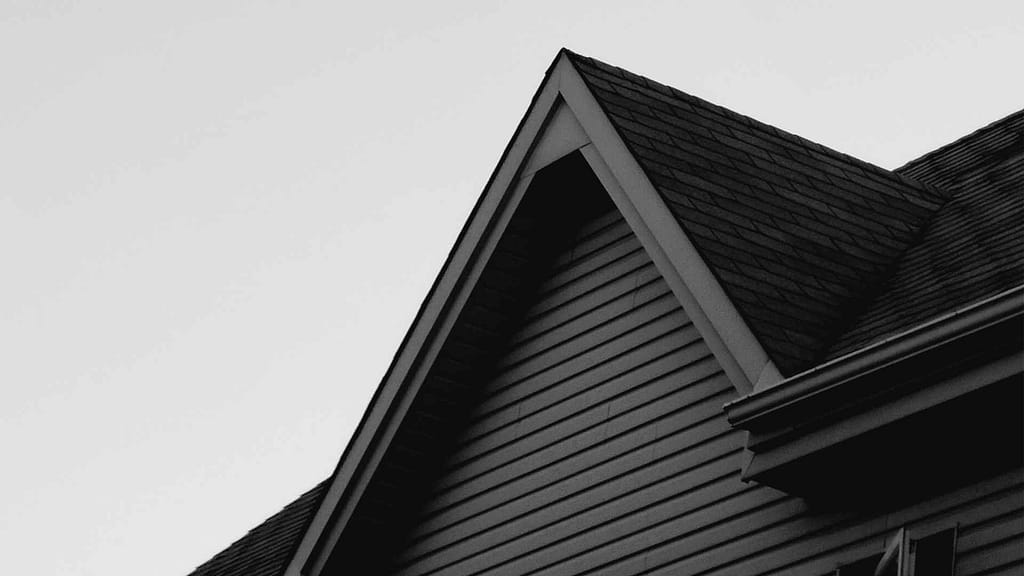 Several factors can influence the overall cost of roof replacement in Michigan, extending beyond the size and type of roof being installed. Additional considerations include the pitch and shape of the roof, as well as the prevailing local labor rates.
Roof Slope : The slope or pitch of your roof plays a significant role in determining the Michigan roof replacement cost. Steeper roofs require more time, safety equipment, and materials, which can increase the overall cost.
Roof Shape : The shape of your roof can impact the new roof cost in Michigan. Intricate designs with multiple valleys, dormers, or skylights may require more labor and materials, adding to the total roofing installation expenses.
The Workforce Involved: Labor charges form a crucial part of the overall roofing cost. Rates can vary based on the expertise of the Michigan roofing contractor and the complexity of the project.
Roof Checkup: Before starting a roofing project, an inspection is usually conducted. This step is crucial to identify any underlying issues that might affect the longevity of your new roof. Remember, investing in a thorough inspection by Michigan roofer could save you from potential costly repairs down the line.
Disposal of Hazardous Materials: If your old roof contains asbestos or other harmful substances, professional removal will be necessary, which will add to the overall Michigan roof replacement cost.
5 Signs You Need a New Roof
Here are the 5 signs to look for when determining if you need a new roof:
Age of the Roof: Most roofs, particularly those with asphalt shingles, have a lifespan of 20 to 25 years. If your roof is nearing this age or has exceeded it, it's a strong sign that you may need a new roof.
Damaged or Missing Shingles: Shingles that are curling, buckling, cracked, or missing altogether are signs of a failing roof. This could indicate that the shingles have reached the end of their life expectancy, or they could be a sign of a larger problem.
Granules in the Gutters: If you notice granules from your asphalt shingles in your gutters, it could be a sign that your roof is deteriorating. As shingles age, they start to lose granules, which often end up in the gutters.
Leaks or Water Damage: If you notice water stains or dampness in your attic or on your ceilings, you could have a leaking roof. Leaks can cause significant structural damage over time, so it's important to address them as soon as possible.
Sagging Roof: A sagging roof is a serious issue that could indicate a structural problem. This could be due to issues with the decking in the attic or, in worse cases, with the supports in the foundation.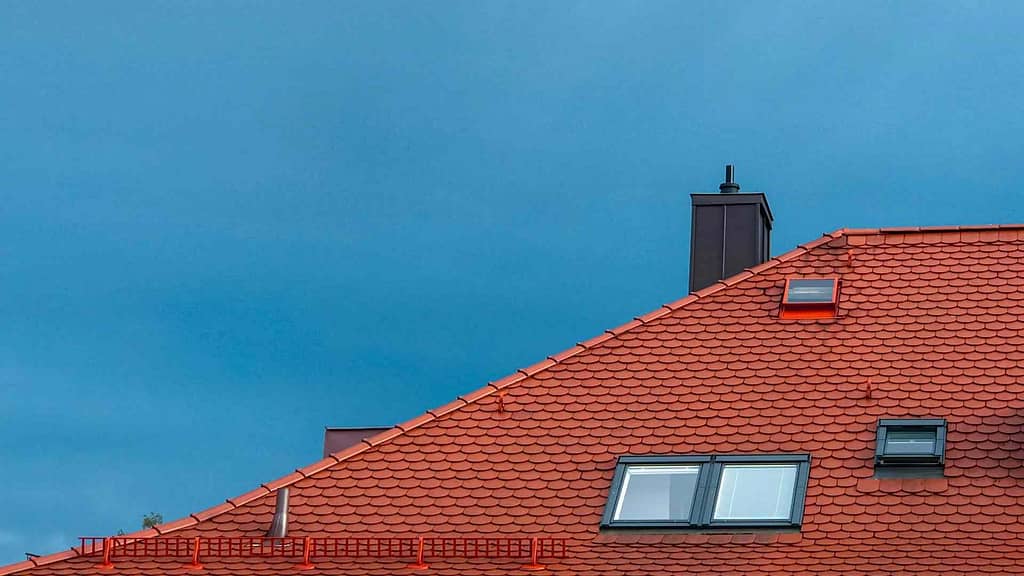 Michigan Roofing FAQs
What's the most popular roofing material in Michigan?

Architectural Asphalt Shingle and Designer Asphalt Shingle are popular choices among Michigan homeowners. However, Metal Roofing and Solar Roofs are also gaining traction due to their durability and energy efficiency.
How long can a typical roof withstand Michigan's climate?

The lifespan of a roof in Michigan depends on the type of material used. On average, Asphalt Shingle roofs last about 20 years, while Metal and Solar Roofs can last up to 50 years or more with proper maintenance.
When is the ideal time to install a new roof in Michigan?

While roofing contractors in Michigan operate year-round, the best time to replace a roof is typically during the late spring to early fall when the weather is warm and predictable.
Do I need a permit to install a new roof in Michigan?

Yes, in most cases, a permit is necessary for roof replacement projects in Michigan. Your local Michigan roofing contractor can guide you through the permit process.
Is it better to remove old roofing or roof over it in Michigan?

While roofing over existing shingles can save time and money, it may hide underlying issues. It's generally recommended to remove the old roofing for a thorough inspection before installing a new one.
Thinking of financing your new Michigan roof?
A new roof can be an unexpected cost. You may need to borrow some money to get it done. We've built a simple roof financing calculator to help you figure out your monthly payments.
Interesting Facts About Michigan
| | |
| --- | --- |
| Average roof replacement price in Michigan | $6,650 |
| The number of Michigan roofs we've measured | 4,847,450 |
| Average Michigan home size | 1,550 Square Feet |
| Average Michigan property size (2020 Parcel Data) | 0.46 Acres or 20,250 Sqft |
| Largest zip code in Michigan | 49868 – Newberry (791 Square Miles) |
| Average roof slope on Michigan homes | 4/12 Pitch or 18.43 Degrees |
| Most common roof type in Michigan | Asphalt Shingle |
| Michigan's weather averages | Lows of 44F/6C to highs around 58F/14C |
| Michigan's population estimated (2022) | 10 |
| Michigan's Time Zone | Eastern Standard Time (GMT -4) |
| Michigan's total square miles | 56,608 |
Data Collected 2021
See how your home compares to the average roof replacement price in Michigan. You can get a free estimate for a new roof via our free roof cost calculator. Get instant roof replacement costs for your exact home and connect with the highest-rated roofing contractor near you.
The Most Popular Areas We Serve In Michigan