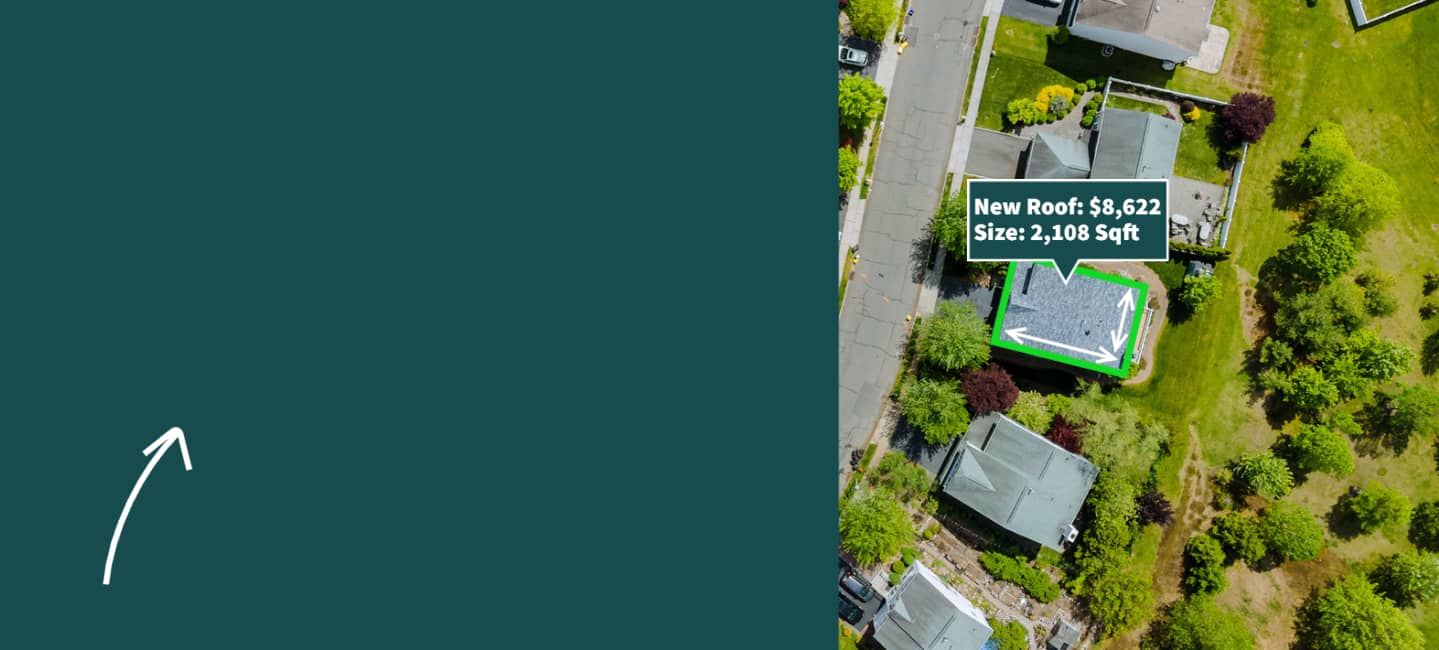 Virginia Roof Replacement Costs
Instantly get a Virginia new roof cost with our roofing calculator. See local Virginia roofing contractor prices for Asphalt, Metal, and Solar Roofing. Connect with a local Virginia Roofer today.
No signup required.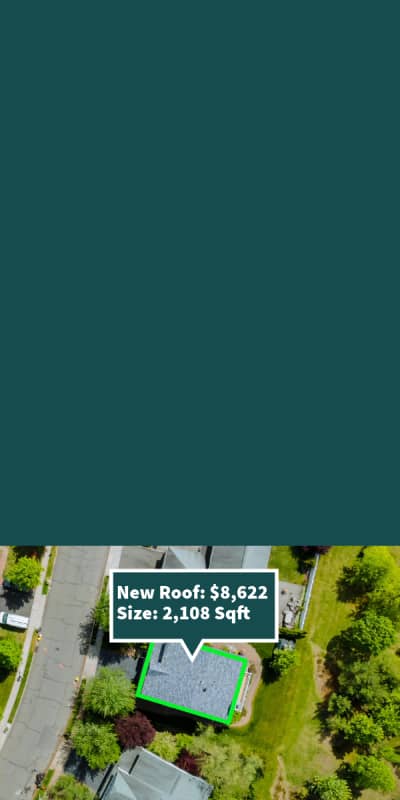 Virginia Roof Replacement Costs
Instantly get a Virginia new roof cost with our roofing calculator. See local Virginia roofing contractor prices for Asphalt, Metal, and Solar Roofing. Connect with a local Virginia Roofer today.
Curious About Your Virginia Roof Replacement Cost?

Measure
3,020,355 roofs scanned in Virginia

Estimate
Average new roof cost in Virginia is $8,200

Connect
1,110 highly-rated roofing contractors in Virginia
When it comes to calculating the cost of roof replacement in Virginia, Instant Roofer offers a quick, hassle-free solution. Our innovative system does not require any signup or personal information to provide an initial estimate. In under a minute, you can obtain an online estimate for your roof replacement using our simple four-step process:
Enter your address into Instant Roofer.
Confirm your home via Satellite Imagery.
Instantly view your estimated cost and roof size.
Submit the information to receive an estimate from the most affordable, top-rated Virginia roofer.
Whether you're considering a standard asphalt roof, a high-quality asphalt roof, a metal roof, or a solar roof, Instant Roofer lets you compare costs based on your preferences.
Find The Best Priced and Highest Rated Virginia Roofer in Seconds.
Once our Virginia roofing calculator scans your home, it connects you with a local roofer who has earned high ratings from past customers for their exceptional work. We carefully consider each roofing contractor's price and online rating, ensuring you're connected with the top-rated contractor in your area.
Top 20 Virginia Roofing Contractors
Enter your address in our app to learn who has the best combination of reviews and pricing for your exact home. Updated: 9/27/23
Cosmo Builders
(703) 835-1831
4.9
50 Google reviews
1640 Boro Place
McLean, VA 22102
Metro Renovator Group
(703) 434-3551
5
44 Google reviews
560 Herndon Parkway
Herndon, VA 20170
Storm Troopers LLC
(703) 420-2988
4.9
46 Google reviews
8505 Euclid Ave Ste 4
Manassas, VA 20111
Pond Roofing Company, Inc
(703) 573-8000
5
383 Google reviews
2985 Prosperity Avenue
Fairfax, VA 22031
Streamline Roofing Williamsburg
(757) 585-4362
5
189 Google reviews
150 Strawberry Plains Road
Williamsburg, VA 23188
Show 15 More

C2 Operations
(703) 651-6677
5
186 Google reviews

18 Sycolin Road Southeast
Leesburg, VA 20175

Dulles Roofing
(703) 817-6275
5
173 Google reviews

13800 Coppermine Road
Herndon, VA 20171

Dulles Roofing LLC
(703) 817-6275
5
171 Google reviews

13800 Coppermine Rd Fl 1
Herndon, VA 20171

Retex Roofing & Exteriors
(804) 442-3314
5
154 Google reviews

1601 Rayanne Drive
Richmond, VA 23235

9Hammers, LLC
(540) 308-8440
5
150 Google reviews

1127 International Parkway
Fredericksburg, VA 22406

Retex Roofing
(804) 442-3314
5
149 Google reviews

1601 Rayanne Dr
North Chesterfield, VA 23235

Care Contracting
(301) 775-9961
5
147 Google reviews

14908 Ingalls Ct
Leesburg, VA 20176

9Hammers LLC
(540) 308-8440
5
144 Google reviews

130 Falcon Dr
Fredericksburg, VA 22408

Shaq's Restoration Services
(703) 479-0062
5
110 Google reviews

800 Corporate Drive
Stafford, VA 22554

Ashburn Roofing
(703) 899-2967
5
110 Google reviews

104 Flyfoot Drive
Stephenson, VA 22656

Ashburn Roofing LLC
(703) 899-2967
5
108 Google reviews

104 Flyfoot Dr
Stephenson, VA 22656

WISA Solutions
(703) 337-4344
5
101 Google reviews

8560 Cinder Bed Road
Lorton, VA 22079

Alamo Roofing
(703) 618-9487
5
97 Google reviews

480 Ridgewood Lane
Winchester, VA 22601

Top Dog Home Pro
(866) 826-8347
5
89 Google reviews

1051-B Cannons Court
Woodbridge, VA 22191

Sparkk Construction
(703) 239-4734
5
89 Google reviews

8505 Bucyrus Ct
Manassas, VA 20110
Don't see your company listed? Join our network!
Explore Roofing Material Options Suited to Your Virginia Home
Instant Roofer offers various roofing material options, each with unique benefits and cost points. From standard and premium asphalt shingles to metal and solar roofing solutions, we present these choices in our intuitive roofing calculator, ensuring you get the perfect match for your budget and aesthetics. See the four simple options below. Choose from what meets your specific needs:
Better Roof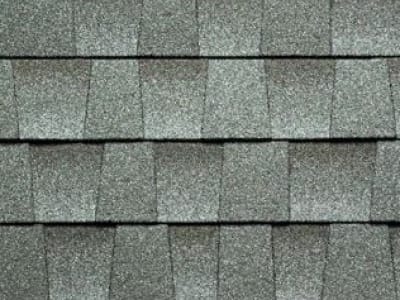 Limited Shingle Style Options
Average Life and Warranty
Average Impact and Wind Rating
Best roof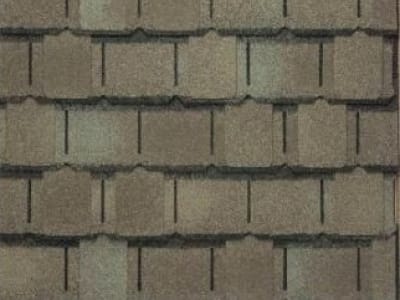 Bigger and Thicker Asphalt Shingle
Better Protection Against Algae
Longer Lasting Life and Warranty
Better Impact and Wind Rating
Metal Roof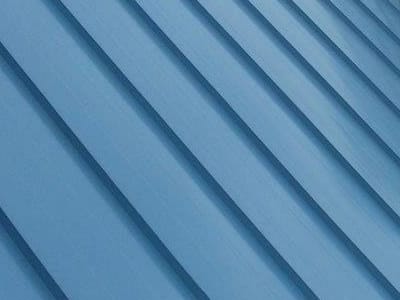 Better protection from fire
Better home cooling (UV Protection)
Best Impact and Wind Rating
Solar Roof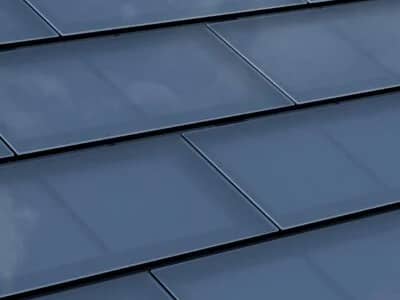 Up to 30% in Federal Tax Credits
Potential $0 Electricity Costs
Virginia Roof Replacement Costs Online Today In Seconds
No sign-up is required.

"Instant Roofers estimate was spot on. The contractor it recommended was excellent. All around a great experience."
The Future of Roofing: Instant Roofer's Virginia Roofing Calculator
Discover a whole new approach to roofing with Instant Roofer, your one-stop solution for accurate, affordable Virginia roof replacement costs. Powered by cutting-edge artificial intelligence and big data analysis, we've revolutionized the process of finding the finest Virginia roofers. We've taken the hassle out of the equation, ensuring you no longer have to wade through the sea of contractors.
Our sophisticated platform conducts an exhaustive analysis of roofing prices and contractor ratings across Virginia, cutting down your research time to a mere fraction. No matter where you reside in the state, our goal is to present you with the best-priced, highest-rated Virginia roofing contractor.
And it gets even better with our seamless, intuitive interface. Getting your Virginia new roof cost estimate is just a matter of seconds, free of any stress or confusion. Trust in Instant Roofer as your ally in streamlining your Virginia roof replacement project and ensuring your money's value is maximized.
As we pride ourselves on being 100% American owned, developed, and operated, you can rest assured knowing that you're supporting a local business with Instant Roofer. This is the future of roofing, and we're delighted to bring this innovation to you.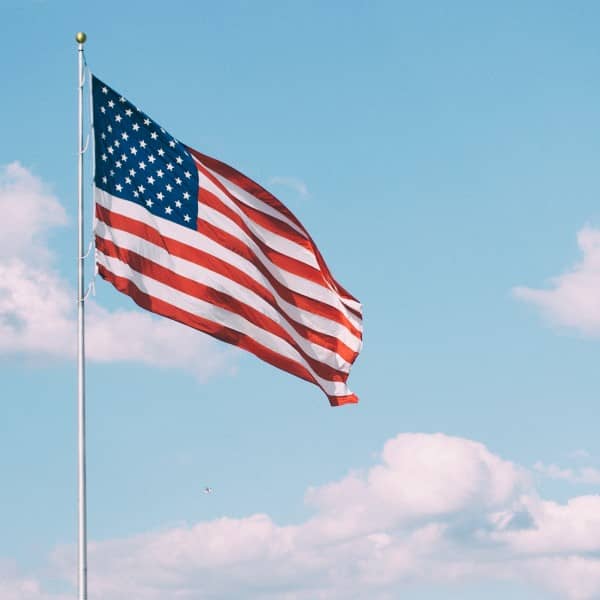 How Instant Roofer Works
Instant Roofer is your gateway to a seamless, efficient experience in sourcing a trustworthy and economical Virginia roofing contractor. By harnessing the power of innovation, we've transformed the often-tedious chore of seeking out a quality roofer into a smooth, efficient, and stress-free process.
Our dedicated team collaborates closely with local Virginia roofing contractors to conduct a thorough analysis of pricing and ratings. This method, underpinned by our proprietary technology, is designed to ensure that you're paired with the optimal roofing solution available in your area.
Bid farewell to the time-consuming hunt for a dependable roofing contractor. With Instant Roofer, you'll be embracing a more streamlined and relaxed approach to your Virginia roof replacement needs. Witness firsthand the future of roofing with our revolutionary Virginia roofing calculator and embark on a roofing journey like no other.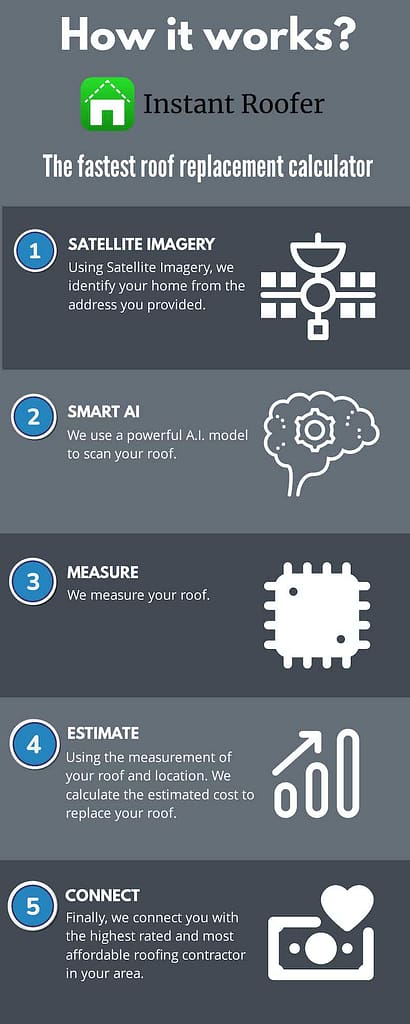 Interesting Facts About Virginia
| | |
| --- | --- |
| Average roof replacement price in Virginia | $8,200 |
| The number of Virginia roofs we've measured | 3,020,355 |
| Average Virginia home size | 2,400 Square Feet |
| Average Virginia property size (2020 Parcel Data) | 0.31 Acres or 13,566 Sqft |
| Largest zip code in Virginia | 24426 – Covington (366 Square Miles) |
| Average roof slope on Virginia homes | 4/12 Pitch or 18.43 Degrees |
| Most common roof type in Virginia | Asphalt Shingle |
| Virginia's weather averages | Lows of 45F/7C to highs around 66F/19C |
| Virginia's population estimated (2022) | 8,535,519 |
| Virginia's Time Zone | Eastern Standard Time (GMT -4) |
| Virginia's total square miles | 39,482 |
Data Collected 2021
See how your home compares to the average roof replacement price in Virginia. You can get a free estimate for a new roof via our free roof cost calculator. Get instant roof replacement costs for your exact home and connect with the highest-rated roofing contractor near you.
About Instant Roofer
People often ask us. Are you a roofing company? Yes, and no. Think of us as the UBER roofing company. We use technology to simplify the roofing process and make it easy to find how much to replace a roof in Virginia
Instant Roofer is not just a platform, but a commitment to empowering homeowners in Virginia with transparency, convenience, and quality when it comes to roof replacement. Launched by a synergistic team of tech enthusiasts and seasoned roofing contractors, our mission is to transform the traditionally tedious process of roof replacement into a simple and enjoyable experience.
What sets Instant Roofer apart is our dedication to leveraging the power of technology for the benefit of homeowners. Our robust Virginia roofing calculator uses Artificial Intelligence (AI) and big data to offer precise roof replacement cost estimates in a matter of seconds. We are proud to provide this service free of charge, reaffirming our commitment to transparency and value.
Beyond our calculator, we also offer a suite of complimentary tools, such as a roof financing calculator and a solar roof ROI calculator. These resources aim to empower you with more knowledge and control over your roof replacement decisions.
To top it off, Instant Roofer is 100% American-owned, developed, and operated. By standing on the pillars of innovation, transparency, and commitment to the community, we aspire to continually redefine the roofing industry in Virginia. Trust Instant Roofer for your Virginia roof replacement needs, and experience the difference today.
Are you a highly rated roofing contractor?
We want to work with you.
Determining When a Virginia Shingle Roof Replacement Is Necessary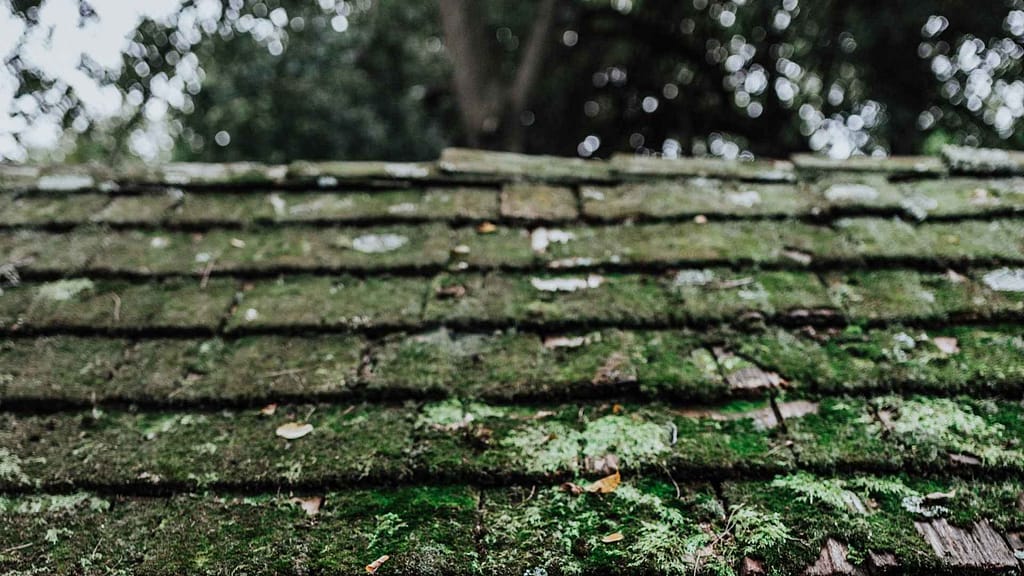 Recognizing when it's time for a roof replacement is integral to protecting your home. For shingle roofs, signs such as missing, curling, or granulated shingles often signal the need for a replacement. Internally, water leaks or dark spots on the ceiling are red flags indicating a possible failing roof.
The age of your roof is another critical factor affecting the cost of your potential roof replacement. Typically, shingle roofs last around 20 years. If yours is nearing or beyond this age, consider a replacement to prevent more significant, costly damage.
Instant Roofer's Virginia roofing calculator is your ally in this process. Simply input your Virginia zip code to receive a free estimate on your roof's condition and the potential replacement cost.
Advantages of Opting for a New Shingle Roof in Virginia
Investing in a new roof can reap numerous benefits. Firstly, a new shingle roof boosts your home's curb appeal, making it more attractive to potential buyers. Plus, the materials you choose can add character to your home.
Secondly, modern roofing materials enhance your home's energy efficiency, saving money on your utility bills. They provide superior insulation, making your home more comfortable year-round without overworking your HVAC system.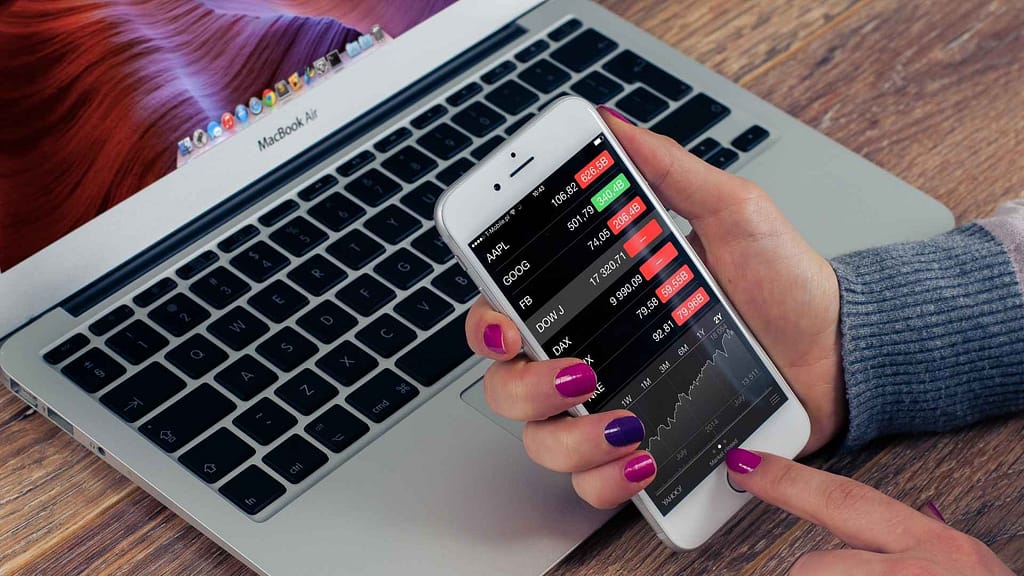 Finally, there's the peace of mind that comes from knowing your new shingle roof, installed by top-rated Virginia roofing contractors, is built to withstand the elements.
Understanding What Affects the Virginia Roof Replacement Cost
Several factors can influence the cost of a roof replacement in Virginia. The size and complexity of your roof, the materials you choose, and the labor costs all contribute to the total.
Bigger and more complex roofs require more materials and labor, raising the cost. The choice of roofing material — whether it's architectural asphalt shingles, designer asphalt shingles, metal roofing, or solar roofs — also impacts the price. The durability, aesthetics, and extra benefits of each should be weighed against their costs.
Instant Roofer's Virginia roofing calculator takes local labor costs into account, connecting you with the best-priced, top-rated Virginia roofing contractors in your area.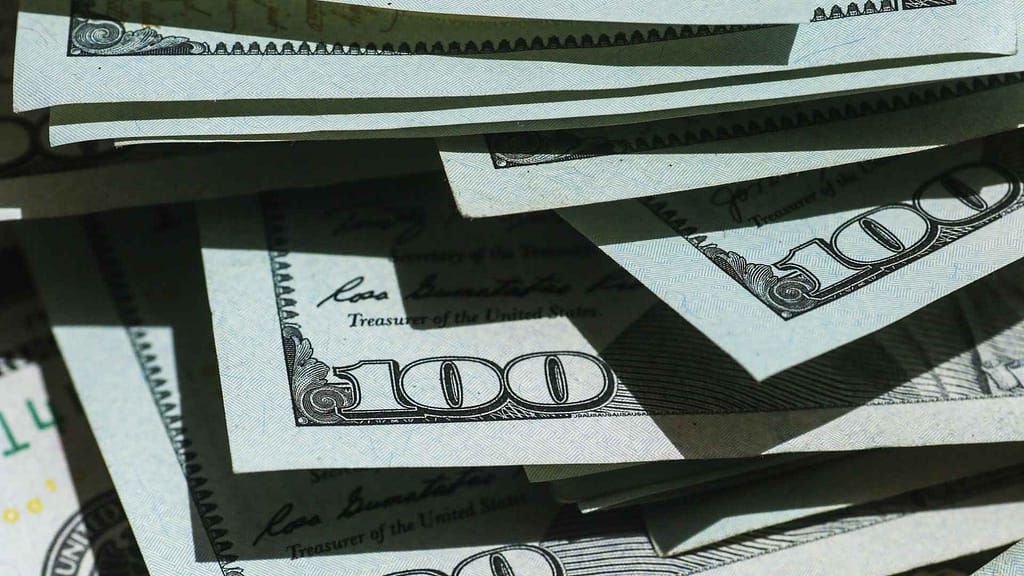 Choosing Among Different Roofing Materials in Virginia
Selecting the right roofing material is vital in the roof replacement process. At Instant Roofer, we offer a range of roofing materials to suit every preference and budget.
Architectural Asphalt Shingles: Durable and available in a variety of colors, these shingles add depth and character to any home.
Designer Asphalt Shingles: If you're seeking a luxury look without the luxury price tag, these unique shingles resemble more costly materials like slate or tile roofs.
Metal Roofing: Metal roofs offer longevity and energy efficiency. They're also recyclable, making them an eco-friendly choice.
Solar Roofs: Generate your own electricity and save money on your energy bills with this innovative roofing option.
Your zip code, desired materials, and the necessity of potential roof repairs can all vary depending on your specific situation. But no matter your needs, Instant Roofer is here to simplify the process, giving you accurate estimates and connecting you with top Virginia roofing contractors.
Frequently Asked Questions about Virginia Roof Replacement
Should I get multiple estimates for a roof?

Absolutely. In fact, that's one of the many reasons homeowners love Instant Roofer. Our advanced Virginia roofing calculator provides an instant estimate and connects you with a highly-rated local contractor. This helps you compare costs and choose the best value for your money. It's probably the quickest way to get one of multiple estimates to start.
How do I choose a great roofing contractor?

When choosing a Virginia roofer, consider their experience, reputation, and pricing. Instant Roofer has streamlined this process, providing a platform where you can instantly connect with the best-rated and most affordable contractors in your area.
Can you haggle on a roofing estimate?

Yes, many roofers are open to negotiation. However, with Instant Roofer, we've done the hard work for you. We connect you to the most cost-effective and high-quality contractors in Virginia, reducing the need for negotiation.
What type of asphalt shingle is the best?

The "best" type of asphalt shingle depends on your needs and budget. We offer options including Architectural Asphalt Shingles and Designer Asphalt Shingles. Our Virginia roofing calculator helps you compare costs and benefits of each option.
Is it better to have a lighter or darker roof?

The choice between a light and dark roof can depend on your personal preference, energy efficiency goals, and local climate. Our Virginia roof replacement cost calculator and our consultants can help guide you in making the best choice for your circumstances.
What is the most popular roof color and style?

Roof color popularity varies based on style, location, and personal preference. However, neutral tones such as grays, browns, and blacks tend to be universally popular. With Instant Roofer, you can explore a variety of color options for each roofing material.
The Most Popular Areas We Serve In Virginia