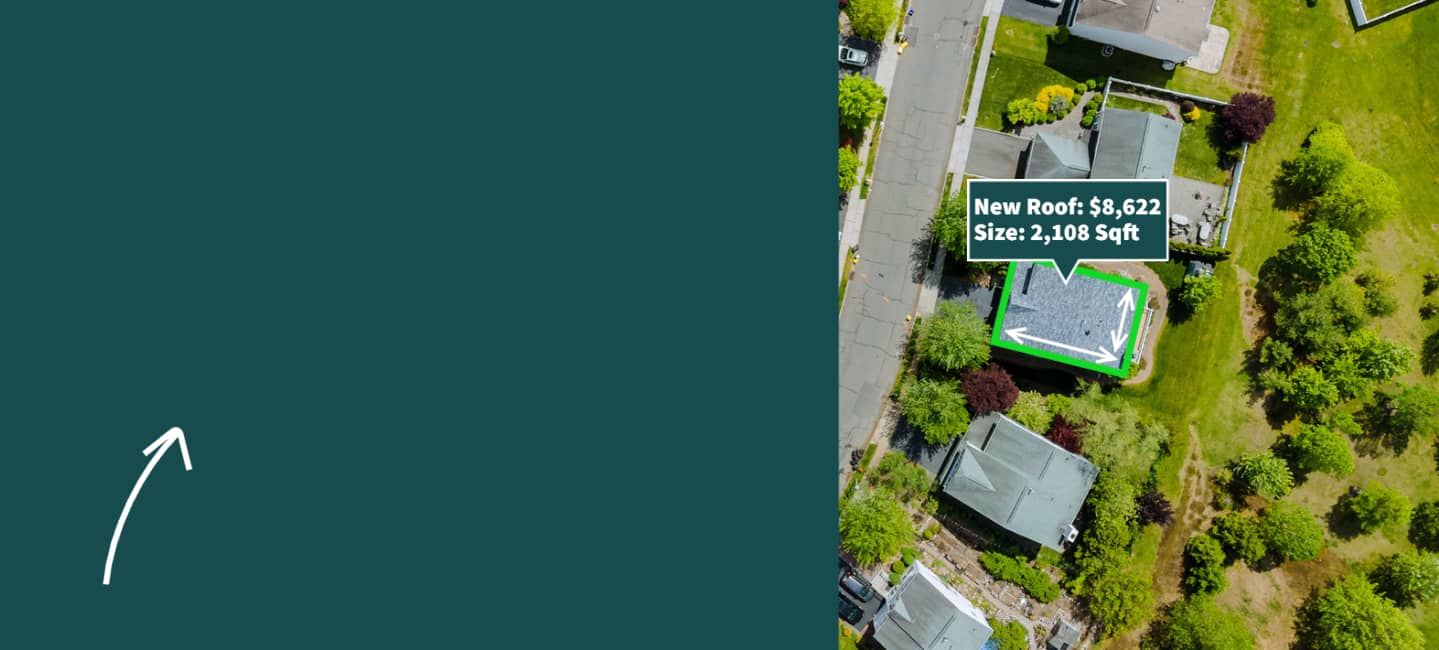 North Carolina Roof Replacement Costs
Instantly get a North Carolina new roof cost with our roofing calculator. See local North Carolina roofing contractor prices for Asphalt, Metal, and Solar Roofing. Connect with a local North Carolina Roofer today.
No signup required.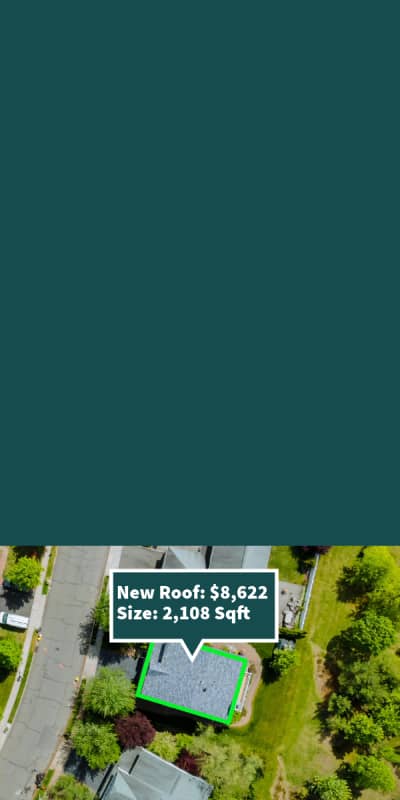 North Carolina Roof Replacement Costs
Instantly get a North Carolina new roof cost with our roofing calculator. See local North Carolina roofing contractor prices for Asphalt, Metal, and Solar Roofing. Connect with a local North Carolina Roofer today.
Wondering what it's going to cost to replace your roof in North Carolina?

Measure
4,503,837 roofs scanned in North Carolina

Estimate
Average new roof cost in North Carolina is $6,850

Connect
1,466 highly-rated roofing contractors in North Carolina
Roofing projects can represent a significant investment. We understand that you don't want to waste money or stress over an imprecise cost estimate. At Instant Roofer, we believe the process of obtaining an estimate shouldn't involve tedious paperwork. We're firm believers in delivering top-notch service and the most accurate estimates to all. That's why we've created a new, user-friendly way to get your North Carolina roof replacement cost online. Avoid uncertainty and enjoy simplicity with Instant Roofer.
Enter your address into Instant Roofer.
Confirm your home via Satellite Imagery.
Instantly view your estimated cost and roof size.
Submit the information to receive an estimate from the most affordable, top-rated North Carolina
Find The Best and Highest Rated North Carolina Roofer in Seconds.
We've got the perfect solution tailored for you. Our North Carolina roofing calculator assists you in locating the ideal contractor that fits your requirements and budget. We take into account each contractor's experience, expertise, and pricing to pinpoint the optimal choice that aligns with your unique needs.
Four Tailored Roofing Solutions Just For You
Here at Instant Roofer, we understand that each home carries its unique needs and each homeowner holds their own set of preferences. That's why our aim is to provide an array of roofing options that suit your specific requirements, budget, and taste. Whether you're in search of durability, aesthetic charm, or energy efficiency, we have a customized solution just for you.
Take advantage of our North Carolina roofing calculator to explore and compare the costs of four diverse but equally resilient roofing materials. Regardless of your selection, rest assured that we will connect you with the most effective and highest-rated North Carolina roofing contractor to take on your project.
Better Roof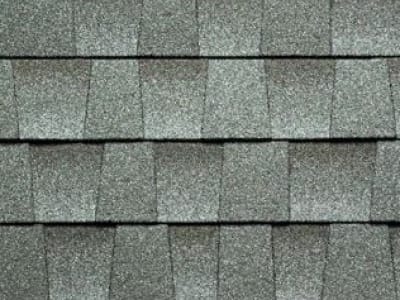 Limited Shingle Style Options
Average Life and Warranty
Average Impact and Wind Rating
Best roof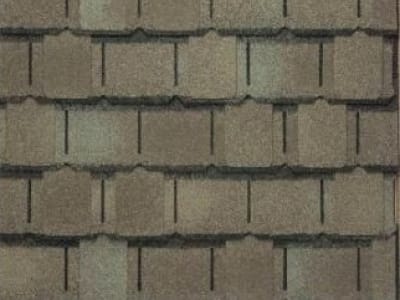 Bigger and Thicker Asphalt Shingle
Better Protection Against Algae
Longer Lasting Life and Warranty
Better Impact and Wind Rating
Metal Roof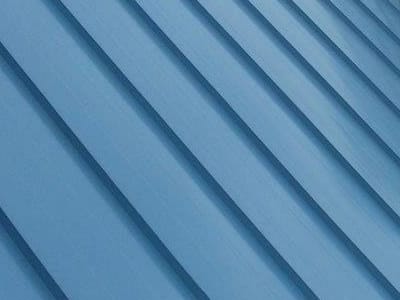 Better protection from fire
Better home cooling (UV Protection)
Best Impact and Wind Rating
Solar Roof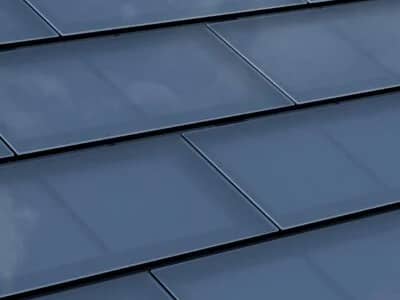 Up to 30% in Federal Tax Credits
Potential $0 Electricity Costs
Receive Your North Carolina Roof Replacement Cost Online Today In Seconds
No sign-up is required.

"Instant Roofers estimate was spot on. The contractor it recommended was excellent. All around a great experience."
What Sets Us Apart
Various elements influence your roof installation cost, such as the current roof type, the volume of new material needed for the project, and potential repair work required before the installation. To eliminate uncertainty, we developed our North Carolina roofing calculator that allows you to input your address and instantly view your roof's dimensions and price.
Most people are in the dark about their roof replacement cost. Even if they had an idea, they don't want to deal with the hassle. That's where we come in! At Instant Roofer, we're different, we won't bombard you with spam as our approach is simple. We calculate the exact cost of your new roof without any complications. Our primary goal is to assist you in deciding your next step, not to collect your contact information or push other products.
Instant Roofer was conceived from this concept. Combine some tech enthusiasts with experienced roofers, and you get the simplest, fastest, and most affordable method to calculate a roof cost anywhere in America.
Best part… We're 100% owned, developed, and operated by Americans.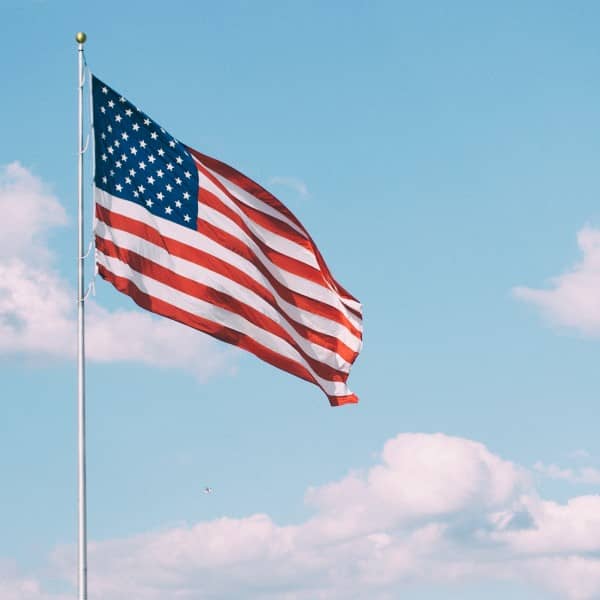 The Most User-Friendly North Carolina Roofing Calculator
In need of a cost estimate for a roof replacement? We comprehend that selecting a roofer can seem daunting. That's precisely why we're here to simplify the process. Receive an immediate quote from local roofers in your region, all from the comfort of your home! Our North Carolina roofing calculator provides you with the assurance that your roof replacement project's estimate is both dependable and competitively priced.
How do we link you with the premier roofer? We scrutinize the pricing of roofing contractors in your area along with their online ratings. This ensures you receive not only the most competitive price but also the highest-rated North Carolina roofing contractor.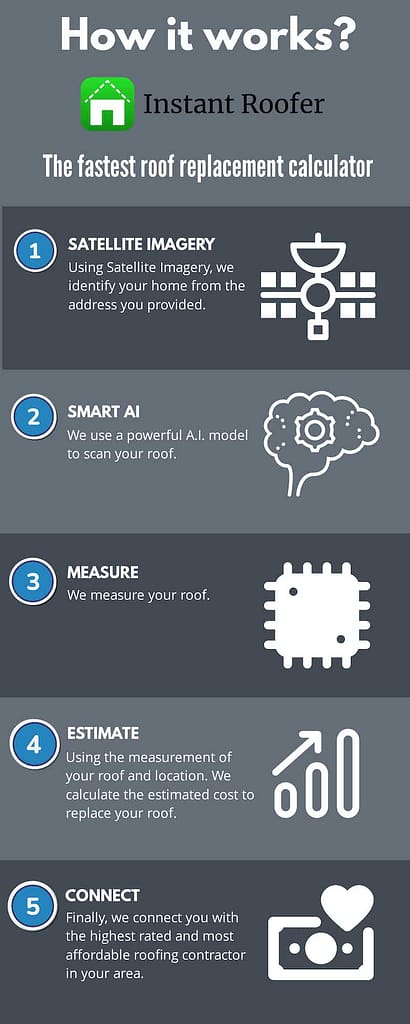 Getting to Know Instant Roofer
Often, we are questioned, "Are you a roofing company?" The answer is both yes and no. Picture us as the UBER of roofing companies. We harness technology to streamline the roofing process not only for homeowners but for the roofing contractors as well.
How We Assist You
The expense of a new roof can be significant, with the average price of a new roof in North Carolina hovering around $6,850. Our goal is to make this process simple for you. Through advanced A.I. technology, we've measured the roof sizes of over 129 million homes across America.
We've established connections with local North Carolina roofing companies in all counties, prioritizing the most highly rated North Carolina roofer in your area.
Each of these roofing companies provides us with their price per square foot for a new roof installation. By comparing each roofing contractor's price and rating, we determine the best-qualified North Carolina roofing contractor in your area to assist you.
How We Assist Roofing Contractors
The roofing process can be intricate, with roofers needing to consider multiple data points such as pitch, facets, eaves, ridges, and more. We kick off the process by offering a ballpark estimate. However, we always advocate obtaining a precise quote.
Differing from other roof replacement cost companies, we don't scatter your data to multiple roofers. We select the premier North Carolina roofer in your area and collaborate with them to ensure they have all necessary details to accomplish your roofing project.
As our name implies, Instant Roofer is truly instant. The moment you accept your online roof replacement estimate, we spring into action. We notify the roofer of the upcoming project and confirm the North Carolina roofing contractor with you.
Top 20 North Carolina Roofing Contractors
Enter your address in our app to learn who has the best combination of reviews and pricing for your exact home. Updated: 9/27/23
Skyview Roofing and Restoration NC
(704) 906-2834
4.9
86 Google reviews
18627 Northline Dr Ste D
Cornelius, NC 28031
Carolina Roof Consultants
(704) 277-4582
5
785 Google reviews
6420 Rea Road
Charlotte, NC 28277
Carolina Roof Consultants
(704) 277-4582
5
770 Google reviews
8163 Kensington Dr Ste C
Waxhaw, NC 28173
The Roof Medic
(704) 228-7788
5
277 Google reviews
7207 Matthews Mint Hill Rd
Mint Hill, NC 28227
Artisan Quality Roofing
(919) 906-3791
5
234 Google reviews
1600 Olive Chapel Road
Apex, NC 27502
Show 15 More

Artisan Quality Roofing LLC
(919) 906-3791
5
232 Google reviews

1600 Olive Chapel Rd Ste 144
Apex, NC 27502

A & M Premier Roofing & Construction, LLC
(919) 219-0422
5
222 Google reviews

5540 Centerview Drive
Raleigh, NC 27606

5 Star Roofing & Restoration, LLC
(336) 780-7800
5
220 Google reviews

115 Pomona Drive
Greensboro, NC 27407

Blue Fox Roofing & Renovations
(704) 992-7750
5
209 Google reviews

11035 Golf Links Drive
Charlotte, NC 28277

A&M Premier Roofing and Construction LLC
(919) 400-0815
5
205 Google reviews

5540 Centerview Dr Ste 200
Raleigh, NC 27606

5 Star Roofing & Restoration LLC
(336) 780-7800
5
180 Google reviews

3714 Alliance Dr Ste 303
Greensboro, NC 27407

On Tops Roofing
(919) 639-4981
5
170 Google reviews

590 New Waverly Place
Cary, NC 27518

Fortitude Metal Roofing
(252) 404-8500
5
165 Google reviews

638 West Corbett Avenue
Swansboro, NC 28584

Premiere Roofing & Gutters
(828) 640-7320
5
163 Google reviews

346 3rd Avenue Northwest
Hickory, NC 28601

Ricardos Alpha Roofing
(828) 702-6182
5
163 Google reviews

175 Edgewood Dr
Arden, NC 28704

Premiere Roofing & Gutters LLC
(828) 640-7320
5
160 Google reviews

346 3rd Ave NW Ste 202
Hickory, NC 28601

Solid Roofing
(704) 765-6588
5
155 Google reviews

119 Poplar Pointe Drive
Mooresville, NC 28117

Secure Roofing and Restoration, LLC
(828) 312-1606
5
153 Google reviews

4009 Spindrift Cove
Denver, NC 28037

Tidds Roofing Group, Inc.
(704) 621-2377
5
151 Google reviews

11000 McCoy Road
Huntersville, NC 28078

Southern Home Services LLC
(704) 531-2122
5
121 Google reviews

9307 Monroe Rd Ste O
Charlotte, NC 28270
Don't see your company listed? Join our network!
How Much Does a Roof Replacement Cost in North Carolina
On average, a roof replacement in North Carolina can range from $6,500 to $14,000, based on the size and complexity of the roof, the chosen roofing materials, and other factors. Our North Carolina roofing calculator can provide a more precise estimate tailored to your unique circumstances.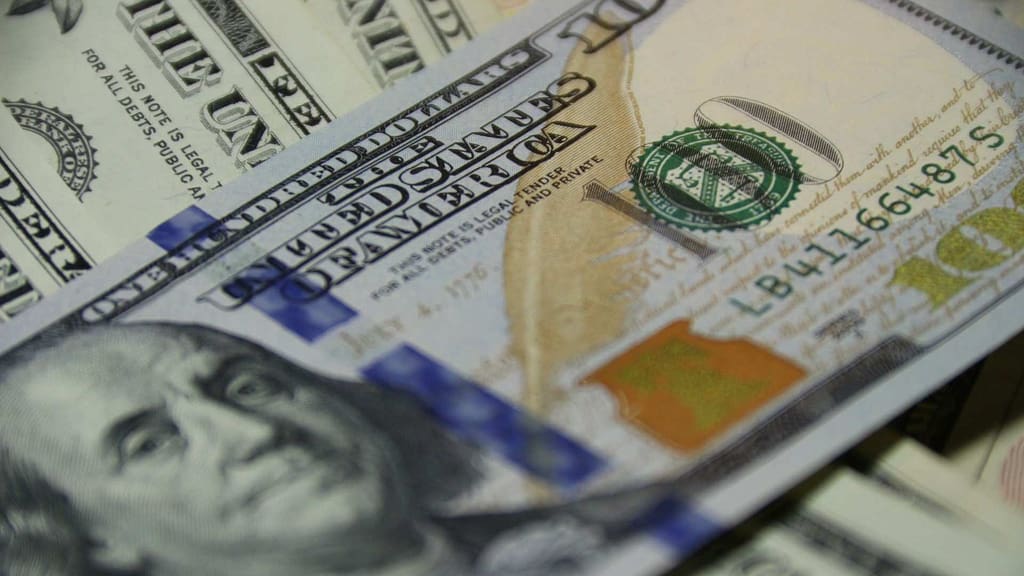 Factors Affecting North Carolina New Roof Cost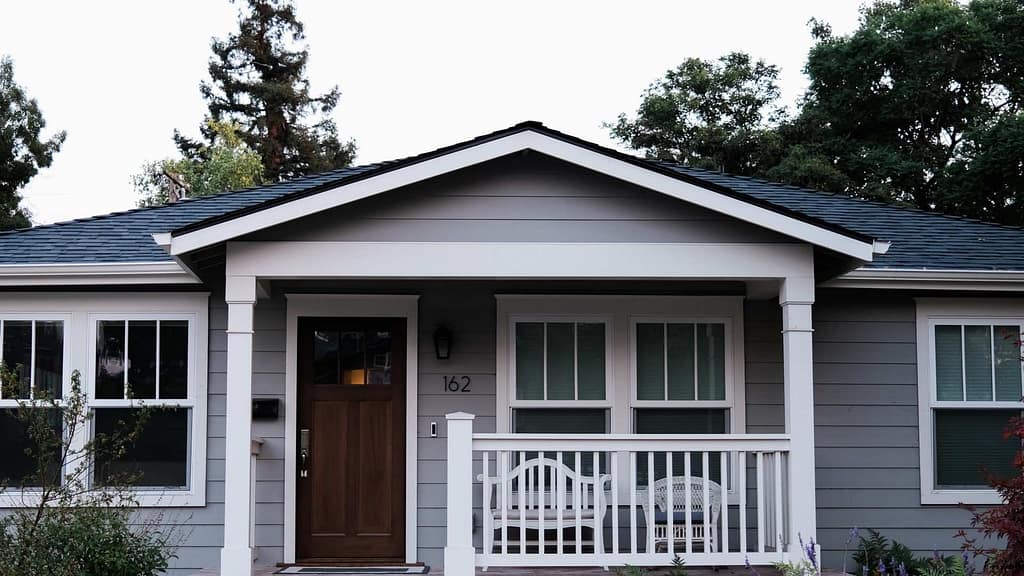 The cost of a new roof in North Carolina isn't one-size-fits-all. Several elements factor into the final price tag, and understanding these can help you budget your roof replacement project effectively.
Size: The size of your roof is one of the most significant contributors to your total roof replacement cost. In general, roofers charge per roofing square. Therefore, a larger roof will require more materials and labor, resulting in a higher overall cost.
Materials: The type of roofing material you choose also has a significant impact on the cost. For instance, architectural asphalt shingle and designer asphalt shingle roofs may be less expensive than metal or solar roofs, but they may not last as long or provide the same level of energy efficiency.
Labor: Substantial component that influences the overall North Carolina new roof cost is the labor expense. Roofing is a skilled job that requires a professional touch. Typically, labor accounts for 60% to 65% of the total roofing cost.
Pitch: The steepness or pitch of your roof can also affect the cost. Steeper roofs are more challenging and dangerous to work on, potentially increasing labor costs. Additionally, they may require more or specialized materials.
Location: The location of your property can impact the cost due to local permit costs, transportation fees for materials, and the local cost of living, which can influence labor charges.
Permits: Every county in North Carolina has its own set of regulations and permits for roofing projects. Depending on your location, the permit costs can significantly affect your total roofing cost.
Inspection: Before starting a roof replacement, a thorough inspection is usually conducted to assess the roof's condition and determine the scope of work. This cost can vary depending on the size and complexity of your roof.
Choosing the Right Materials for Roof Replacement Cost
Selecting the right material for your roof replacement can make a significant difference in your project's cost and the durability and appearance of your roof. Let's break down some of the most popular options including their average price ranges.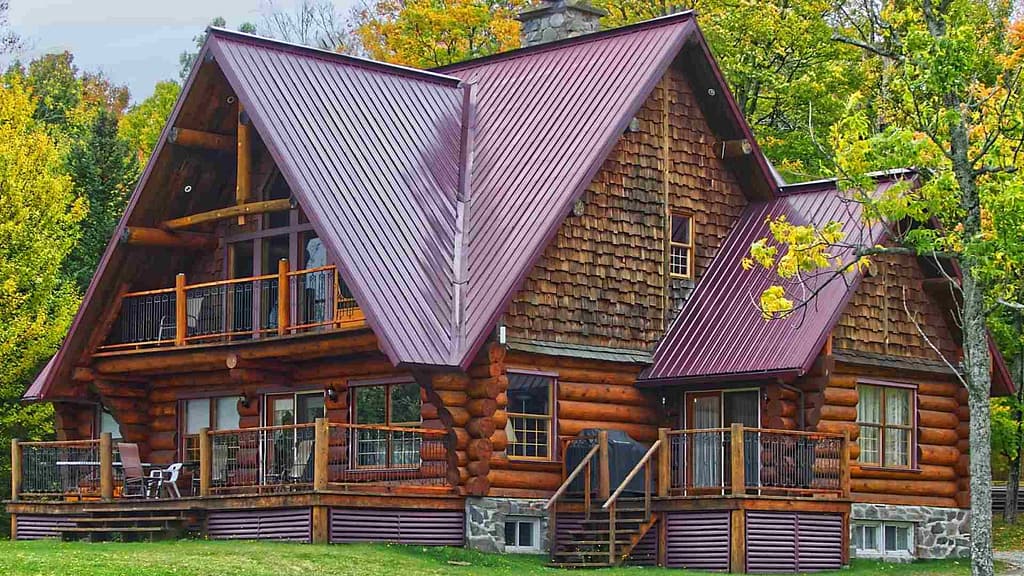 Architectural Asphalt Shingles
A popular choice for many homeowners, Architectural Asphalt Shingles are known for their durability and aesthetic appeal. The cost for this material generally ranges from $350 to $500 per square (which is a 10×10 foot area).
Designer Asphalt Shingles
Designer Asphalt Shingles are a premium version of the standard asphalt shingles, offering enhanced aesthetic appeal and higher durability. Their unique designs can mimic the look of more expensive materials and the cost for this typically ranges from $450 to $700 per square.
Metal Roofing
Metal roofing is prized for its longevity, durability, and energy efficiency. It is available in a variety of styles and colors to suit any home design. The cost for metal roofing can vary widely, from $700 to $1,000 per square for metal shingles or tiles, and $1,000 to $1,500 per square for standing seam metal roofs.
Solar Roofs
Solar roofs incorporate solar panels into the roofing material, providing energy efficiency and utility savings over time. These high-tech options are more expensive upfront, but they can pay off in the long term through energy savings and potential tax incentives. The cost for a solar roof can range from $2,000 to $2,500 per square, depending on the specific technology used.
Remember, these costs are approximate and can vary based on a variety of factors, including the specifics of your roof and local labor costs. Using our North Carolina roofing calculator can give you a more personalized estimate based on your circumstances.
Additional Roof Replacement Costs
In addition to the standard costs associated with roof replacement, homeowners should be aware of potential additional expenses that might arise. These costs are often dependent on the specific circumstances of your project and can vary greatly. We outline some of the most common additional costs that could affect your North Carolina roof replacement cost.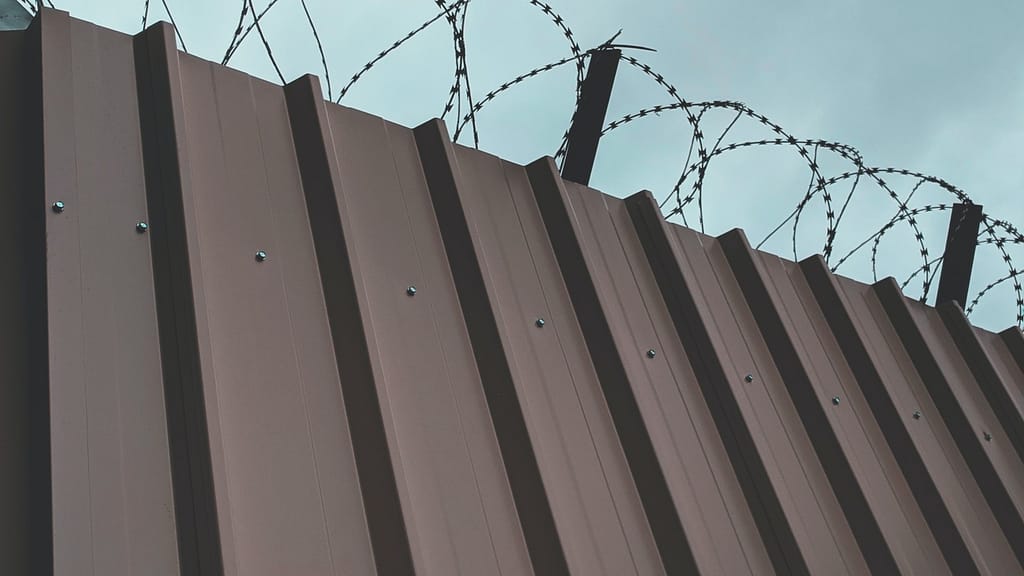 Underlayment Repair: If the underlayment—the barrier installed under the roofing material to prevent water and wind penetration—has been damaged, it may require repair or replacement, which can add to your overall costs.
Roof Features: Unique features of your roof, such as skylights, chimneys, or complex designs, can complicate a roof replacement and add to the cost. Working around these features requires extra time and materials, increasing labor and material expenses.
Roof Cleaning: Some roofing contractors will include a roof cleaning service before installing the new materials. This process can involve a power wash or chemical cleaning to remove debris, algae, or moss, adding to your total roof replacement cost.
Clean Up and Disposal: Post-project cleanup and disposal of old materials is usually included in your roofing contractor's quote. However, depending on the amount of waste and local disposal fees, these costs can vary.
Roof Insurance: Depending on your insurance policy, some or all of the cost of roof replacement may be covered if the damage was caused by a factor included in your plan. However, for situations not covered, you may want to consider additional roof insurance or warranties offered by your North Carolina roofer.
North Carolina Weather Impacts Lifespan of Roofs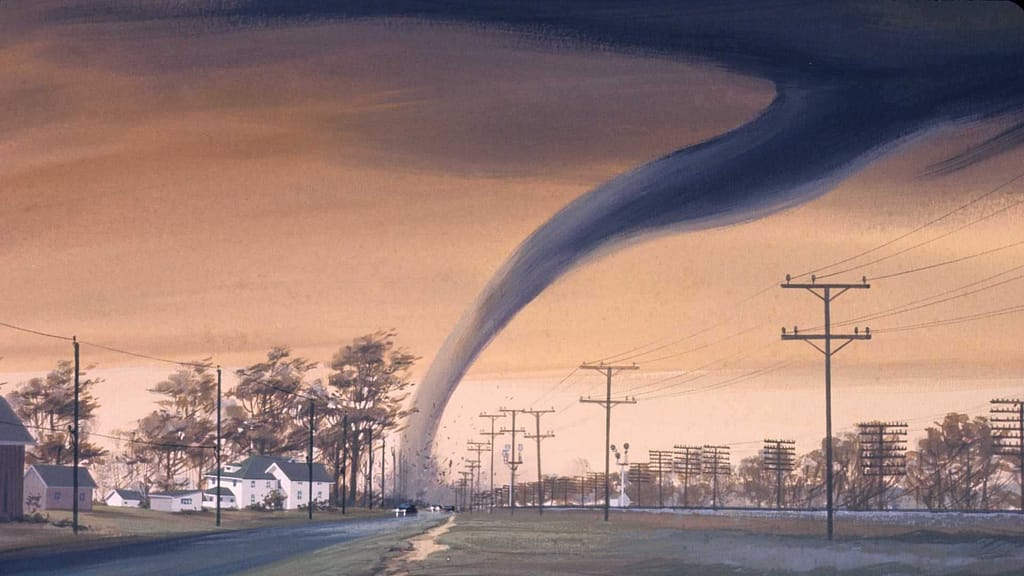 The varied and often harsh weather conditions in North Carolina can significantly impact the lifespan of your roof. North Carolina experiences a wide range of weather, from scorching summers to heavy rains, snow, and the occasional hurricane. This puts a lot of strain on your roofing materials, potentially shortening their lifespan and making regular inspections and maintenance crucial.
Signs You Need a New Roof
Visible signs such as missing or damaged shingles, leaks, or a roof that's past its expected lifespan, might indicate that it's time for a new roof. If you observe any of these signs, it might be time to connect with a professional North Carolina roofer.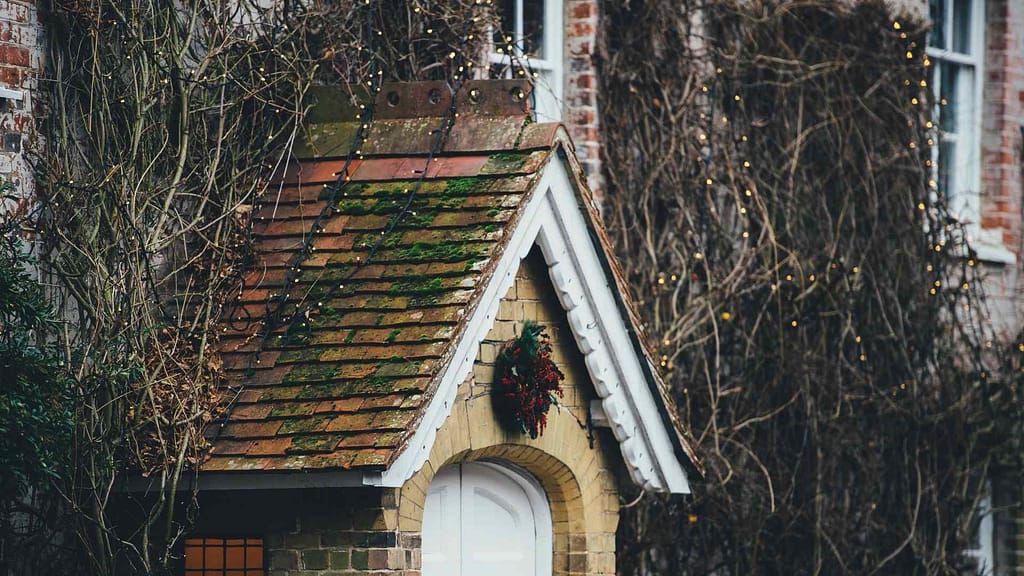 DIY vs. Professional Replacement
While DIY might seem like a cost-effective option, roof replacement is a significant task that requires professional expertise. A professional North Carolina roofing contractor not only ensures the job is done correctly but also provides necessary warranties and peace of mind.
North Carolina Roofing FAQs
What are the signs of roof damage caused by storms or hurricanes?

Storms or hurricanes can inflict significant damage on your roof. Signs to look out for include missing or torn shingles, dented metal roofing, granules from shingles in the gutters, water leaks inside your home, damaged roof flashing, and dented or missing roof vents.
Are there specific building codes or regulations for roofing in North Carolina?

Yes, North Carolina has specific building codes and regulations that pertain to roofing.. It's essential to hire a licensed North Carolina roofing contractor who is familiar with these codes to ensure your new roof is compliant.
What are the best practices for roof maintenance in North Carolina's climate?

In North Carolina's diverse climate, regular roof inspections are key. Checking for signs of wear and tear, cleaning gutters, removing debris from the roof, and trimming overhanging tree branches can prevent minor issues from turning into major problems. It's advisable to have a professional perform an inspection at least once a year or after severe weather.
How can I find a reputable and licensed roofing contractor in North Carolina?

Finding a reputable and licensed North Carolina roofer involves doing your homework. Look for online reviews, ask for referrals, and request to see proof of licensure and insurance. You can also use our North Carolina roofing calculator to get connected with the highest-rated roofers in your area.
What are the energy-efficient roofing options available for North Carolina homes?

Several energy-efficient roofing options are suitable for North Carolina homes. These include metal roofing, which reflects solar heat, reducing cooling costs, and solar roofs, which generate electricity for your home. Be sure to discuss energy-efficient options with your chosen roofing contractor.
Interesting Facts About North Carolina
| | |
| --- | --- |
| Average roof replacement price in North Carolina | $6,850 |
| The number of North Carolina roofs we've measured | 4,503,837 |
| Average North Carolina home size | 1,800 Square Feet |
| Average North Carolina property size (2020 Parcel Data) | 0.41 Acres or 18,250 Sqft |
| Largest zip code in North Carolina | 27925 – Columbia (428 Square Miles) |
| Average roof slope on North Carolina homes | 6/12 Pitch or 26.57 Degrees |
| Most common roof type in North Carolina | Asphalt Shingle |
| North Carolina's weather averages | Lows of 46F/8C to highs around 67F/20C |
| North Carolina's population estimated (2022) | 10,488,084 |
| North Carolina's Time Zone | Eastern Standard Time (GMT -4) |
| North Carolina's total square miles | 48,623 |
Data Collected 2021
See how your home compares to the average roof replacement price in North Carolina. You can get a free estimate for a new roof via our free roof cost calculator. Get instant roof replacement costs for your exact home and connect with the highest-rated roofing contractor near you.
Thinking of financing your new North Carolina roof?
A new roof can be an unexpected cost. You may need to borrow some money to get it done. We've built a simple roof financing calculator to help you figure out your monthly payments.
The Most Popular Areas We Serve In North Carolina