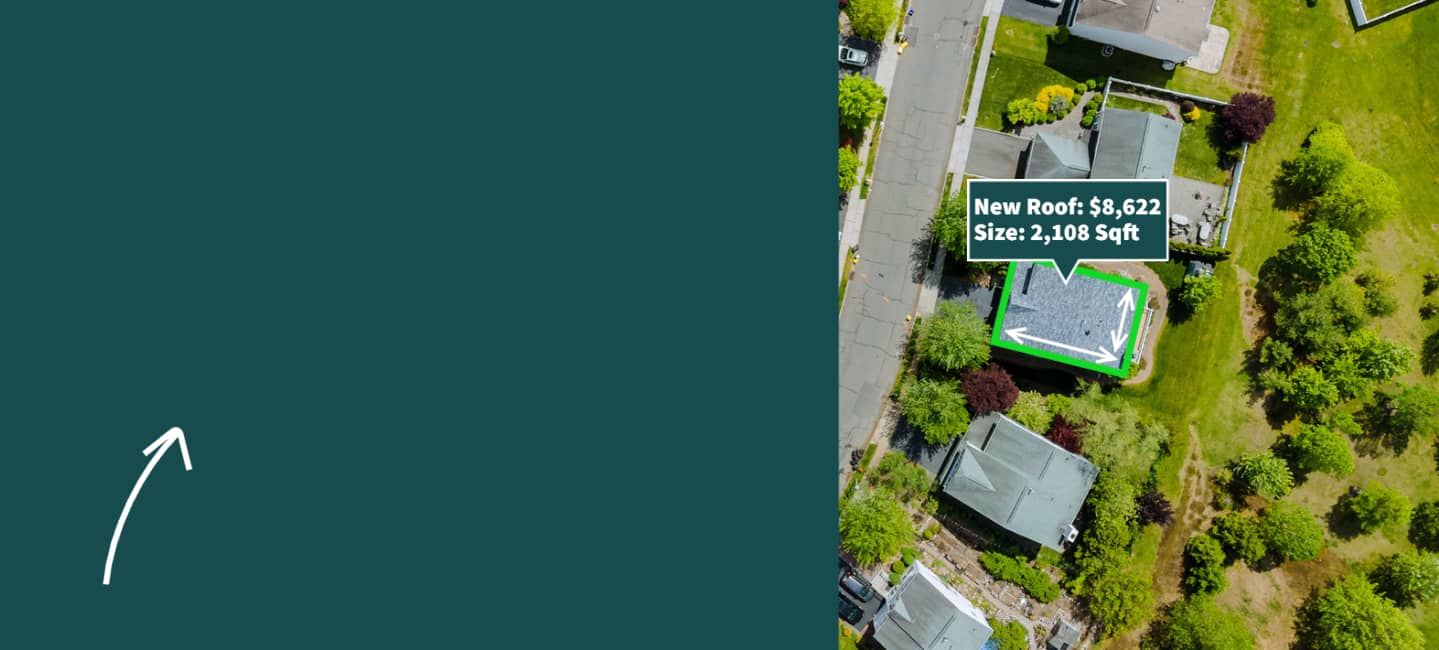 Alaska Roof Replacement Costs
Instantly get an Alaska new roof cost with our roofing calculator. See local Alaska roofing contractor prices for Asphalt, Metal, and Solar Roofing. Connect with a local Alaska Roofer today.
No signup required.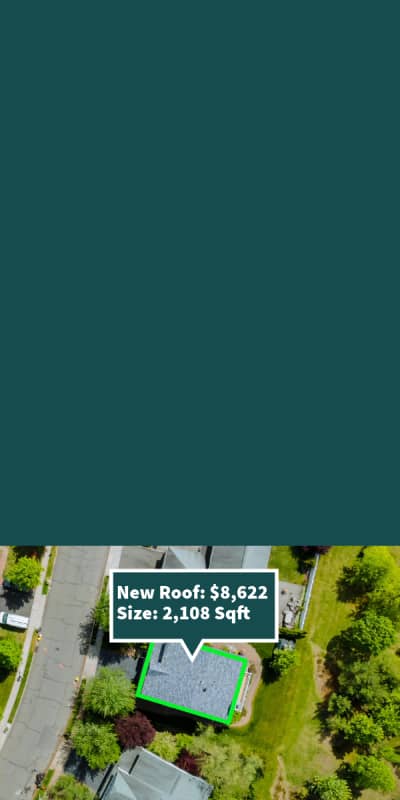 Alaska Roof Replacement Costs
Instantly get an Alaska new roof cost with our roofing calculator. See local Alaska roofing contractor prices for Asphalt, Metal, and Solar Roofing. Connect with a local Alaska Roofer today.
Wondering what it's going to cost to replace your roof in Alaska?

Measure
226,410 roofs scanned in Alaska

Estimate
Average new roof cost in Alaska is $8,200

Connect
64 highly-rated roofing contractors in Alaska
Instant Roofer offers a fast, straightforward, and cost-free method to obtain estimates for your Alaska roofing costs. We are committed to providing top-notch service and highly precise estimates, and our advanced Alaska roofing calculator is designed to help you attain exactly that.
Enter your address into Instant Roofer.
Confirm your home via Satellite Imagery.
Instantly view your estimated cost and roof size.
Submit the information to receive an estimate from the most affordable, top-rated Alaska roofer.
Discover the Most Affordable and Top-Rated Alaska Roofer Instantly.
Our roofing calculator swiftly and accurately delivers you estimates of Alaska roofing costs and roof replacement expenses. Within mere seconds, you can weigh up prices and previous work testimonials to aid your decision-making when choosing an Alaska roofing contractor.
Four Tailored Roofing Options for Your Needs
At Instant Roofer, we understand every home is unique, just as every homeowner's preferences are. That's why we provide diverse roofing options to fit your specific needs, budget, and aspirations. Whether you seek durability, visual charm, or energy efficiency, we have a customized solution for you.
Use our Alaska roofing calculator to explore and compare the costs of four distinct, yet equally sturdy, roofing materials. Regardless of your choice, count on us to connect you with the most reliable and highest-rated Alaska roofer for your project.
Better Roof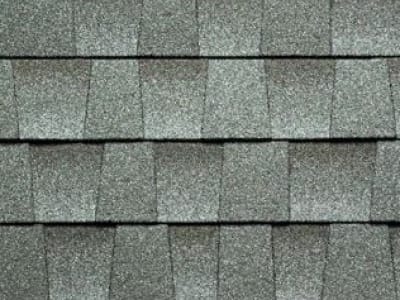 Limited Shingle Style Options
Average Life and Warranty
Average Impact and Wind Rating
Best roof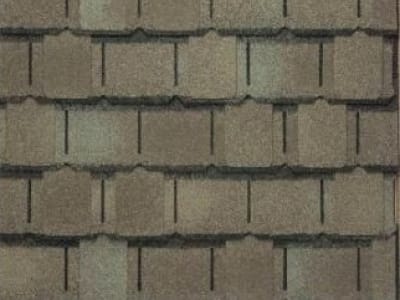 Bigger and Thicker Asphalt Shingle
Better Protection Against Algae
Longer Lasting Life and Warranty
Better Impact and Wind Rating
Metal Roof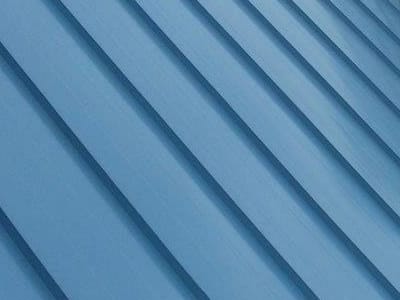 Better protection from fire
Better home cooling (UV Protection)
Best Impact and Wind Rating
Solar Roof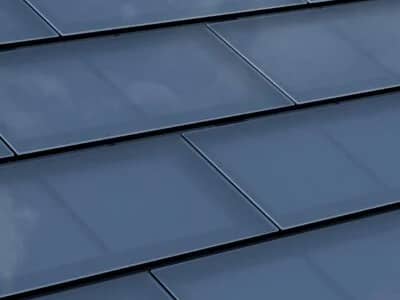 Up to 30% in Federal Tax Credits
Potential $0 Electricity Costs
Find out how much it costs to replace your roof in Alaska with Instant Roofer's roofing calculator.
Get a free estimate in just seconds!
No sign-up is required.

"Instant Roofers estimate was spot on. The contractor it recommended was excellent. All around a great experience."
What Sets Us Apart
A new roof can significantly enhance your home's value, but it's among the costliest home improvements you'll undertake. We aim to help you comprehend these factors and decide if a new roof suits your situation.
At Instant Roofer, we strive to simplify the task of determining the roofing size for any home in the country. As homeowners ourselves, we appreciate the importance of precise estimates and dependable service. This understanding led to the creation of our innovative roofing calculator – a quick, easy, and free way to get an Alaska roofing estimate.
Unlike most roofing estimate calculators interested in upselling, we stand apart. We believe in a one-time email communication, ensuring no further unsolicited emails from us. Our approach with the Alaska Roofing Calculator is unique: we don't bombard you with spam, and we're not in the business of cross-selling. We focus on answering your queries about roof replacement without any fuss.
Instant Roofer originated from this simple concept. Blend a few tech enthusiasts with experienced roofers to create the most user-friendly, speedy, and cost-effective method to estimate roof costs across America.
Best part… We're 100% owned, developed, and operated by Americans.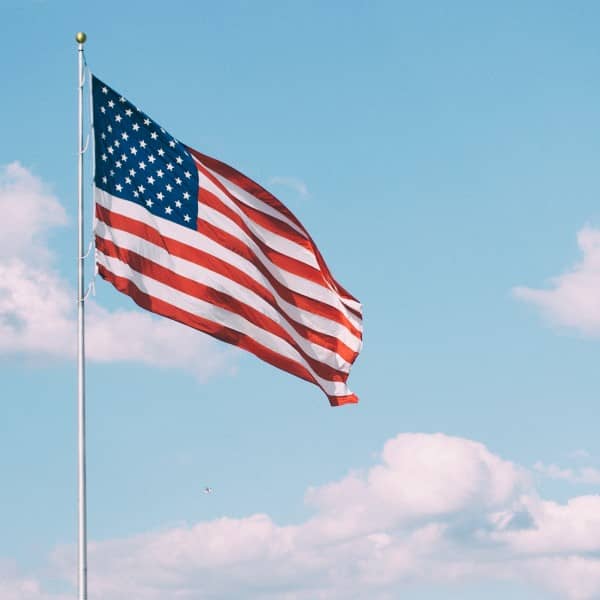 The Easiest Alaska Roofing Calculator
Get a free estimate from local roofers in your area in under 60 seconds! We leverage big data and artificial intelligence to provide you with a fast, affordable, and accurate replacement cost on your roof.
How do we connect you with the best roofer? We analyze roofing contractors' pricing in your area and their ratings online. Ensuring you get the best price and highest-rated Alaska Roofing contractor.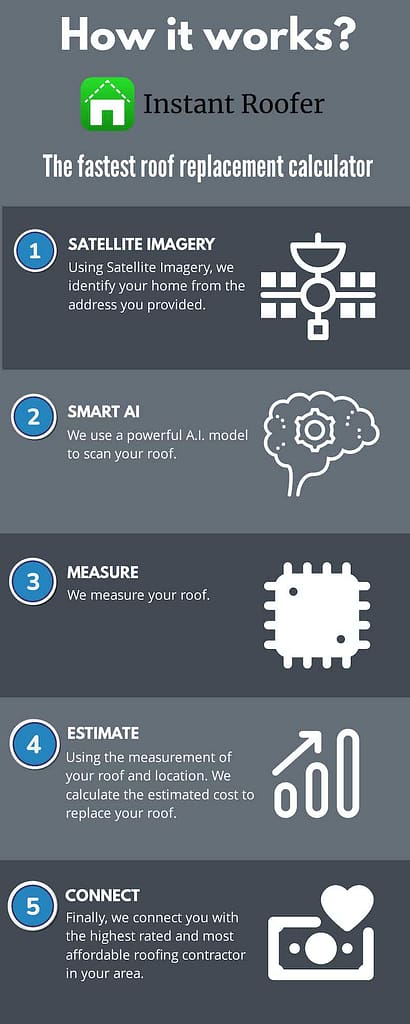 About Instant Roofer
People often wonder if we are a roofing company. In a way, we are and we are not. We are like the 'UBER' of the roofing industry. Our mission is to leverage technology to simplify the roofing process for you and the roofing contractor alike.
Empowering Homeowners in Alaska
Our Alaska roofing calculator offers you a swift and precise estimate for roof replacement, based on your roof's specifics. The average roof replacement cost in Alaska hovers around $8,200, but this can change based on the size and complexity of your project. With Instant Roofer, you can obtain a free estimate in mere seconds, aiding you in making an informed decision about your roofing requirements.
We have streamlined the process of roof replacement by harnessing the potential of technology. Our A.I. has measured the roof sizes of over 129 million homes all over America. Plus, we have partnered with local Alaska roofing companies across all counties. This ensures that you are receiving top-tier service and accurate estimates for your roofing needs.
Every Alaska roofing contractor in our network has provided us their cost per square foot for installing a new roof. Combining this information with each roofing contractor's price and rating, we determine the most qualified Alaska roofer in your area to assist you.
Assisting Alaska Roofing Contractors
Roofing can indeed be complex. Roofers consider numerous data points, such as pitch, facets, eaves, ridges, and more.
Unlike other platforms providing roof replacement cost estimates, we don't bombard a multitude of roofers with your data. Instead, we select the best Alaska roofer in your area and collaborate with them to ensure they have all the necessary details to successfully complete your new roofing project.
Instant Roofer lives up to its name. The moment you accept your online roof replacement estimate, we leap into action. We instantly notify the roofer about the upcoming project and confirm with you the selected Alaska roofing contractor.
Average Roof Replacement Cost in Alaska
The average roof replacement cost in Alaska varies based on many factors, but it's a crucial piece of information to have when planning for a new roof. On average, you might expect to pay between $5,000 and $10,000, with the costs rising for larger or more complex roofs. Our Alaska roofing calculator can give you a more accurate estimate based on your home's specific requirements.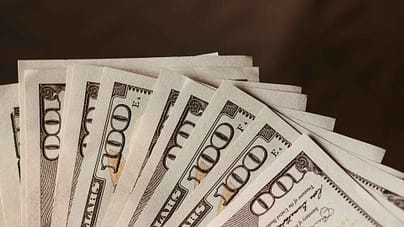 Key Factors Affecting Alaska New Roof Cost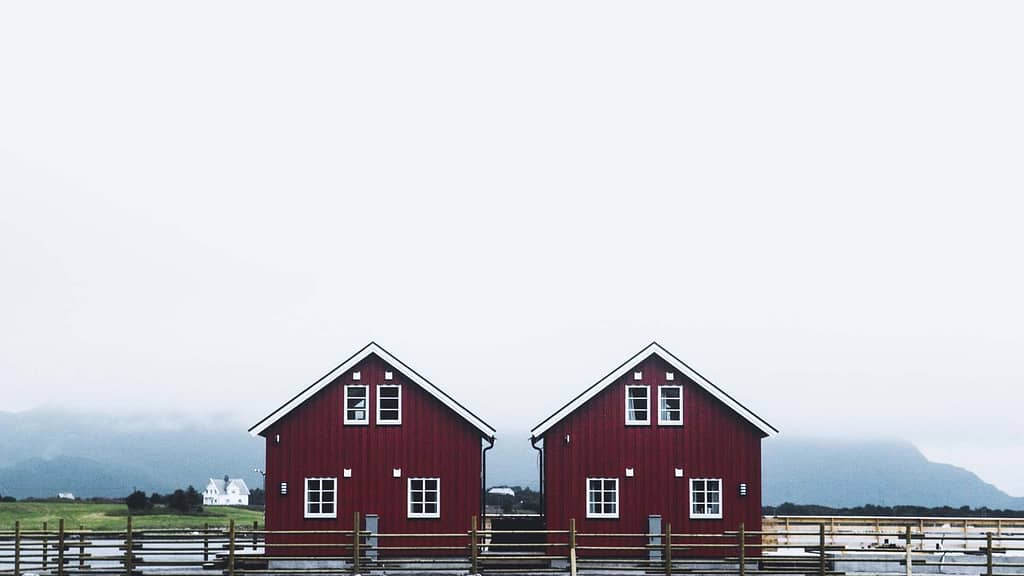 Understanding the factors that influence the Alaska new roof cost is vital to budgeting accurately for your roof replacement. Several key components determine the total cost, each contributing to the final price tag. Let's take a closer look at these elements:
Roof Size: The size of your roof is one of the primary factors that impact the cost of a new roof. Bigger roofs require more materials and more labor, which increases the total cost. Roofing contractors usually price their services by roofing squares.
Roof Materials: The material you choose for your new roof significantly affects the cost. The average costs vary for each, for example, an asphalt shingle roof is often less expensive but still offers durability and appeal.
Roof Pitch: The pitch or slope of your roof impacts the new roof cost. Steeper roofs are more challenging to work on and may require additional safety measures and equipment, increasing labor costs.
Labor Cost: Labor costs can vary depending on the complexity of the job and the contractor's experience. Professional roofers offer expertise and efficiency, often resulting in a smoother, quicker job with high-quality results.
Location: The location of your property can also influence the cost of your new roof. Factors such as local living costs, availability of materials, and the distance the roofing team needs to travel can all impact the final price.
Permits: Most roofing projects will require a permit from local authorities. The cost of these permits can vary depending on the location and scope of the work being done.
Inspection: inspection may be necessary before and after the roof installation to ensure the roof is installed correctly and in line with local codes. Inspection fees can add to the overall cost of your Alaska roof replacement.
Right Materials for Your Alaska Roof Replacement
Choosing the right material for your roof replacement is a critical decision. The materials used can significantly impact the total cost, durability, and appearance of your roof. We offer a variety of roofing materials, each with its own price range and benefits.
Architectural Asphalt Shingle
Architectural Asphalt Shingles are an excellent choice for homeowners looking for durability, affordability, and aesthetic appeal. These shingles are heavier than standard asphalt shingles, giving them greater resistance to wind and weather damage. The cost of Architectural Asphalt Shingles typically ranges from $350 to $500 per square (100 square feet).
Designer Asphalt Shingle
Designer Asphalt Shingles, also known as luxury or premium asphalt shingles, offer superior durability and a wide array of designs. While they offer higher aesthetic appeal and longevity, they come with a higher price tag ranging from $450 to $700 per square.
Metal Roofing
Metal roofing is an excellent option for Alaska homeowners due to its high durability and resistance to harsh weather conditions. It can last up to 50 years or more with proper maintenance. The cost of metal roofing can vary widely based on the type of metal used, but it generally ranges from $700 to $1,000 per square.
Solar Roof
A Solar Roof is the most expensive but also the most energy-efficient roofing option. While the upfront cost can be quite high (ranging from $2,000 to $2,500 per square), you can offset this cost over time with the savings on your energy bills. Solar roofs can also increase the value of your home and reduce your environmental impact.
Roof Replacement Additional Costs
When planning for your Alaska roof replacement, it's essential to be aware of the additional costs that might come up during the process. Beyond the price of new materials and labor, here are several additional factors that could add to the total roof replacement cost.
Old Roof Removal: Before installing a new roof, your old roof will need to be removed. The cost of this removal depends on the size of the roof and the materials used.
Underlayment Repair: The underlayment is a protective layer between your roof deck and the roofing material. If it's damaged, it will need to be repaired or replaced, adding to the overall cost. The cost of underlayment repair is influenced by the extent of the damage and the type of underlayment used.
Roof Features: Features like chimneys, skylights, and vent pipes can add complexity to a roofing job. Working around these elements requires more time and effort, which may increase labor costs.
Roof Cleaning: Before the new roofing materials can be installed, your roof may need to be cleaned, particularly in the case of a roof-over where new shingles are installed over the old ones. This cleaning process can add to the total cost.
Clean Up and Disposal: After your new roof is installed, there will be a significant amount of debris to clean up and dispose of. This clean-up and disposal can be a substantial part of your roofing cost, especially if your old roof was made of materials that require special disposal methods.
Roof Insurance: While not a direct cost of the roof replacement, you might want to consider the cost of roof insurance. Insurance can cover any damages or accidents that might occur during the installation process, providing peace of mind.
Alaska Weather Impacts Roof's Lifespan
Alaska's harsh weather conditions can have a significant impact on a roof's lifespan. Cold temperatures and heavy snowfall may cause wear and tear over time. Certain materials, like metal roofing, can withstand these conditions better, extending the lifespan of your roof.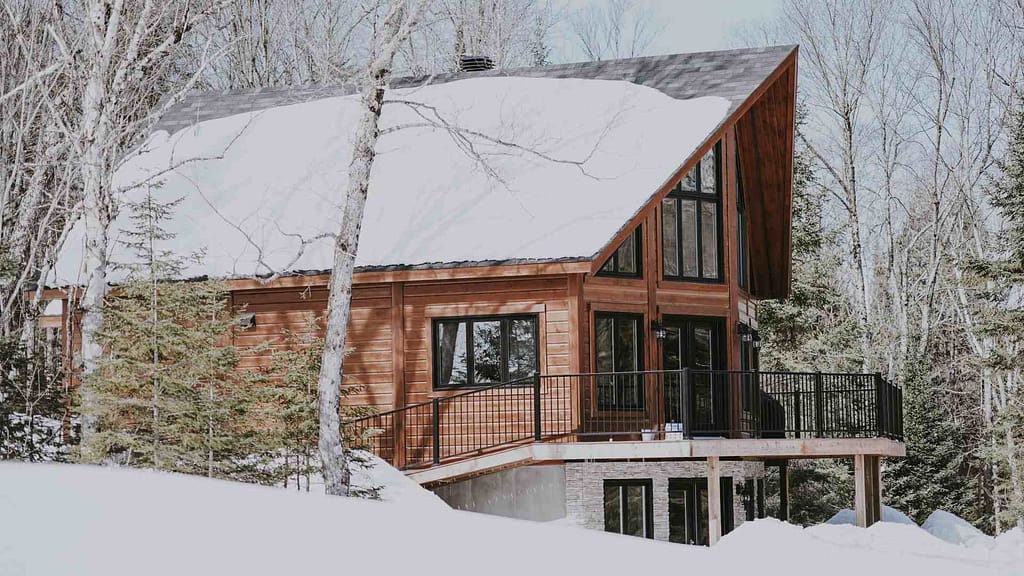 Signs You Need a New Roof
It is important to know when it's time for a replacement. Here are the signs you should be on the lookout for:
Age of Your Roof
Curled or Buckled Shingles:
Roof Valleys
Missing Shingles
Shingle Granules in the Gutters
Daylight Through the Roof Boards
Leaking or Water Damage
Higher Energy Bills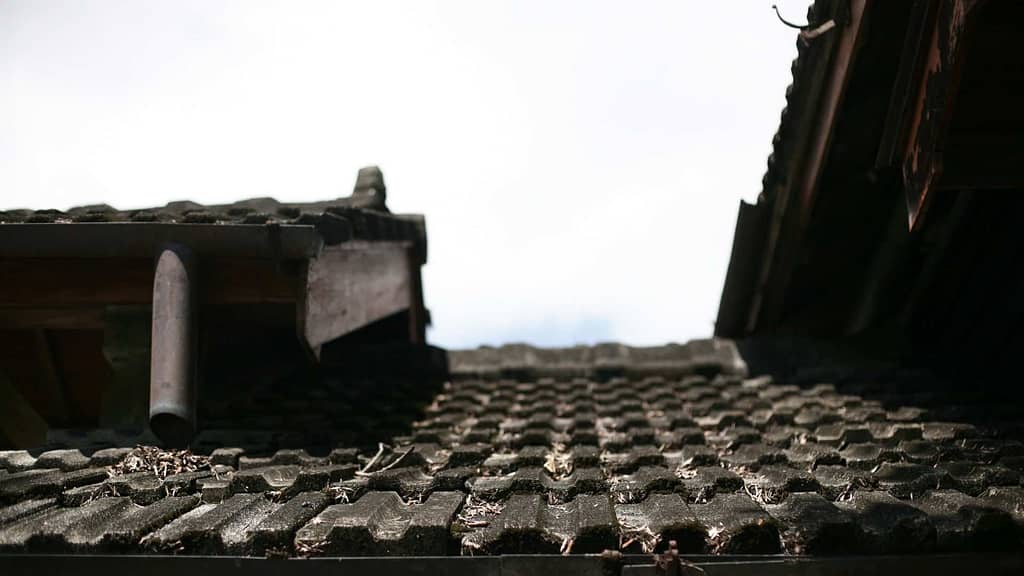 New Roof vs. Roof Repair
Sometimes, it's a tough call between getting a new roof and repairing your existing one. Generally, if your roof is relatively young and the damage is minor, a repair could suffice. But if the damage is extensive or your roof is reaching the end of its lifespan, a full replacement may be a more cost-effective solution in the long run.
DIY vs. Professional Replacement
While DIY roof replacement might seem like a way to save money, it often ends up being more time-consuming and potentially unsafe without the right experience and tools. A professional Alaska roofing contractor ensures the job is done right, on time, and according to local regulations. Trusting a professional Alaska roofer is especially vital when installing more complex roofing options such as metal or solar roofs.
Top 17 Alaska Roofing Contractors
Enter your address in our app to learn who has the best combination of reviews and pricing for your exact home. Updated: 9/27/23
Storm Proof Roofing
(907) 770-6666
5
57 Google reviews
205 East Dimond Boulevard
Anchorage, AK 99515
Straight Ahead Construction and Remodeling LLC
(907) 978-3344
5
37 Google reviews
2600 Horsetail Trail
Fairbanks, AK 99709
ABC Seamless Siding
(907) 646-2228
4.8
94 Google reviews
1425 Viking Drive
Anchorage, AK 99501
MD Contractors
(907) 888-9191
5
23 Google reviews
5340 Dale Road
Fairbanks, AK 99709
Silver Bow Construction
(907) 780-4157
4.7
22 Google reviews
5331 Shaune Drive
Juneau, AK 99801
Show 12 More

Premier Roofing Co.
(907) 346-4131
5
18 Google reviews

11580 Doggie Avenue
Anchorage, AK 99507

Spartan Roofing Inc
(907) 376-3171
4.8
18 Google reviews

550 Graybark Drive
Wasilla, AK 99654

Earhart Roofing Company Inc
(907) 345-5555
4.1
35 Google reviews

1321 East 68th Avenue
Anchorage, AK 99518

S&D roofing of Alaska, LLC
(907) 726-7936
5
14 Google reviews

20172 Reich Court
Palmer, AK 99645

Holland Roofing Company, Inc.
(907) 344-9911
4.5
17 Google reviews

8716 Elmore Road
Anchorage, AK 99507

EP Roofing Inc
(907) 334-9461
4.5
16 Google reviews

114 W 91st Ave
Anchorage, AK 99515

E/P Roofing, Inc.
(907) 334-9461
4.5
16 Google reviews

114 West 91st Avenue
Anchorage, AK 99515

General Roofing
(907) 561-1460
3.9
21 Google reviews

119 East 54th Avenue
Anchorage, AK 99518

Avalanche Construction Inc
(907) 333-0907
4.7
13 Google reviews

1300 E 68th Ave Ste 104
Anchorage, AK 99518

A & A Roofing Co
(907) 452-3633
4.6
10 Google reviews

925 Aspen Street
Fairbanks, AK 99709

Interior Alaska Roofing Inc
(907) 456-5545
4.1
10 Google reviews

3790 Schacht St
Fairbanks, AK 99701

Rain Proof Roofing
(907) 344-5545
3.5
11 Google reviews

2201 E 84th Ct
Anchorage, AK 99507
Don't see your company listed? Join our network!
Alaska Roofing FAQs
How can I prevent ice dams on my roof during winter?

To prevent ice dams on your roof during the Alaskan winter, ensure your attic is well-insulated. This keeps heat from escaping through the roof and melting snow, which can refreeze and form ice dams.
What are the best practices for roof maintenance in Alaska's climate?

In Alaska's challenging climate, regular roof inspections and maintenance are crucial. Check for damage after heavy snowfall or storms, clear snow from your roof promptly to prevent weight build-up, and clear gutters and drains to prevent water damage.
How can I improve the energy efficiency of my roof in extreme cold conditions?

Improving your roof's insulation and ventilation can greatly enhance its energy efficiency. Opt for roofing materials with good insulating properties; our Alaska roofing calculator can help estimate the cost for such an upgrade.
Are there any specific building codes or regulations for roofing in Alaska?

Yes, Alaska has specific building codes related to roofing to account for the unique climate conditions. These regulations address aspects like the minimum roof load to withstand heavy snow, ice shield requirements, and insulation levels. Always hire a licensed Alaska roofer who is familiar with these regulations.
What are the signs of roof damage caused by heavy snow or ice?

Signs of roof damage caused by heavy snow or ice include sagging or distortion of the roof, visible leaks or water stains inside your home, and cracks or damage to the roof surface. If you notice an unusually high amount of icicles, it might be a sign of an ice dam, which can cause significant damage to your roof.
Interesting Facts About Alaska
| | |
| --- | --- |
| Average roof replacement price in Alaska | $8,200 |
| The number of Alaska roofs we've measured | 226,410 |
| Average Alaska home size | 1,800 Square Feet |
| Average Alaska property size (2020 Parcel Data) | 0.56 Acres or 24,800 Sqft |
| Largest zip code in Alaska | 00002 – Yukon Flats Nat Wildlife (95,863 Square Miles) |
| Average roof slope on Alaska homes | 6/12 Pitch or 26.57 Degrees |
| Most common roof type in Alaska | Asphalt Shingle |
| Alaska's weather averages | Lows of 45F/7C to highs around 57F/14C |
| Alaska's population estimated (2022) | 731,545 |
| Alaska's Time Zone | Alaska Standard Time (GMT -8) |
| Alaska's total square miles | 571,023 |
Data Collected 2021
See how your home compares to the average roof replacement price in Alaska. You can get a free estimate for a new roof via our free roof cost calculator. Get instant roof replacement costs for your exact home and connect with the highest-rated roofing contractor near you.
Thinking of financing your new Alaska roof?
A new roof can be an unexpected cost. You may need to borrow some money to get it done. We've built a simple roof financing calculator to help you figure out your monthly payments.
The Most Popular Areas We Serve In Alaska