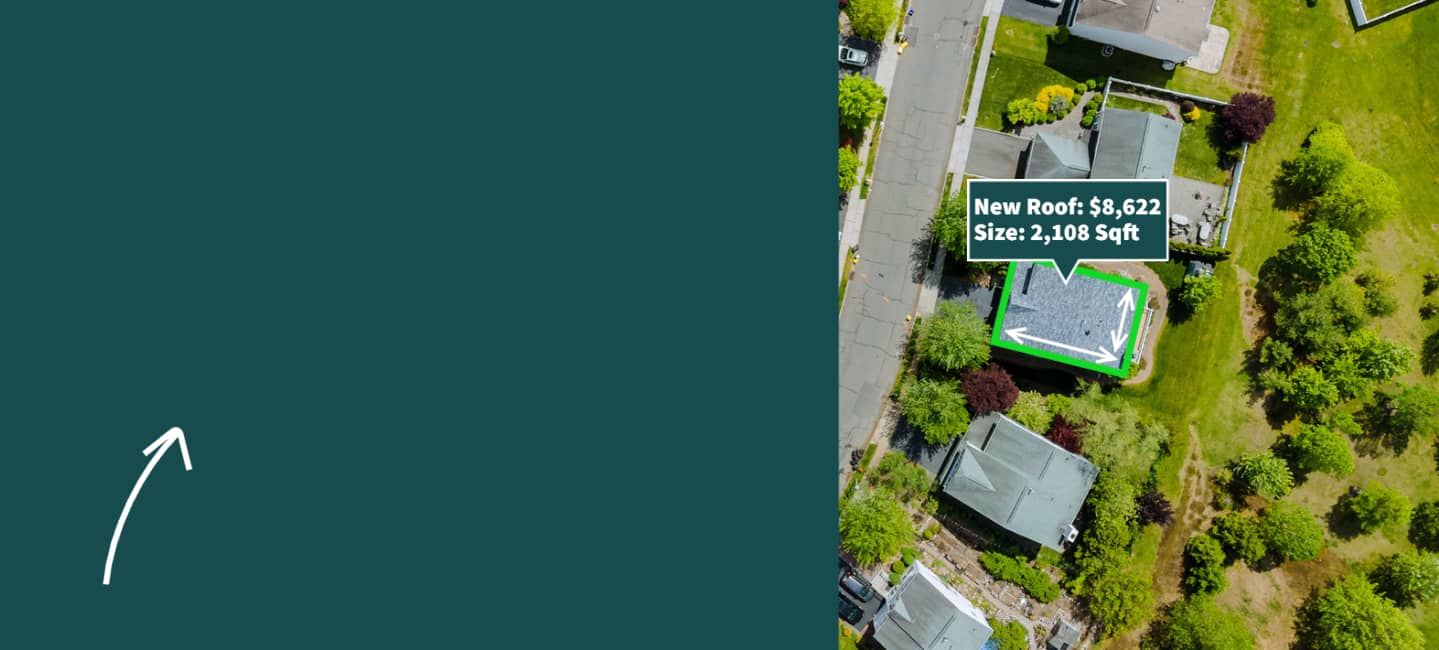 Mississippi Roof Replacement Costs
Instantly get a Mississippi new roof cost with our roofing calculator. See local Mississippi roofing contractor prices for Asphalt, Metal, and Solar Roofing. Connect with a local Mississippi Roofer today.
No signup required.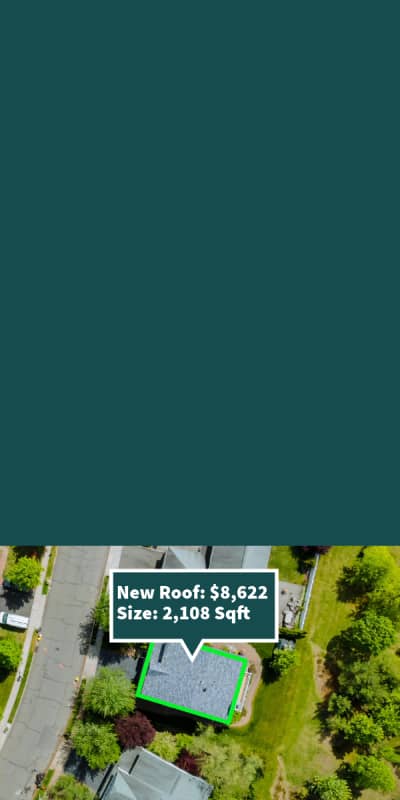 Mississippi Roof Replacement Costs
Instantly get a Mississippi new roof cost with our roofing calculator. See local Mississippi roofing contractor prices for Asphalt, Metal, and Solar Roofing. Connect with a local Mississippi Roofer today.
Wondering what it's going to cost to replace your roof in Mississippi?

Measure
1,470,097 roofs scanned in Mississippi

Estimate
Average new roof cost in Mississippi is $7,000

Connect
345 highly-rated roofing contractors in Mississippi
In search of a straightforward estimate for your new roof? Look no further! Instant Roofer is your one-stop solution for a prompt, precise, and hassle-free Mississippi roof replacement cost online. Our system is designed for simplicity, requiring no paperwork on your end. With just a few quick inputs—like your preferred type of roofing material—you can obtain an accurate Mississippi new roof cost in a snap!
Enter your address into Instant Roofer.
Confirm your home via Satellite Imagery.
Instantly view your estimated cost and roof size.
Submit the information to receive an estimate from the most affordable, top-rated Mississippi roofer.
Discover Top-Rated and Cost-Effective Mississippi Roofer in Just a Few Clicks.
Choosing the right contractor is critical to ensure superior service while achieving long-term savings. Our advanced Mississippi roofing calculator provides a selection by considering each Mississippi roofer's expertise, industry knowledge, and competitive pricing. This ensures you find the perfect fit for your specific roofing needs in mere seconds.
Personalized Roofing Choices Tailored to Your Needs
At Instant Roofer, we understand the unique needs of every home and homeowner. That's why we offer a diverse array of roofing options to align with your specific preferences, budget, and requirements. Whether you prioritize durability, aesthetic appeal, or energy efficiency, we've crafted the ideal roofing options for you.
Take advantage of our Mississippi roofing calculator to explore and the costs associated with four distinct, high-quality roofing materials. Regardless of your selection, rest assured that we'll connect you with the most effective and highly rated Mississippi roofer to execute your project seamlessly
Better Roof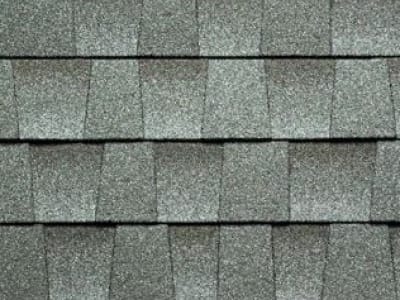 Limited Shingle Style Options
Average Life and Warranty
Average Impact and Wind Rating
Best roof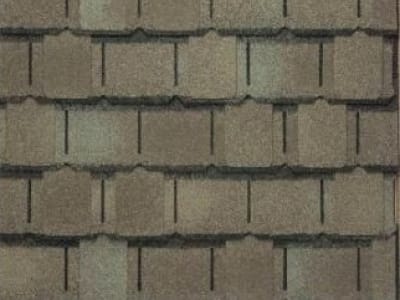 Bigger and Thicker Asphalt Shingle
Better Protection Against Algae
Longer Lasting Life and Warranty
Better Impact and Wind Rating
Metal Roof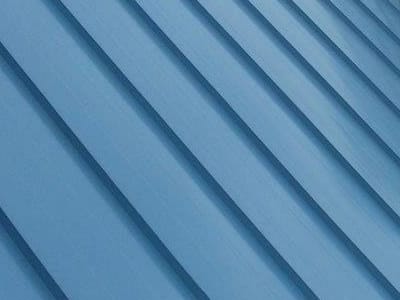 Better protection from fire
Better home cooling (UV Protection)
Best Impact and Wind Rating
Solar Roof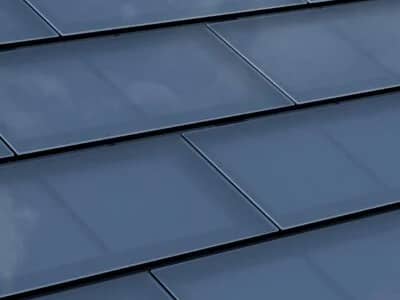 Up to 30% in Federal Tax Credits
Potential $0 Electricity Costs
Receive Your Mississippi Roof Replacement Cost Online Today In Seconds
No sign-up is required.

"Instant Roofers estimate was spot on. The contractor it recommended was excellent. All around a great experience."
Our Unique Approach to Roofing
When it comes to installing a new roof, homeowners often find themselves uncertain of the costs involved. A myriad of factors can affect the final price of your roofing project, which can be overwhelming. At Instant Roofer, we sought to make this process easier, giving homeowners a clear understanding before beginning their roof replacement.
In the past, we developed roofing calculators, but observed a common challenge: homeowners frequently struggled with accurately measuring their roof's size. This led to a revolutionary idea: could we create a tool that provides an accurate Mississippi roof replacement cost, without homeowners having to navigate complex roof dimensions or interact with persistent salespeople?
From this concept, Instant Roofer was born. A collaboration between tech enthusiasts and experienced roofers, we've created the simplest and quickest solution for calculating roof costs in America.
Our promise to you is straightforward, we're here to help you understand your new roof cost in a few easy steps. After providing the necessary information, our Mississippi roofing calculator will give you an immediate, accurate estimate of your new roof cost.
And the best part… Instant Roofer is 100% American owned, developed, and operated.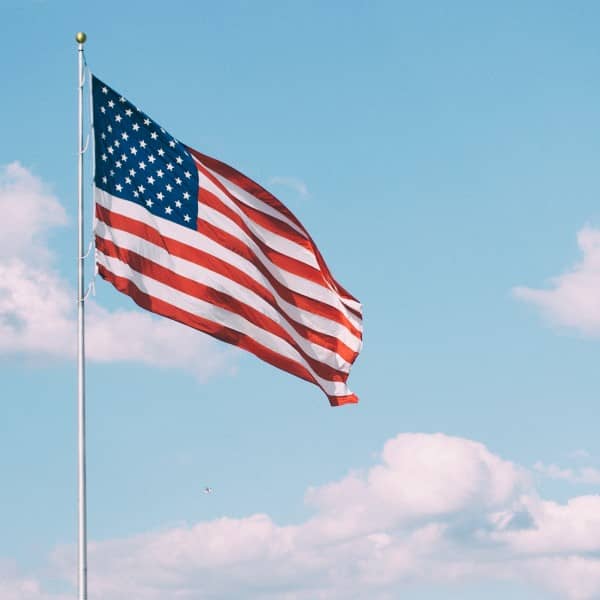 Your Go-To Mississippi Roofing Calculator
Curious about your Mississippi roof replacement cost? At Instant Roofer, we make it simple and swift for you to receive an accurate estimate from a local Mississippi roofer – all from the comfort of your home. We harness the power of big data and artificial intelligence to offer a quick, and precise estimation of your roof replacement cost.
How do we connect you with the finest roofer? We evaluate the pricing of roofing contractors in your region alongside their online ratings. This ensures that you receive the most competitive price from the highest-rated Mississippi roofing contractor.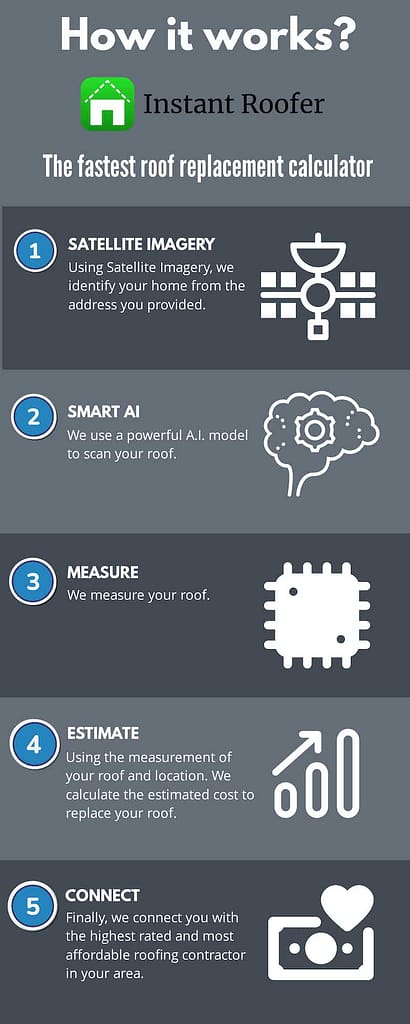 About Instant Roofer
People often ask us. Are you a roofing company? Yes, and no. Think of us as the UBER roofing company. We use technology to simplify the roofing process not just for you, but additionally for the roofing contractor as well.
How We Help Homeowners
Getting a new roof is a big step. In Mississippi, a new roof tends to cost around $7,000. We make this process easier for you. Using our smart A.I. system, we can measure the size of roofs on over 129 million homes all over America.
We have build strong connections with local Mississippi roofers across all counties. But we don't link you to just any roofer – we connect you to the top-rated roofers in your area.
Every Mississippi roofing contractor we work with gives us their cost per square foot for installing a new roof. Looking at both their price and rating, we find the most suitable Mississippi roofer for your project.
How We Assist Roofing Contractors
Roofing can be tricky work, with contractors needing to look at things like pitch, facets, eaves, ridges, and more. We start by giving a rough figure, but we always suggest getting a full quote for a clear picture.
Instant Roofer is different from other companies when it comes to sharing your data. We respect your privacy and don't pass your details to lots of roofers. We carefully select the best roofer in your area and work closely with them to make sure they have all the info they need for your roofing project.
The "Instant" in Instant Roofer means exactly that. The moment you accept your online roof replacement estimate, we're on the case. We quickly notify the chosen roofer about the new project and confirm with you the chosen Mississippi roofing contractor.
Top 20 Mississippi Roofing Contractors
Enter your address in our app to learn who has the best combination of reviews and pricing for your exact home. Updated: 9/27/23
Watkins Construction & Roofing
(601) 706-8358
5
224 Google reviews
218 North Wheatley Street
Ridgeland, MS 39157
Pro-Shield Roofing & Construction, LLC
(601) 966-7926
5
159 Google reviews
110 Lexington Drive
Madison, MS 39110
B & A Roofing and Gutters
(601) 520-3183
5
152 Google reviews
5 Rivers Drive
Hattiesburg, MS 39401
Renova Roofing & Construction
(601) 540-8880
5
143 Google reviews
141 Township Ave Ste 305
Ridgeland, MS 39157
Halo Roofing and Restoration LLC
(601) 906-4711
5
114 Google reviews
217 Hidden Hills Parkway
Brandon, MS 39047
Show 15 More

Renova Roofing & Construction
(228) 207-1398
5
87 Google reviews

243 Beauvoir Road
Biloxi, MS 39531

B&A Roofing LLC
(601) 520-3183
5
84 Google reviews

5 Rivers Dr Ste 40
Hattiesburg, MS 39401

Dickerson Contracting, LLC
(601) 790-9630
5
61 Google reviews

125 East Ford Street
Ridgeland, MS 39157

Dickerson Contracting LLC
(601) 502-4032
5
57 Google reviews

127 E Ford St Ste C
Ridgeland, MS 39157

Griffin Construction and Roofing, LLC
(601) 421-7372
5
53 Google reviews

6424 Lakeover Road
Jackson, MS 39213

B&M Roofing
(228) 338-3676
5
51 Google reviews

1223 30th Avenue
Gulfport, MS 39501

Key Roofing
(601) 497-9767
5
44 Google reviews

111 Depot Drive
Madison, MS 39110

Strength Roofing & Siding
(601) 373-7254
4.9
190 Google reviews

6016 Interstate 55
Byram, MS 39272

Ready2Roof MS
(601) 573-1160
4.9
175 Google reviews

1888 Main Street
Madison, MS 39110

Best Choice Roofing
(601) 476-5661
4.9
136 Google reviews

6635 U.S. 98
Hattiesburg, MS 39402

Complete Exteriors LLC
(601) 326-2755
4.9
120 Google reviews

4725 Highway 80 E
Pearl, MS 39208

Ready2Roof.com
(601) 573-1160
4.9
103 Google reviews

1003 Harbor Walk # A-29
Ridgeland, MS 39157

Vicksburg Roofing, Inc.
(601) 661-7663
4.9
99 Google reviews

4190 Tiffentown Road
Vicksburg, MS 39183

Vicksburg Roofing Inc
(601) 661-7663
4.9
98 Google reviews

4190 Tiffintown Rd
Vicksburg, MS 39183

Master Built Roofing
(228) 222-2772
4.9
87 Google reviews

10112 Mississippi 57
Vancleave, MS 39565
Don't see your company listed? Join our network!
Roof Replacement Cost in Mississippi
Understanding the cost of roof replacement is critical for Mississippi homeowners. On average, the cost of an asphalt roof replacement in Mississippi ranges from $400 to $700 per square, inclusive of materials and installation. Utilize our Mississippi roofing calculator for precise estimate.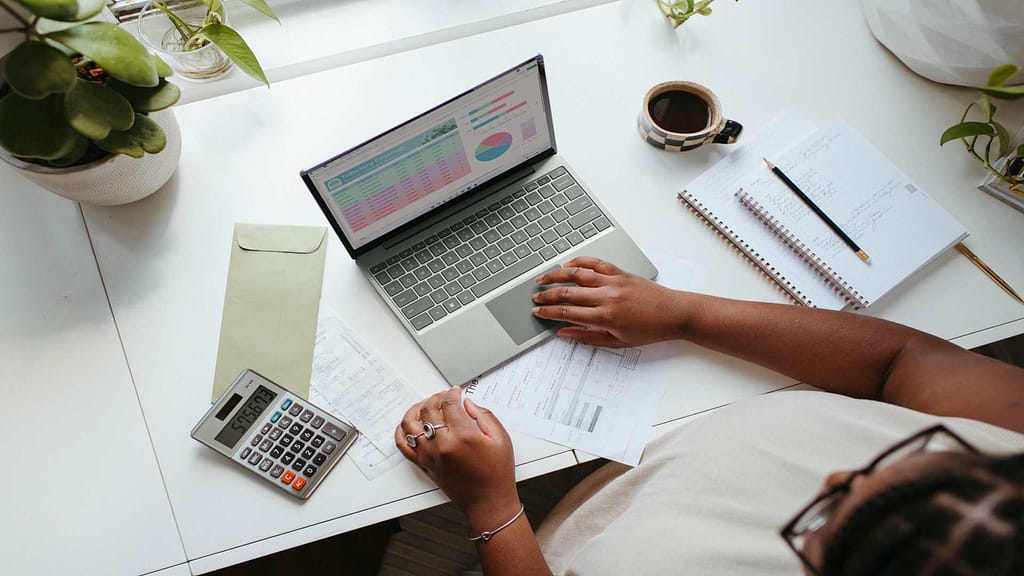 Factors that Affect New Roof Cost in Mississippi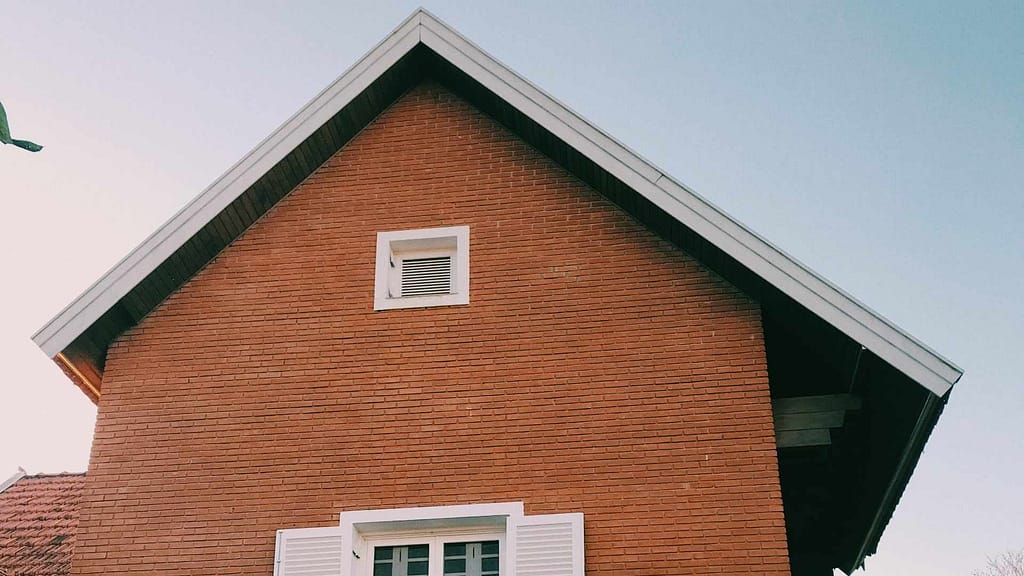 When considering a roof replacement, it's crucial to understand the array of factors that can significantly impact the overall cost of the project. To help demystify this task, we've broken down the most influential elements that can shape your Mississippi new roof cost, including:
Size: The overall area of your roof is the primary element influencing cost. The larger the roof, the more materials and labor hours required to complete the project, leading to a higher cost.
Pitch: The slope or pitch of your roof also affects the cost. Steeper roofs demand more labor due to increased safety measures and sometimes require more materials due to their increased surface area compared to a flat roof of the same footprint.
Material: The type of material chosen for your roofing project impacts cost significantly. More durable or specialized materials like designer asphalt shingles, metal roofing, or solar roofing tend to be more expensive than conventional architectural asphalt shingles. Each has its own cost, durability, and lifespan considerations.
Labor: Labor costs can fluctuate based on the complexity of the project and the experience level of a Mississippi roofer. Certain roofing systems may require specialized skills, thereby increasing labor costs.
Location: The location of your property may also affect the total cost. Depending on local regulations and requirements, additional costs may be incurred due to permits or certain code adherence.
Permits: Permits are typically required for roof replacement. The cost of these permits varies depending on your local Mississippi municipality's specific regulations.
Clean Up and Disposal Fees: The process of replacing a roof generates a considerable amount of waste material. The cost for cleanup and disposal of these materials often forms part of the total roofing estimate but can vary based on local disposal fees and the scale of the project.
Types of Roofing Materials
When it comes to roof replacement, selecting the appropriate material isn't merely a matter of cost – it's about finding the right balance between durability, maintenance needs, aesthetic appeal, and budget. The following material options come with unique benefits and distinct price ranges.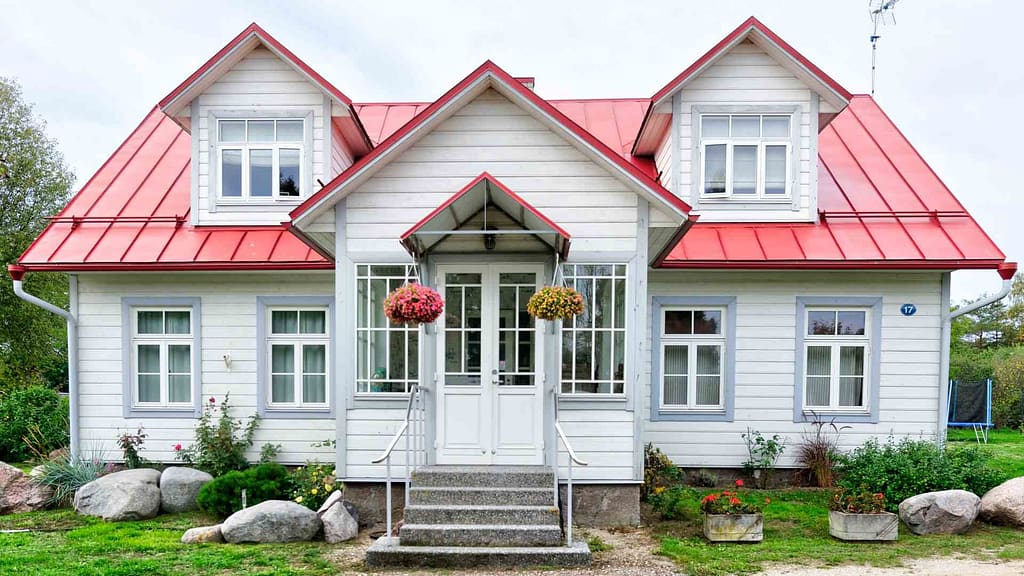 Architectural Asphalt Shingles: A popular choice due to their durability and cost-effectiveness, architectural asphalt shingles can withstand the Mississippi climate while offering a classic aesthetic. The average cost for this roofing material ranges between $350 and $550 per square.
Designer Asphalt Shingles: A step up from architectural shingles, designer asphalt shingles come in a variety of shapes and sizes for enhanced visual appeal, while maintaining the benefits of asphalt. These may cost slightly more, with an average cost ranging from $450 to $700 per square.
Metal Roofing: Metal roofing is highly resistant to damage and can last up to twice as long as asphalt shingles, making it a long-term investment. This durability comes at a higher price point, with costs averaging between $700 and $1,000 per square.
Solar Roofing: An innovative solution for homeowners seeking energy efficiency, solar roofing enables you to generate your own electricity while providing robust protection against the elements. Solar roofing tends to be the most expensive option, with an average cost starting around $2,200 per square, but it can lead to significant savings on energy bills over time.
The Impact of Mississippi's Climate on Your Roof's Lifespan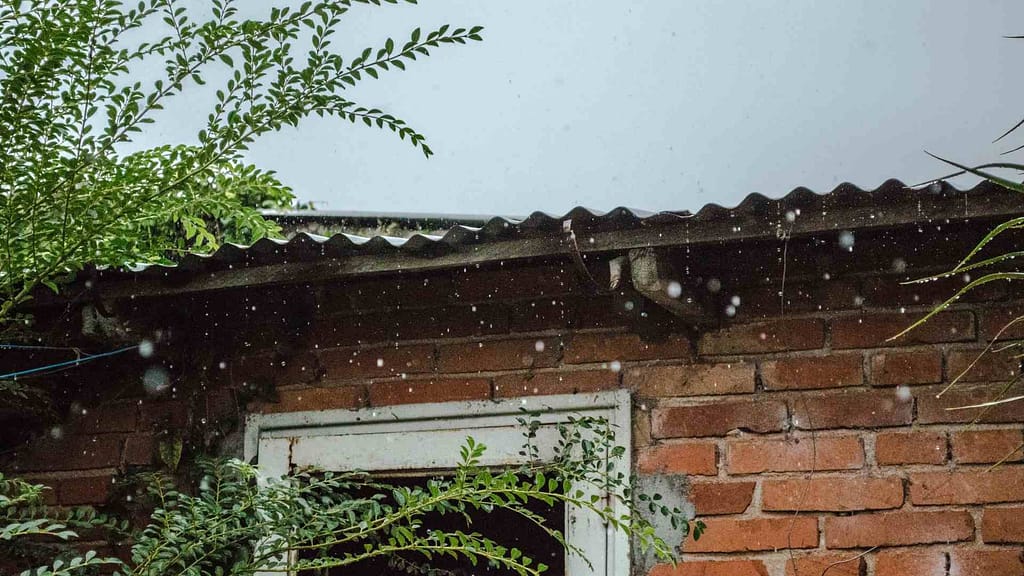 Mississippi's climate, known for its intense heat, humidity, and regular storms, can expedite the wear and tear on your roof. Therefore, it's of paramount importance to choose sturdy and weather-resistant materials when considering a roof replacement. Using our Mississippi roofing calculator, you can assess various materials and their cost-effectiveness. Investing in high-quality materials today could lead to fewer repairs and a more extended lifespan for your roof, ensuring value for your money in the long run.
Need for a New Roof in Mississippi?
Certain signs suggest that your roof may require replacement. These include visible shingle damage, leaks, or water stains in your attic. Swift attention to these indicators is paramount to prevent more extensive damage to your home, as neglect could lead to more costly repairs down the line. Mississippi roofing calculator can help with your new roof cost..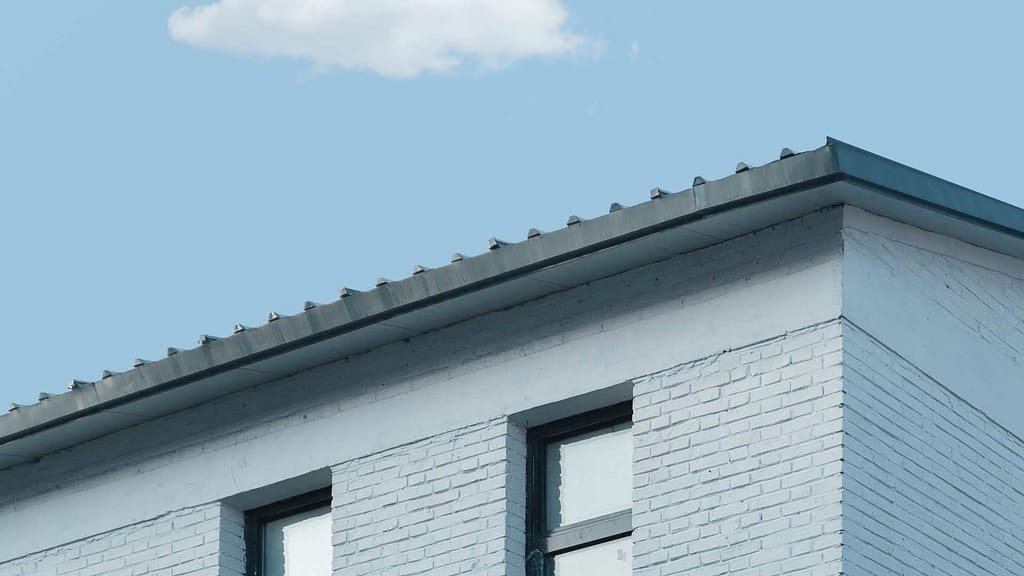 Tips for a Successful Roof Replacement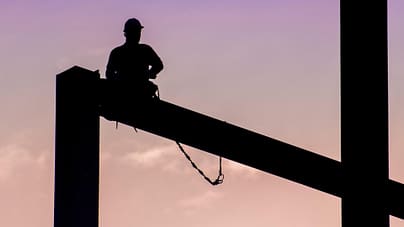 Replacing your roof is a significant investment that demands careful planning and execution. Here are some valuable tips to help navigate this process and ensure that you're making the most of your Mississippi roof replacement:
Do Your Research: Familiarize yourself with different types of roofing materials and their costs. Our Mississippi roofing calculator can help you get started.
Choose the Right Contractor: Selecting a reputable Mississippi roofing contractor is critical. Verify their credentials, reviews, and past work before making a decision.
Understand Your Estimate: Ensure you fully comprehend all aspects of the roofing estimate, including the cost of materials, labor, permits, and clean-up.
Plan for Weather: Schedule your roof replacement during a period of typically calm weather. Unexpected storms can delay the project and possibly increase costs.
Communicate with Your Contractor: Regular communication with your Mississippi roofing contractor is key. Ask questions, voice any concerns, and ensure you're kept in the loop throughout the project.
Prepare Your Home: Clear your attic and surrounding areas to prevent damage from falling debris during the roof replacement.
Mississippi Roofing FAQs
What are the signs of roof damage caused by severe weather and how can I address them?

Weather-related roof damage often manifests as missing or broken shingles, granules in gutters, leaks, or dents from hail. If you notice any of these signs, contact a reputable Mississippi roofing contractor promptly. Early repairs can help prevent more severe damage and potentially save you from a complete roof replacement.
How can I prepare my roof for hurricane season?

To prepare your roof for hurricane season in Mississippi, ensure it's in good condition by scheduling an inspection with a professional Mississippi roofer. They can identify and repair any potential vulnerabilities.
Are there any specific building codes or regulations for roofing in Mississippi?

Yes, Mississippi has specific building codes for roofing. These codes can vary by city and county, so it's important to work with a licensed Mississippi roofing contractor who is familiar with local regulations and can ensure that your roof replacement adheres to them.
How can I improve the energy efficiency of my roof in Mississippi's climate?

Energy efficiency for roofs in Mississippi's hot and humid climate can be improved by choosing reflective roofing materials that deflect heat, installing proper attic insulation, and ensuring good ventilation. Solar roofing is another excellent option for improving energy efficiency and reducing utility costs.
What type of roof maintenance is recommended to prevent issues and extend the lifespan of my roof?

Regular roof inspections, especially after severe weather, can help identify issues early. Other maintenance tasks include keeping gutters clean, removing overhanging branches, replacing damaged shingles promptly, and ensuring proper attic ventilation. Remember, proactive roof maintenance is often more cost-effective than reactive repairs.
Interesting Facts About Mississippi
| | |
| --- | --- |
| Average roof replacement price in Mississippi | $7,000 |
| The number of Mississippi roofs we've measured | 1,470,097 |
| Average Mississippi home size | 1,850 Square Feet |
| Average Mississippi property size (2020 Parcel Data) | 1.33 Acres or 54,800 Sqft |
| Largest zip code in Mississippi | 39452 – Lucedale (562 Square Miles) |
| Average roof slope on Mississippi homes | 4/12 Pitch or 18.43 Degrees |
| Most common roof type in Mississippi | Asphalt Shingle |
| Mississippi's weather averages | Lows of 54F/12C to highs around 75F/24C |
| Mississippi's population estimated (2022) | 3,153,635 |
| Mississippi's Time Zone | Central Standard Time (GMT -5) |
| Mississippi's total square miles | 46,925 |
Data Collected 2021
See how your home compares to the average roof replacement price in Mississippi. You can get a free estimate for a new roof via our free roof cost calculator. Get instant roof replacement costs for your exact home and connect with the highest-rated roofing contractor near you.
Thinking of financing your new Mississippi roof?
A new roof can be an unexpected cost. You may need to borrow some money to get it done. We've built a simple roof financing calculator to help you figure out your monthly payments.
The Most Popular Areas We Serve In Mississippi