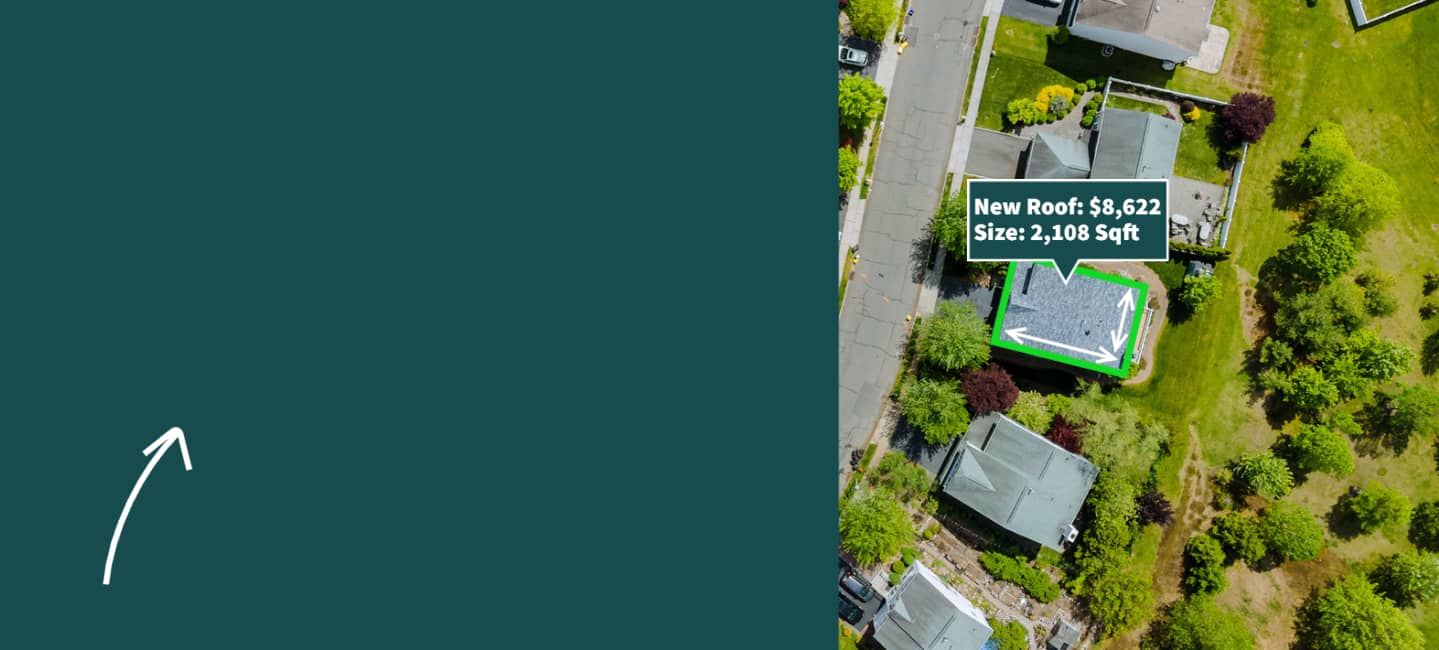 Alabama Roof Replacement Costs
Instantly get a Alabama new roof cost with our roofing calculator. See local Alabama roofing contractor prices for Asphalt, Metal, and Solar Roofing. Connect with a local Alabama Roofer today.
No signup required.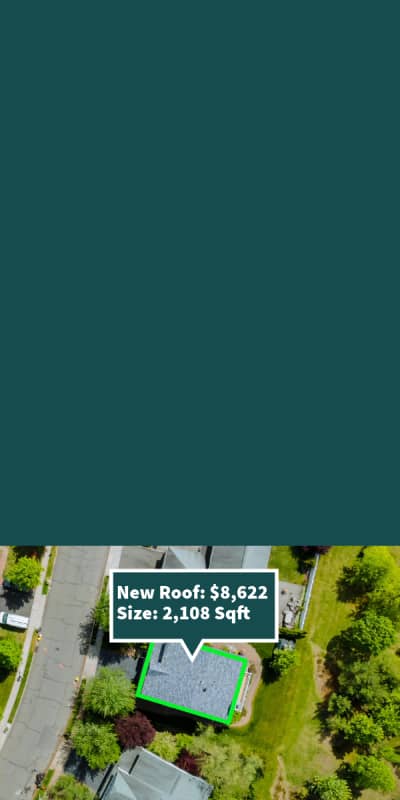 Alabama Roof Replacement Costs
Instantly get a Alabama new roof cost with our roofing calculator. See local Alabama roofing contractor prices for Asphalt, Metal, and Solar Roofing. Connect with a local Alabama Roofer today.
Wondering what it's going to cost to replace your roof in Alabama?

Measure
2,391,122 roofs scanned in Alabama

Estimate
Average new roof cost in Alabama is $8,100

Connect
773 highly-rated roofing contractors in Alabama
If you're an Alabama homeowner in need of a new roof, look no further than Instant Roofer. We've simplified the process of obtaining a roof replacement estimate to eliminate the tedious paperwork often associated with such a task. Committed to offering premier service, we've leveraged our innovative digital platform to deliver quick, reliable, and precise cost estimates for your Alabama roof replacement project.
Enter your address into Instant Roofer.
Confirm your home via Satellite Imagery.
Instantly view your estimated cost and roof size.
Submit the information to receive an estimate from the most affordable, top-rated Alabama roofer.
Discover Top-Notch and Cost-Efficient Alabama Roofer in No Time.
In search of a dependable Alabama roofing contractor for your home's roof overhaul? We've got you covered! Our Alabama roofing calculator is designed to match you with superior service tailored to your needs. By meticulously assessing each contractor's expertise, skill set, and pricing structure, we pinpoint the optimal solution for your residential roof replacement. Depend on us for outstanding value and top-tier quality in every service we provide.
Your Tailored Roofing Choices
At Instant Roofer, we understand that every dwelling has distinct needs and each homeowner harbors unique tastes. This drives us to provide an array of roofing alternatives, fine-tuned to your exclusive preferences, budget, and requirements. Whether it's longevity, aesthetic appeal, or energy efficiency you're after, rest assured we have a bespoke solution waiting for you.
Make use of our Alabama roofing calculator to explore and contrast the pricing of four diverse, yet equally sturdy roofing materials. Regardless of your pick, you can depend on us to connect you with the most competent and highest-rated Alabama roofer for your project.
Better Roof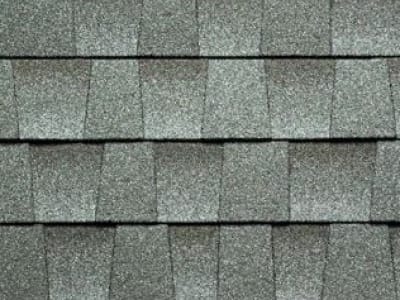 Limited Shingle Style Options
Average Life and Warranty
Average Impact and Wind Rating
Best roof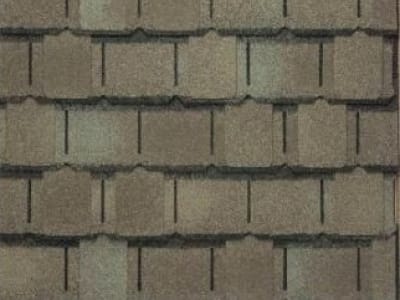 Bigger and Thicker Asphalt Shingle
Better Protection Against Algae
Longer Lasting Life and Warranty
Better Impact and Wind Rating
Metal Roof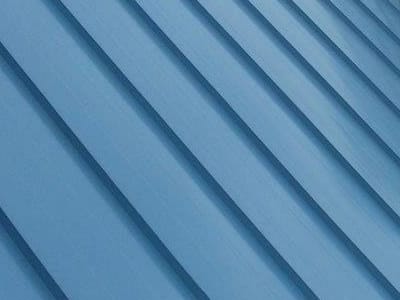 Better protection from fire
Better home cooling (UV Protection)
Best Impact and Wind Rating
Solar Roof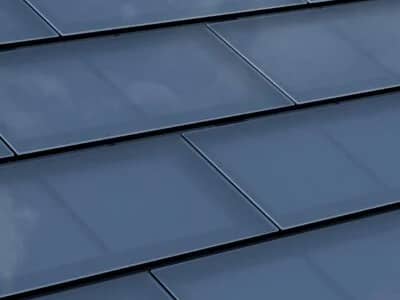 Up to 30% in Federal Tax Credits
Potential $0 Electricity Costs
Receive Your Alabama Roof Replacement Cost Online Today In Seconds

"Instant Roofers estimate was spot on. The contractor it recommended was excellent. All around a great experience."
Our Distinctive Approach
The expense of installing a new roof varies significantly as it is influenced by several determinants.
Frequently, homeowners in Alabama grapple with this question: how much does it cost to replace a roof? At Instant Roofer, we take the uncertainty out of this equation. Our Alabama roofing calculator employs satellite imagery to assess your roof's size and complexity, thereby providing instant estimates from the best-rated Alabama roofing contractors.
Many other platforms may appear more interested in your contact details or pushing other sales, rather than actually assisting you to calculate the cost to replace your roof. Our approach at Instant Roofer is decidedly different: we won't inundate you with spam or attempt to sell you unrelated services. Our primary aim is to provide straight forward roofing cost estimate without any distractions.
Instant Roofer was conceived from this vision – with the technical prowess of tech enthusiasts and professional roofers. The result? The most straightforward, swift, and cost-effective method to estimate roof costs anywhere in America.
And the cherry on top… Instant Roofer is wholly owned, developed, and operated by Americans.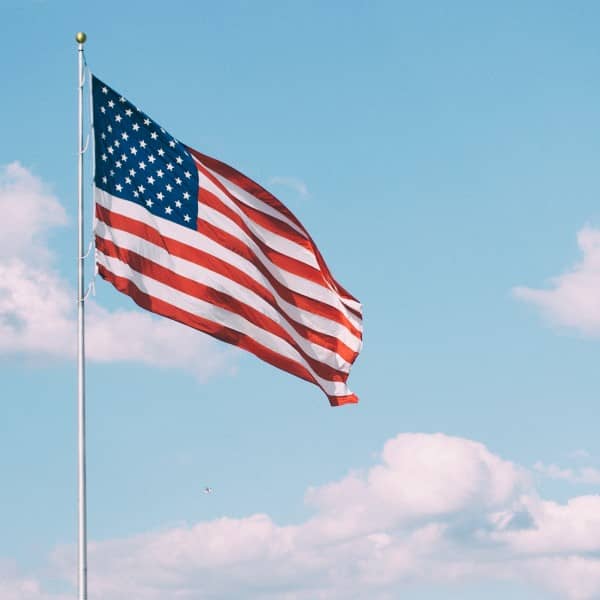 Your Go-To Alabama Roofing Calculator
Discover the most economical roof replacement cost in Alabama right from the comfort of your home. Our platform instantly connects you with local roofers, providing you with precise estimates for your roof replacement.
At Instant Roofer, we harness the power of big data and artificial intelligence to offer quick, cost-effective, and accurate roofing costs, simplifying the process for you.
Our foremost commitment at Instant Roofer is to pair you with the top-rated Alabama roofing contractor who delivers the most value-oriented Alabama new roof cost in your area. Through the utilization of cutting-edge technology, we evaluate numerous data points, including pricing and online ratings, to guarantee the best return on your investment. Count on us to secure the ideal Alabama roofer for your residence.
We track the pricing for each major roofing contractor in Alabama. Our calculator uses up-to-date pricing to determine the right roofer for your project. One that is close to you, high rated, and has the best price for the type of roofing material you want.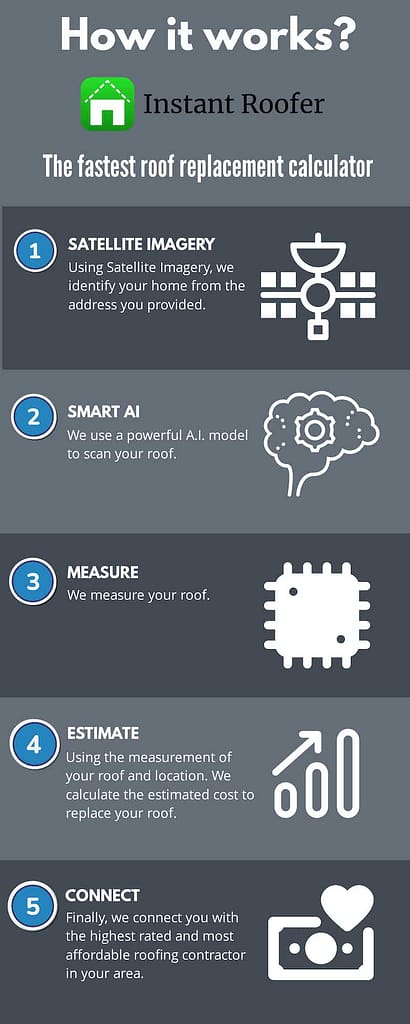 About Instant Roofer
Instant Roofer isn't just a traditional roofing company; we're a technology-led platform revolutionizing the roofing process. Our advanced technology offers accurate roof replacement cost estimates and connects homeowners with trusted local Alabama roofers. With us, the complex process of roof replacement becomes simple, efficient, and transparent.
How We Help Homeowners
New roof investments can be substantial, with an average cost in Alabama around $8,100. Instant Roofer simplifies this process. We've measured over 129 million roofs across the U.S. using AI and partnered with top-rated Alabama roofing contractors to ensure excellent service at competitive prices. Our Alabama roofing calculator provides fast, accurate roof replacement cost estimates to maximize your investment.
How We Support Roofing Contractors
Calculating roof replacement costs can be challenging due to factors like pitch, facets, eaves, and ridges. Our innovative Alabama roofing calculator cuts through this complexity to offer quick and precise estimates. Unlike other companies, we respect your privacy and connect you only with the most suitable local roofer, ensuring accurate estimates and quality service.
Instant Roofer is true to its name. Once you accept your online estimate, we immediately notify the chosen Alabama roofer and confirm the Alabama roofing contractor with you.
How Much Does Roof Replacement Cost in Alabama
The cost of roof replacement in Alabama varies significantly based on several factors. As a general guide, homeowners can expect to pay somewhere around the national average, which is approximately $8,100. Our Alabama roofing calculator is designed to provide a more accurate estimate tailored to your specific circumstances.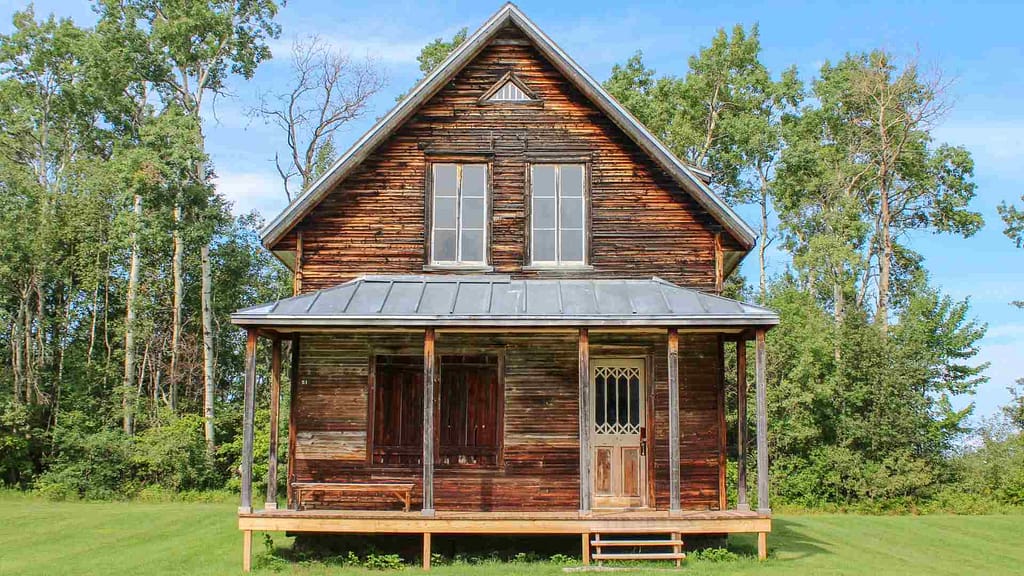 Factors that Influence New Roof Cost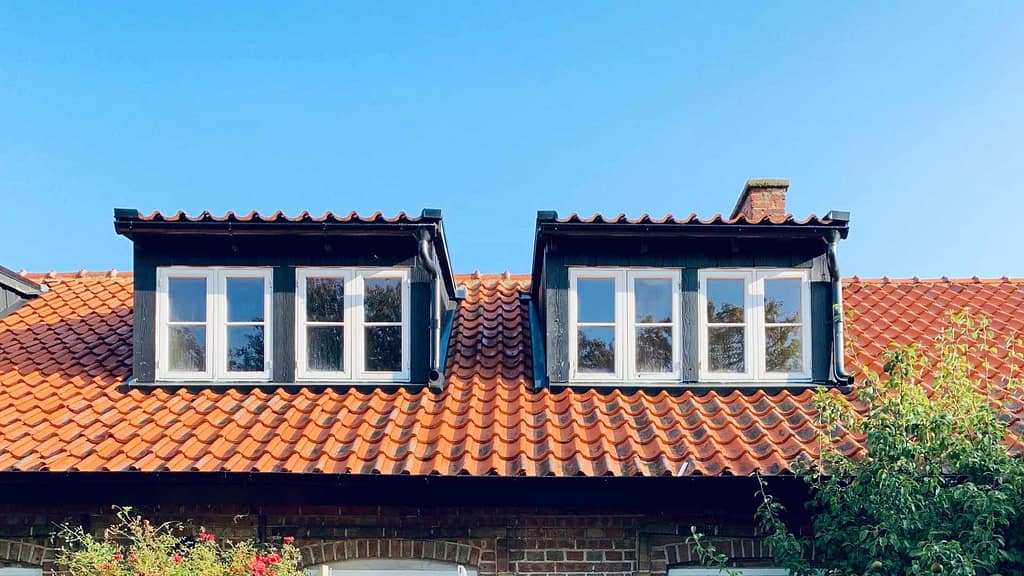 The cost of a new roof in Alabama can vary based on numerous factors. It's essential to understand these elements to manage your budget effectively and set realistic expectations for your roofing project. Slope, valleys, ridges all increase the cost of your roofing project. If your roof looks complicated from satellite imagery it's likely your roof will cost more than a simple roof.
Size: The larger your roof, the more materials and labor will be needed for the replacement, directly impacting the overall cost. Average roofing costs usually range from $3.50 to $5.50 per square foot, depending on the material and other factors.
Material: The type of roofing material chosen significantly influences the cost. For example, architectural asphalt shingles could cost between $3.80 and $4.50 per square foot, while designer asphalt shingles might cost upwards of $5.00 per square foot.
Pitch: The pitch, or slope, of your roof can also affect the cost. Steeper roofs require more safety measures and often take longer to replace, increasing labor costs.
Labor Cost: Labor costs can vary based on the complexity of the job and the contractor's experience level. Generally, these costs are incorporated into the per square foot price, but it's always good to clarify with your Alabama roofer.
Location: The location of your property can impact the cost due to variations in local living costs, accessibility, and the distance the contractor needs to travel. It's beneficial to verify with your chosen Alabama roofing contractor.
Permits: In Alabama, roofing projects often require permits, which can add to the overall cost. These permits ensure that the work complies with local building codes.
Clean Up and Disposal Fees: Remember to factor in the costs of cleanup and disposal of your old roof. Contractors usually include this in their quote, and it can range from $1.00 to $1.50 per square foot.
Choosing the Right Roofing Materials
The selection of roofing materials is a vital aspect of your roofing project. The right choice can dramatically impact your new roof's performance, aesthetic appeal, and the overall Alabama roof replacement cost. Let's explore the four primary options we provide.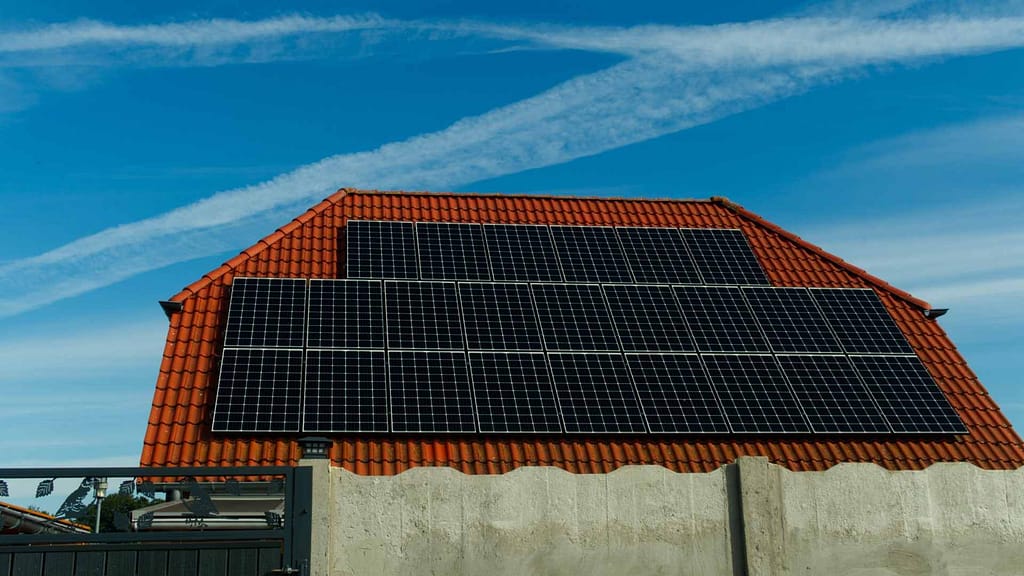 Architectural Asphalt Shingles: These are a popular choice due to their balance of cost-efficiency and durability. These shingles provide a distinctive dimensional look, elevating your home's aesthetic appeal. You can expect the cost to range from $3.80 to $4.50 per square foot installed.
Designer Asphalt Shingle: For those desiring a more premium look, designer asphalt shingles offer unique patterns and colors to enhance your home's exterior.
Metal Roofing: This material is an excellent choice for durability and energy efficiency. Though the initial cost may be higher, ranging from $5.50 to $12.00 per square foot, the long lifespan and minimal maintenance requirements make it a cost-effective choice in the long run.
Solar Roof: For homeowners looking towards a sustainable future, solar roofs are an innovative choice. Solar roofs generate electricity, helping reduce your energy bills significantly. The cost is higher, usually starting around $21.85 per square foot.
Alabama Climate Affects Roof's Lifespan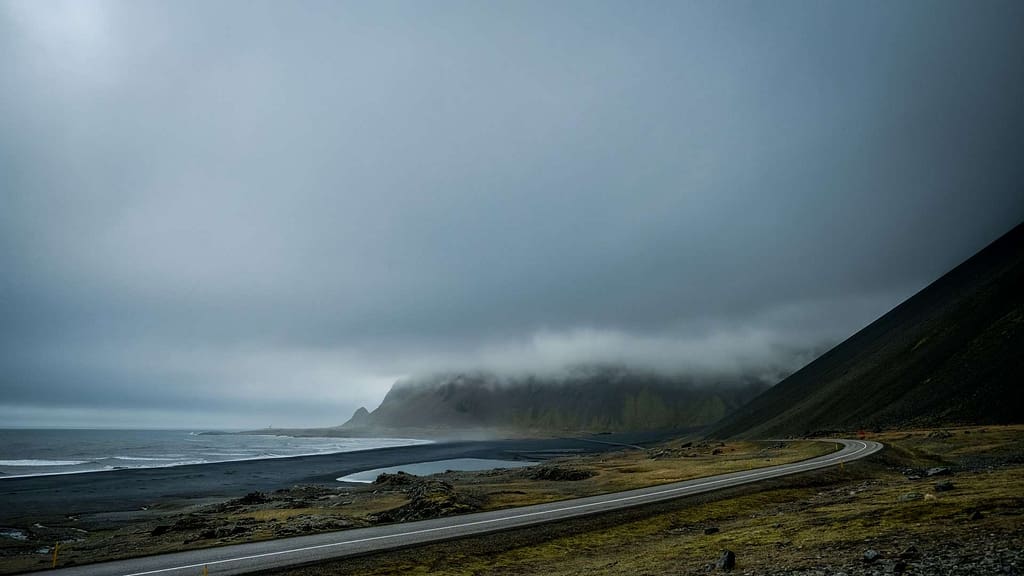 The Alabama climate can be challenging for any roof. The state experiences a wide range of weather conditions throughout the year, including hot summers, cold winters, and occasional severe storms. These factors can affect the lifespan of a roof, making it essential to choose materials.
Hail can dramatically reduce the life of asphalt roofing. If you've had a series of hail storms it might be best to do a visual inspection of your roof. Or even have a profession do an inspection.
Some companies now use drones with A.I. to do a visual inspection and target areas of your roof that might become problematic in the future.
Signs You Need a New Roof
Key indicators that you may need a new roof include noticeable damage, such as curling or missing shingles, leaks, or a roof that is over 20 years old. Sometimes, the signs are subtle, so regular inspections are crucial. Our Alabama roofing calculator can provide a rough figure for your potential new roof cost and help you plan for this significant investment.
Check around the base of your home. If you see granules on the ground or in your gutters. It's probably time to have your roof inspected.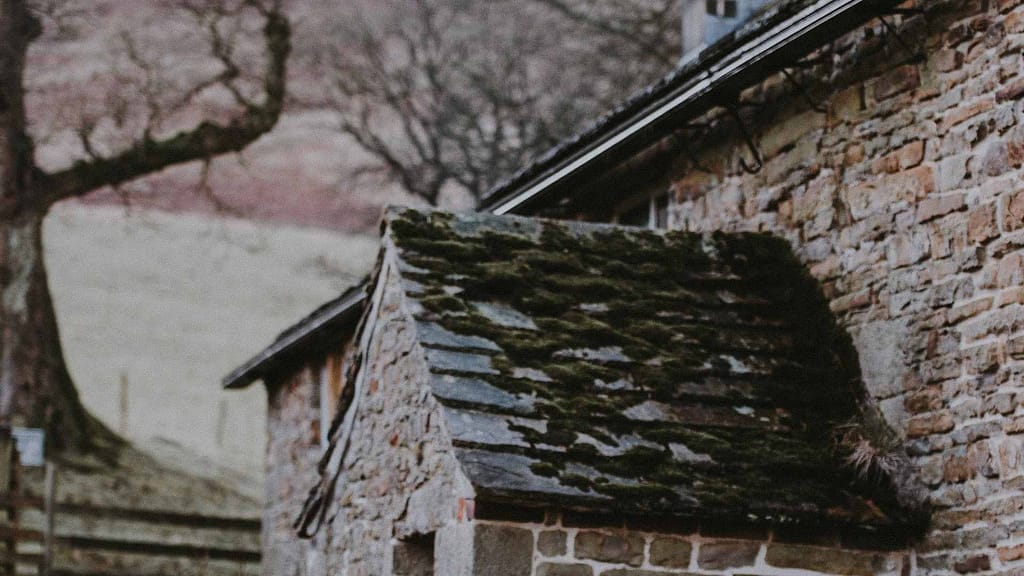 Why You Should Hire Professional Roofing Contractor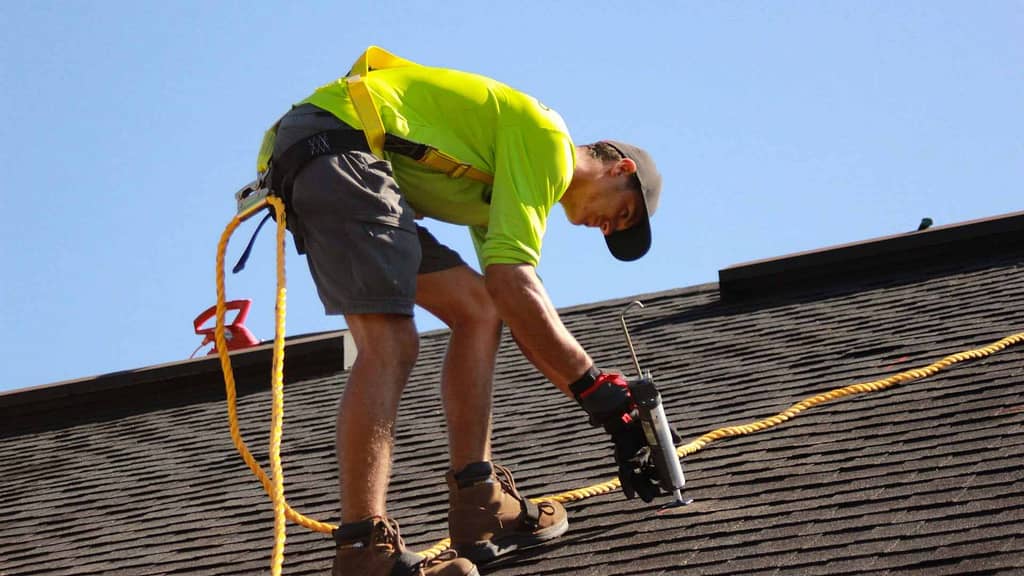 Engaging a professional Alabama roofer can save you time and money in the long run. DIY roofing projects can often lead to costly mistakes and unnecessary risks. A professional Alabama roofing contractor, ensures the job is done correctly, adhering to safety protocols and industry standards. Plus, they can provide expert advice on materials and proper installation methods to ensure your new roof stands the test of time.
Your health is important. Replacing your roof yourself can potentially lead to injury resulting in the project being incomplete and disabling you from doing your primary work.
Top 20 Alabama Roofing Contractors
Enter your address in our app to learn who has the best combination of reviews and pricing for your exact home. Updated: 9/27/23
Henderson Roofing Inc
(256) 767-7166
4.4
40 Google reviews
1522 County Road 323
Florence, AL 35634
Advanced Roofing & Construction, LLC
(256) 603-9171
5
370 Google reviews
7027 Old Madison Pike
Huntsville, AL 35806
Impact Roofing
(256) 333-2363
5
204 Google reviews
1700 US Highway 72 East
Athens, AL 35611
Impact Roofing LLC
(256) 333-2363
5
204 Google reviews
1700 US Highway 72 E
Athens, AL 35611
Green Valley Roofing & Construction
(205) 859-3271
5
153 Google reviews
25 West Oxmoor Road
Birmingham, AL 35209
Show 15 More

4U Roofing
(251) 235-2222
5
145 Google reviews

20680 State Highway 181
Fairhope, AL 36532

Bullard Roofing
(205) 446-1114
5
136 Google reviews

113 3rd Street Southwest
Cullman, AL 35055

Jones Roofing
(256) 350-0249
5
99 Google reviews

2013 Clayton Avenue Southwest
Decatur, AL 35603

Rellim Contracting
(251) 533-9357
5
98 Google reviews

2051 Leroy Stevens Road
Mobile, AL 36695

Rellim Contracting LLC
(251) 323-9050
5
98 Google reviews

2051 Leroy Stevens Rd
Mobile, AL 36695

Elevated Roofing
(205) 537-9754
5
96 Google reviews

2637 Queenstown Road
Birmingham, AL 35210

Hyde Roofing
(256) 221-5743
5
91 Google reviews

1 Perimeter Park South
Birmingham, AL 35243

SOCO Roofing & Restoration
(256) 677-9002
5
88 Google reviews

100 Jefferson Street South
Huntsville, AL 35801

The Roofing Dudes LLC
(205) 732-7231
5
85 Google reviews

2100 Southbridge Pkwy Ste 650
Birmingham, AL 35209

The Roofing Dudes
(205) 732-7231
5
85 Google reviews

Superior Roofing Solutions, LLC.
(256) 712-2365
5
84 Google reviews

1236 Cullman Shopping Center Northwest
Cullman, AL 35055

Superior Roofing Auburn
(334) 821-8411
5
77 Google reviews

224 B North College Street
Auburn, AL 36830

Superior Roofing Company
(334) 821-8411
5
77 Google reviews

224 N College St Unit B
Auburn, AL 36830

SOCO Roofing & Restoration
(256) 633-4061
5
71 Google reviews

436 Gunter Avenue
Guntersville, AL 35976

Alabama Roofing Professionals
(205) 722-7663
5
66 Google reviews

5508 Eastcliff Industrial Blvd Ste 3
Birmingham, AL 35210
Don't see your company listed? Join our network!
Alabama Roofing FAQs
How long does a roof last in Alabama?

The lifespan of a roof depends primarily on the material used and the climatic conditions it has to endure. In general, an architectural asphalt shingle roof can last between 25-30 years, while a designer asphalt shingle roof can last up to 40 years.
How do I estimate the cost of a new roof in Alabama?

The cost of a new roof can be estimated using our Alabama roofing calculator. This tool considers the size of your roof, the material you choose, and other factors like pitch, labor cost, and location to provide a comprehensive cost estimate.
Does a home warranty cover the cost of a new roof?

Typically, home warranties do not cover the cost of a new roof. They are usually designed to cover the repair or replacement of major home appliances and systems within your home. However, it's always worth checking the terms of your specific home warranty, as coverage can vary.
How often should I inspect and maintain my roof?

As a general rule, it's wise to inspect your roof at least twice a year, ideally during spring and fall. Regular inspections can help spot any potential issues early, extending your roof's lifespan.
Are there any warranties or guarantees with a new roof?

Yes, new roofs typically come with a manufacturer's warranty that covers defects in the roofing materials. The length and terms of these warranties can vary based on the specific materials used. Additionally, many Alabama roofing contractors offer workmanship warranties that cover installation-related issues.
Interesting Facts About Alabama
| | |
| --- | --- |
| Average roof replacement price in Alabama | $8,100 |
| The number of Alabama roofs we've measured | 2,391,122 |
| Average Alabama home size | 1,800 Square Feet |
| Average Alabama property size (2020 Parcel Data) | 0.56 Acres or 24,500 Sqft |
| Largest zip code in Alabama | 36426 – Brewton (532 Square Miles) |
| Average roof slope on Alabama homes | 4/12 Pitch or 18.43 Degrees |
| Most common roof type in Alabama | Asphalt Shingle |
| Alabama's weather averages | Lows of 54F/12C to highs around 73F/23C |
| Alabama's population estimated (2022) | 5,024,279 |
| Alabama's Time Zone | Central Standard Time (GMT -5) |
| Alabama's total square miles | 50,647 |
Data Collected 2021
See how your home compares to the average roof replacement price in Alabama. You can get a free estimate for a new roof via our free roof cost calculator. Get instant roof replacement costs for your exact home and connect with the highest-rated roofing contractor near you.
Thinking of financing your new Alabama roof?
Replacing your roof can be an unexpected expense that requires a significant investment. If you need financial assistance to get the job done, we can help. Our user-friendly roof financing calculator makes it easy to calculate your monthly payments and plan for the expense ahead of time.
Something to consider as well is potentially going solar. Depending on your electric bill you maybe be able to justify making the jump to a solar roof. Use our financing calculator and solar roof calculator to figure out if making the leap to a solar roof is your best option.
The Most Popular Areas We Serve In Alabama