If you're a roofing contractor you might be looking for an Angie's list alternative and or HomeAdvisor roofing leads.You may be researching growing your roofing business by adding roofing leads from one of the various roofing lead generation sources online. In this article, we compare roof replacement leads from Instant Roofer to roof replacement leads from Angi and HomeAdvisor and how it benefits you and your homeowners.
Lead Pricing
Angi's, formally known as Angie's list, price per roof replacement lead is anywhere from $15-100 per lead. That may sound like a good deal. However, when something looks too good to be true it often is. HomeAdvisor and Angi sell roofing lead information to you and as many other roofing contractors as possible. In fact, we have heard a lead generated by Angi end up being sent to up to 16 different roofing contractors. The same lead, sold 16 times! Although many states have restrictions on the number of times a lead can be resold to contractors, these restrictions are potentially bypassed by selling leads to third parties that then resell the initial lead. Dirty stuff that straight up is horrible for the homeowner and roofing contractors.
With Instant Roofer, we are very transparent about how our lead generation works. We always do the right thing for the homeowner and we let contractors choose from the lead distribution plan that makes the most sense for their business. We offer 3 lead distribution plans (Free, Shared & Exclusive) and let roofing contractors pick the one that best suits their needs.
Why should homeowners care if their information is sent to multiple companies?
Imagine you are a homeowner looking for a roof. You go to Google and you start the process of looking for a roof replacement. You go to Angi's lead conversion funnel and it looks like you're going to get an estimate for your new roof. However, that's not what happens. Instead, you don't get an estimate and your data is sent to a lot of roofers, and the race to convert them into a sale begins. Immediately upon filling out the contact form with Angi their phone begins to explode. Text messages, emails, and a deluge of calls from different roofing contractors begin. All with an attempt to close a sale.
Imagine for a second that you ordered an Uber or a Lyft and 4 different cars showed up. All of them promise you the best ride and the best price. I'm pretty sure you might not use that service again.
We don't blame the salespeople at roofing companies. Their job is to try and land as much work as possible. It's not really their fault that the homeowner's experience might be unpleasant.
There is a better way and that way is with Instant Roofer.
Conversion
Let's define what we mean by conversion. Conversion is simply a lead that converts into a sale. Right away it's obvious that if your potential homeowner has 10 contractors all trying to quote the same roof, contractors have a 10% chance of winning the job.
In addition to now only having a 10% chance of winning a potential roof replacement project, contractors have multiple competing companies in a race to the bottom. What do we mean by this? Instead of offering the best product to the homeowner, everyone is trying to offer the lowest-priced product in the shortest amount of time. We believe a race to the bottom really isn't great for the homeowner and for sure isn't great for the contractor.
Instant Roofer leads give contractors a significantly higher chance of landing the sale
With Instant Roofer contractors can buy truly exclusive leads but if you choose to be on our shared or free plan, you can rest assured that any lead you get is only going to a maximum of 2 other contractors. If you're the highest-rated and best-priced roofer in the area you serve, you will have a very strong chance of closing that lead. Additionally, homeowners will appreciate that they've got a great contractor, at a great price and they are not being deluged by a wave of middling contractors.
We've gotten tremendous feedback from the Roofers using our service and here is some of the data they have shared with us on lead volume and conversion rates.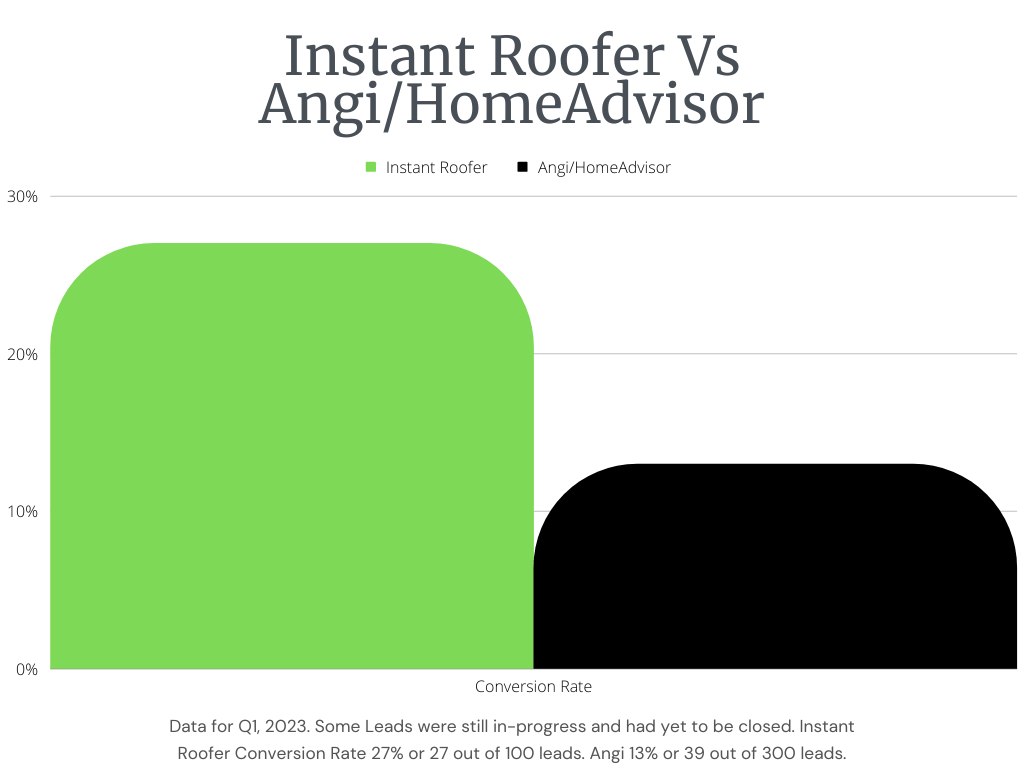 The Data
As we can see in the chart above. Instant Roofer generated 100 total leads in Q1 2023. HomeAdvisor/Angi generated 300 leads total for the same period.
The roofing contractor was able to convert 27 out of 100 Instant Roofer leads for a conversion rate of 27%
The roofing contractor was able to convert 39 out of 300 HomeAdvisor/Angie's List leads for a conversion rate of 13%
The data is pretty revealing. Instant Roofer leads had a closing rate of roughly double the leads processed from Angi/Homeadvisor. This can mean less wasted time and money and more revenue.
Lead Quality
Occasionally a lead comes in that is of poor quality. We're not going to pretend this doesn't happen. Multiple contractors have stated that they have to "Chase down a refund" from Angi/HomeAdvisor. Instant Roofer doesn't do that. We took great inspiration from Costco Wholesale. Why not follow who has the best experience when it comes to getting a refund for a product you may not like or want anymore. We all came to the same conclusion, Costco. You go in with your product and they ask you maybe one or two questions and give you your money back. It's a pretty great example of phenomenal customer service.
We took this exact same approach. Simply log in to your dashboard and click the credit button. We immediately issue a credit to your account. The next lead will deduct the credit from our system.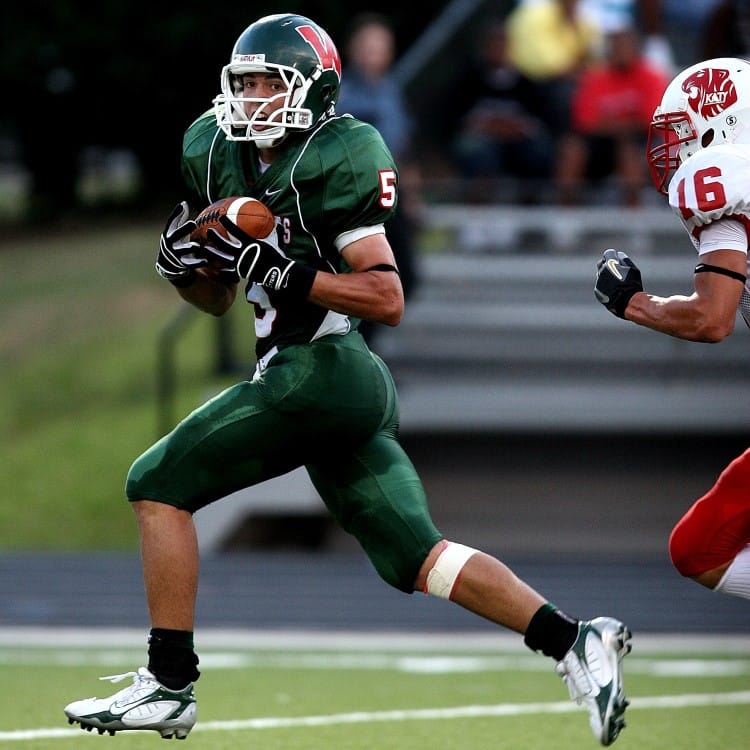 The Honor System (kind of)
I was at a dinner party explaining how Instant Roofer works and the credit system. One of the people at the table said, "That seems like a terrible idea. Won't everyone just credit every lead?" I replied and said sure. That's very possible! They shook their head and said, "Seems like a bad business idea".
It's actually a great business idea and here is why. A contractor that habitually refunds large quantities of leads is a roofing contractor we don't want to work with. It's pretty easy to follow up with a homeowner to see who installed their roof and to also get feedback on the roofing contractor for quality assurance. This is actually Costco's policy as well. Return too many times, return old used items too often. Costco will ban membership for life. Source
Instead of worrying about one bad contractor out of 100. Focus on making the experience positive. Why punish the majority when it's not necessary? Our lead distribution algorithm takes into account the percentage of credits a contractor initiates. This has proven to work well.
Summary
Sign up for one of Instant Roofer's lead plans (free, shared or Exclusive) to drive your conversion rates higher and rely less on low quality leads from Angi and Homeadviser. Spend less time with bad leads and more time with price conditioned quality leads from us.
All companies referenced are trademarks or registered trademarks of their respective parent companies. These names are used for comparative purposes only.