Understanding how to market a roofing company can be the catalyst that transforms your business. Strategic marketing not only helps to create awareness of your brand but also attracts potential customers, encourages referrals, and ultimately drives growth. From traditional tactics like mailers and postcards to digital strategies such as Google Ads, Bing Ads, Facebook Ads, and partnering with lead generation platforms like Instant Roofer, the right marketing mix can significantly boost your visibility and credibility in the marketplace. This article will provide you with a comprehensive guide on the most effective marketing strategies for your roofing business.
The Digital Marketing Age: Google and Bing Ads
In the era of digital marketing, advertising your roofing business online is non-negotiable. Start by leveraging the power of Google Ads and Bing Ads. These platforms help you to reach potential customers who are actively searching for roofing services. Through Pay-Per-Click (PPC) advertising, you only pay when someone clicks on your ad, meaning your marketing budget is spent on leads that have shown direct interest in your services.
Harnessing Social Media: Facebook Ads
Facebook Ads represent another powerful marketing avenue. With its advanced targeting options, Facebook Ads allows you to reach your exact demographic – homeowners in need of roofing services. It provides an opportunity to not only generate leads but also to build a community and engage with potential customers.
The Lead Generation Game Changer: Instant Roofer
Aside from traditional methods, consider partnering with lead generation companies such as Instant Roofer. It matches homeowners with highly-rated contractors based on their specific needs and location. This service streamlines the process, increasing the likelihood of high-quality leads and, ultimately, higher conversion rates.
Best part is you can try Instant Roofer for free. One more fish hook in the water without virtually any risk at all.
Are you a highly rated roofing contractor?
We want to work with you.
Building Your Digital Home: An Informative and Fast Website
Your website serves as your digital storefront. It should be informative, highlighting your company's performance and the range of services you offer. Your site must pass all pagespeed metrics, ensuring that it loads quickly. Slow websites often deter potential customers, leading them to seek services elsewhere.
High Conversion Websites: Keep it Simple and Accessible
A high-converting website often features simple contact forms and click-to-call buttons. This approach makes it easy for potential customers to reach out to you. Additionally, your site should be mobile-friendly, considering the increasing number of consumers using their smartphones to find services.
A great example of a clean high conversion website is our partner American Home Contractors New Jersey. When reviewing a website for high conversion don't pay too much attention to the desktop view. Instead look at the mobile view.
It's clear what they want you to do. Get a Quote. The button stays always above on the top of the website and the alternative call now button allows people to get answers to questions without waiting for a email response.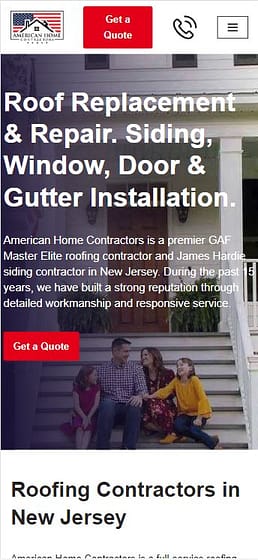 The Power of Reviews: A Testament to Your Service
Positive reviews are invaluable in attracting new customers. Encourage satisfied customers to leave a review on Google, Yelp, or any other review platform relevant to your market. Display these testimonials prominently on your website; they serve as powerful social proof of the quality of your work.
Showcasing Your Service Areas
Highlight the areas you serve within your state on your website. This information helps to localize your business, making it more likely to appear in searches made by homeowners within your service area. It also immediately informs website visitors whether your services are available in their location.
We do this as we service every state in the United States. Each state has unique roofing prices and we allow homeowners to see all of the data for roofing by state.
Show off Your Work: Before and After Images
Visual proof of your work can be a convincing marketing tool. Showcase clear before and after images of past projects on your website, social media platforms, and even in your email campaigns. These photos serve as tangible proof of your quality and capability.
Harnessing Video Content: Youtube
Creating YouTube videos that show your work quality and process can also help in marketing your roofing company. These videos can build trust with your audience as they can see firsthand the quality of your work and the professionalism of your team. YouTube also offers the option of paid ads, which can further increase your visibility and reach.
Traditional Marketing: Mailers and Postcards
Don't forget about traditional marketing strategies. Even in the digital age, direct mail marketing, such as mailers and postcards, can be effective. These methods work particularly well when targeting local neighborhoods, especially after a storm or other event that may have caused roof damage.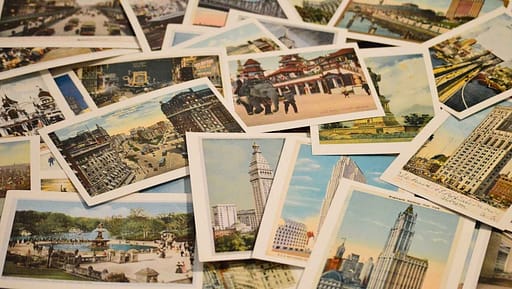 Summary
By effectively combining these marketing strategies, you can significantly increase your company's visibility and appeal to potential customers, enhancing lead generation, and driving growth. Remember, the key to successful marketing is consistent messaging, a focus on quality service, and a willingness to engage with your customers.
You can also get more roofing jobs by signing up for our free leads program.