It's finally here. After months of development time we've launched our latest version of our roof cost calculator. This post will showcase new features and basics on how it works. Our V2 calculator has been greatly enhanced and like before it's still free for roofing contractors nationwide. Let's dive into it.
How to Signup with Instant Roofer (Video)
We've created a quick video on how to signup with Instant Roofer.
Features and Instructions on Free Roof Replacement Calculator Embed (Video)
We'll touch on all the new features below in this post. However, we've created a quick video showcasing all the new features of the V2 embed.
Upgraded Dashboard
First let's showcase some of the new changes to our dashboard. Our focus has always been mobile first on our website. But our data showed that contractors were logging into the dashboard on their desktops. So we pivoted and changed our dashboard to include a desktop view. Here are new features:
Leads Via Email Toggle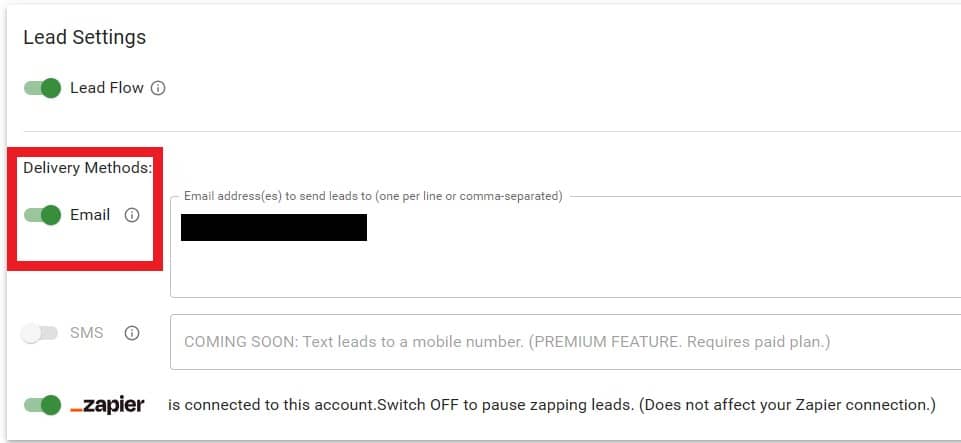 We've added a toggle to enable and disable email leads. Why? Many contractors are using a Customer Relationship Management software or (CRM). With out Zapier integration the leads can go directly into their CRM and email no longer becomes necessary.
SMS Leads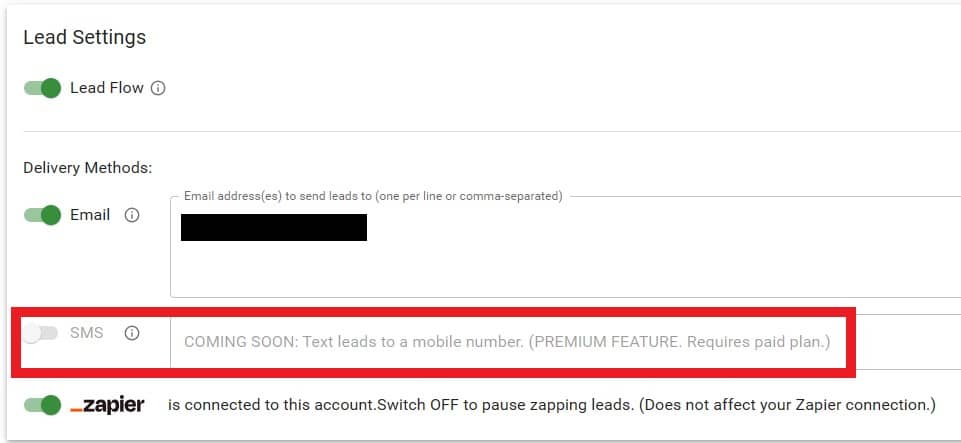 Soon paid contractors on shared plans and exclusive plans will have the ability to get leads sent directly to their cell phone. Leading to almost instant communication with homeowners looking to get a roof replacement quote.
Enhanced Service Areas

Our first version was by county only. We received feedback from contractors that they prefer to pick service areas by zip code. So, we built it. Choose by county, city, and individual zip codes.
Enhanced Lead List

We provide you a complete list of all the leads you have received. See the following information for each lead.
Lead creation date
Roof replacement estimate amount
Homeowner name
Homeowner phone
Homeowner email
Homeowner address
Homeowner roof size
Homeowners request for material type (roofing material)
The source of the lead. Either from Instant Roofer or your embedded calculator.
The status of the lead delivery.
Embedded Calculator Enhancements or V2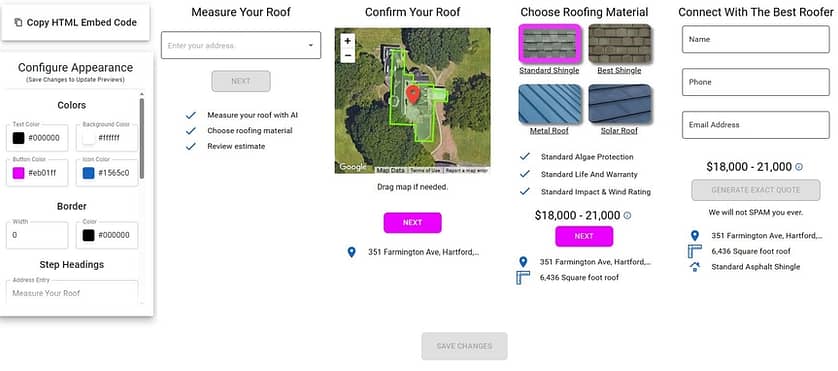 Our new version of our free roof replacement calculator embed comes packed with new features. Adding our calculator is easier than ever and allows roofing contractors control to make it a part of their website. Let's jump into the details of what is new.
Color Controls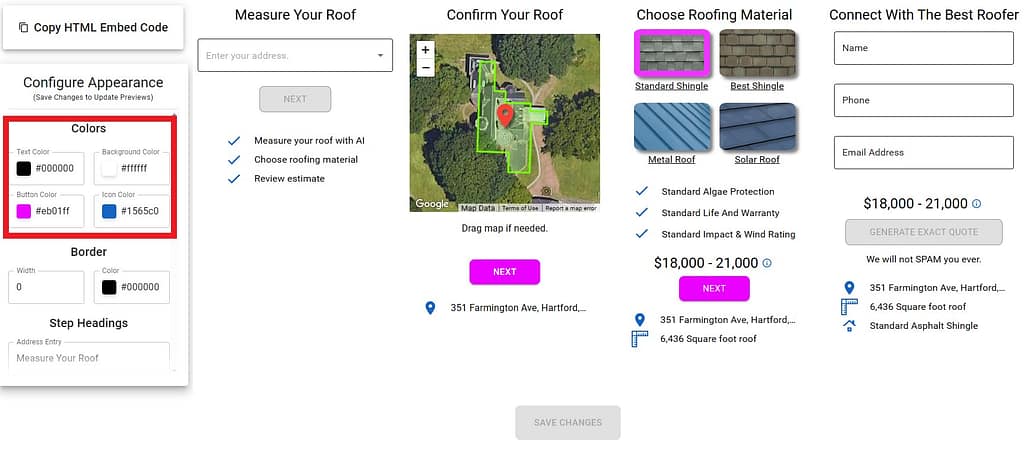 Have a different color website or simply do not like the default colors of the calculator? No problem, we now provide roofing contractors the ability to change background, text color, button color, and icon color. Match the theme of your website to give a more consistent feel to homeowners on your website.
Calculator Border Controls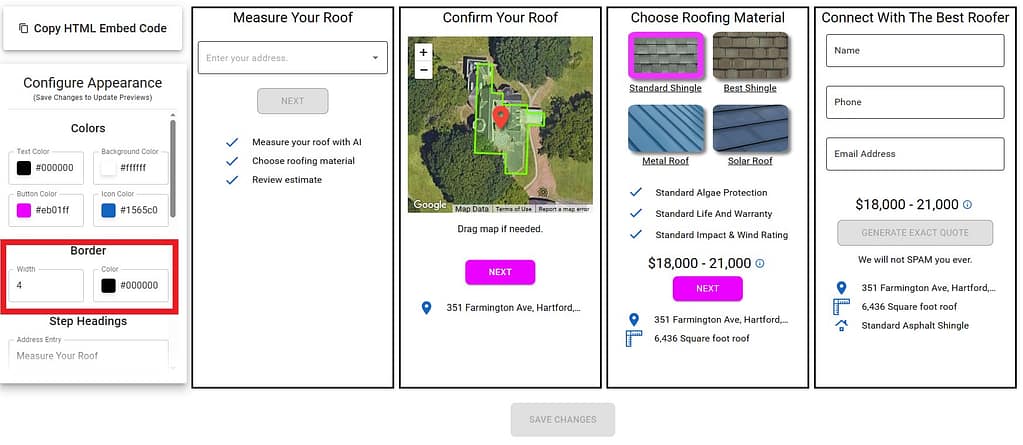 Make your calculator stand out with a border. Highlighting it's presence on your website.
Customized Step Titles
Communicate uniquely with your customers by customizing each steps titles. Use verbiage that speaks to homeowners in your area.
Customized Button Text
Change the text on buttons to what is unique to your website and customer base.
Customized Pricing Display

Take control how homeowners see your roofing estimate. All pricing models are directly from your pricing input during signup and inside the dashboard. Choose from the following price display options:
Exact Price
Price Range
Premium (Difference in price between products)
Price by SQFT
For more information on pricing customization see our video.
Customized Final Message
Customized the final message at the end of the calculator funnel.